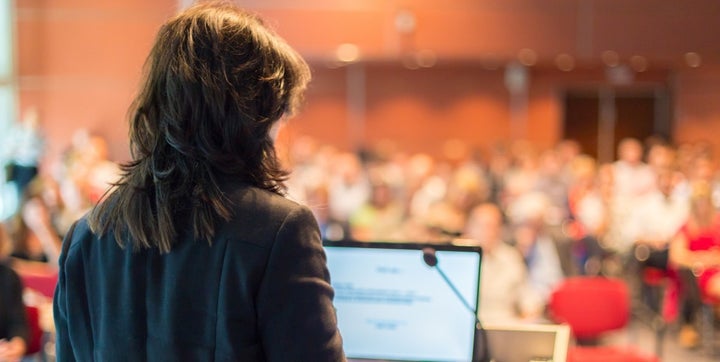 As we look ahead into 2018, one of the commitments we should all make is to focus on learning from the experience of others.
Conferences and industry events are a great way to advance our learning as we hear the latest and greatest ideas from our industry, network with our peers, meet new people, and learn about the latest trends.
Last year, I identified some of the top business speakers for 2017. A few of them are back for this year's list of the 7 business speakers I believe are worth checking out in 2018.
If you are going to an event, make sure to attend the keynote from these folks. If you are planning an event, these inspiring speakers should be on your list to check out.
Alison Levine – Alison is one of today's most inspiring speakers for any audience. She combines her talents as a mountain climber, professor, speaker and leadership consultant to thrill audiences wherever she goes.. She is the author of On the Edge and the executive producer of a documentary, The Glass Ceiling. She has ascended the highest peaks on every continent and also skied to both the North and South Poles. In 2010, she reached the summit of Mt. Everest. And she's been inspiring audiences ever since with her tales of daring adventure.
Jeremy Gutsche – Jeremy is a bestselling author, an award-winning innovation expert, and one of the most sought-after keynote speakers on the planet. He is the CEO of Trend Hunter AI. Jeremy speaks about disruption, innovation, and making change happen inside companies and at keynotes all over the world. His highly stylized keynotes will transform your thinking and get your mind racing.
Michael Brenner - Michael is The CEO of Marketing Insider Group, and co-author of a book called The Content Formula that defines how businesses today can reach and engage new customers through storytelling. He is the former Head of Strategy for NewsCred, and was VP of Digital and Content Marketing at SAP, Michael speaks about marketing, leadership, customer experience, storytelling, and employee engagement. He is a passionate evangelist for customer-centric business strategy. Michael has been recognized as a top international keynote speaker, social influencer, and an advisor to Chief Marketing Officers all over the world. His speaking style is smart and engaging. Michael make his audience feel like he is someone you should grab a drink with after the show while talking about his inspiring ideas on leadership, marketing and leading a fulfilling life.
Shep Hyken – In today's digital world, just about anyone can re-create the product or service you sell. Customer experiences are the new battleground. And no one understands this better than Shep Hyken. Shep is a master of understanding and explaining the need for great customer service. His presentation style is fun and smart. Shep has been doing this for some time and has clearly mastered the art of reaching and engageing audiences all over the world. In the competitive landscape that we all face, earning customer loyalty has never been more important to the success of our businesses. Shep can help.
Sally Hogshead – Sally has spent her life seeking to understand the science of fascination. As a former star executive in the advertising industry, Sally understand the art of attraction. For the past few years, she has been teaching audiences how you too can become fascinating to others. Every one of her audiences gets to take a Fascination Personality Test that actually measures how people perceive your communication. Sally's presentations are fun, interactive, and transformational.
Andrew Davis - Andrew Davis is one of the most entertaining speakers you will ever hear. Andrew will make you believe that you can ignite conversations around your brand and build moments of inspiration for your customers. He is the author of Brandscaping and Town Inc. Andrew is a former child actor and may have missed his calling as a successful comedian. Typically, Andrew is booked to open for events because his energy is certain to wake up even the sleepiest of crowds.
Tim Washer - Tim is a really funny. He's both a trained comedian and an experienced corporate marketing executive. In his speaking, Tim speaks about using humor and storytelling to help humanize brands and engage audiences and also about how the rules of improv comedy can improve company teamwork. As an event emcee, he's brought laughter to executive meetings in very conservative cultures, including Saudi Arabia and even IBM. Tim studied improv under Amy Poehler and later wrote for her on Saturday Night Live Weekend Update. He studied comedy writing under Tom Purcell, head writer for The Colbert Report. TV comedy appearances include HBO's Last Week Tonight with John Oliver, the Onion Sports Network, Conan O'Brien and a T-Mobile commercial with Catherine Zeta-Jones.
Support HuffPost
The Stakes Have Never Been Higher
Related
Popular in the Community