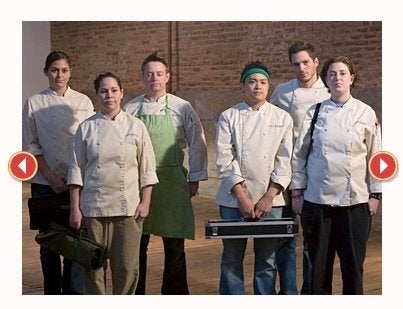 So, a bit on last week. Last week was restaurant wars, in which the team of Richard, Steph and Antonia hit it out of the park, and the other team --Team Doom, as I call them -- disappointed guest judge Anthony Bourdain and disappointed me by getting Dale, not Spike sent home. Dale and Lisa fought their way to the losing two while Spike, who worked front of house, sneakily stepped out of reach of the ax. Dale, the executive chef who walked the plank, but not before getting into a nasty fight with Lisa. Tantrum for two, your table is ready.
The chefs go to Allen Brothers, a meat distributor. Inside, they put on crazy white apron/armor to prepare for the 1st part of their quickfire challenge: cutting dry aged rib-eyes. Most of the chefs are nervous -- except for Spike, who says "I'm pretty comfortable cutting meat -- both of my grandfathers were butchers so there seems to be a little strain of butchery in me." You said it.
The chefs have to cut individual chops from each rack and make sure that the bone is frenched. They have 20 minutes. Padma is no where to be seen, I'm assuming because she couldn't figure out the proper ensemble for a meatlocker.

All of the chefs have a certain awkwardness in their cutting, except for Spike the Butcher. The chefs pack up their meat and head back to the top chef kitchen, where Rick Tramanto is waiting. James Beard award winner, of course. On Top Chef, you can't shake a stick without hitting a James Beard Award winner.
So the second part of the quickfire is to cook the perfect steak. Except that Rick doesn't taste the steak. He just cuts it to see if it's cooked right. That's what food critics do, right? They go to restaurants and just cut into food? I'm annoyed because all of the chefs have very different modes of cooking the steak: some people sear it and finish it in the oven, others just char it, some pan fry it....I would have been interested in hearing what tasted the best. THAT'S ALL.
Spike says that the key to getting a piece medium rare is to let it cook on both sides (on the grill) and then throw it in the oven. Hmm. Antonia says "Cooking a steak, there has to be alot of love in it ... and you baste it and baste it and baste it in butter."
Rick goes around ... and stares at the steaks. He mentions the "Tomahawk steak ... like a lollipop." a billion times, at least. I am so going to ace my steak quiz. Rick was really impressed with Spike the Butcher's Butchery and Spike the Top Chef Butcher wins the Quickfire.
For the challenge, the five will take over Rick's gorgeous new steak restaurant. Rick, a master of deadpan (or just really tired) says, "Don't Screw It up." Each chef is responsible for an appetizer and an entrée, based on what they find in Rick's kitchen. Spike, as the winner of the Quickfire, gets to pick a protein first, which the other chefs then cannot use.
Spike The Butcher goes for Tomahawk steaks & frozen scallops. Frozen scallops! Ack! This is not good! Lisa says, "Initially I wanted scallops, but they're.....frozen."
Tom will be expediting the meal, which means he'll be coordinating the dishes, and spying on them. Tom also comes in to introduce the night's three VIP guests, who turn out to be Harold (I'm going to his restaurant, Perilla, in a few weeks), Ilan (eh) and Hung (I loved Hung, yes I did, America.)
Each of the chefs prepare a tasting portion of appetizers for the judges. They think Lisa's shrimp is OK, although Hung says it needs more sugar (and I trust him, America, yes I do.)
Richard's hamachi with crispy sweet breads, radishes and avocado gets rave reviews. Everyone loves it, and Rick says he'd put it on his menu in a heartbeat.
Spike's frozen scallop appetizer gets trashed, of course. I hear the drums of doom. Sweet drums of doom, play on! I dance for you!
Stephanie's veal sweetbreads with golden raisins and pine nuts really really impress people with the sophistication. Gail says that Stephanie's had "exactly what Spike's was missing." What's that I hear? Is it the Timpanie of Failure? The Cowbell of Despair?
Antonia's mushroom and artichoke salad with poached egg goes over OK -- the egg was poached perfectly but made the rest of the salad too soggy. I think this might be because they had to make the judges little tasting portions, but she had to give them each a whole egg so probably in the larger portions the egg didn't overwhelm the leaves.
They enjoy the flavors of Richards' steak but think it should have been served together, instead of fussily (artfully!) separated and arranged all over the plate. Rick enjoys Lisa's dish (even the peanut butter mashed potatoes!) but Ilan says the beef is underseasoned, and Hung says it's tough. Spike's tomahawk chop (like a lollipop!) and sweet potato puree are not getting the best reviews: it's too sweet, too much. Stephanie's beef tenderloin with wild mushrooms and apple sauce gets rave reviews -- it's gorgeous and tasty. Antonia serves a very steak housey dish, and, no surprise, Rick loves it. The judges do like the fattiness of the meat but think the dish maybe errs too much on the side of richness.
Padma is wearing a bright red dress. She is one hot tomato! I actually say this while watching it. Tom is wearing a bizarre turtleneck/blazer combo, I can only assume he has a hickey (from Tré).
Essentially Richard has the best appetizer, Antonia had the best main (really?) but Stephanie was the best overall, so she wins. I love Stephanie.
So, the chef going home is either Spike or Lisa. Really at this point I could turn off the TV, make myself a hot toddy and go to bed (or die) quite happy, but there is always the possibility that they'll send both of them home, so I'll stay tuned. But I would just like to say I am VERY pleased.
Spike gets raked over the coals for his frozen scallops. Spike says, to Rick, "With all due respect ... they were in YOUR walk in." It is my pet peeve when people preface an insult with "with all due respect." please.
Rick retorts, "I had frozen scallops in my freezer, but you used them!" hmm. A frozen scallop is a frozen scallop is a frozen scallop, so Queen Solomon McGivney will merely say that Rick did have frozen scallops in his freezer. True. However, Spike the (scallop) Butcher did served them basically straight up -- maybe old Rick diced them or something, who knows. He's still being outed as serving frozen scallops in his very expensive restaurant. They are probably like $40.
Lisa gets criticized for being "apathetic" -- Tom says she focuses more on flavor and less on technique. (I officially call her out as a crank.) Spike is called out for making a bad choice, especially when his flavors are "simple" -- simple has to be perfect. (I officially call him out for his hats.)
In the end of it, Spike goes home. It's about time. Pack up all your hats, Spike.
Backstage, Spike says, "I showed so much of myself here, in so many different ways. ...it sucks that it had to end like this for me." It certainly does suck that it had to end this way for Spike, which is to say, about 5 episodes too late.
Lisa says, "I'm excited as hell, it's a clean slate and I'm going to shock the shit out of the judges." Ewwwwwww.
After, I chatted with Max. However, I really think his little creation says it all about how he feels about Lisa. Well done, Max. Well done.
Popular in the Community