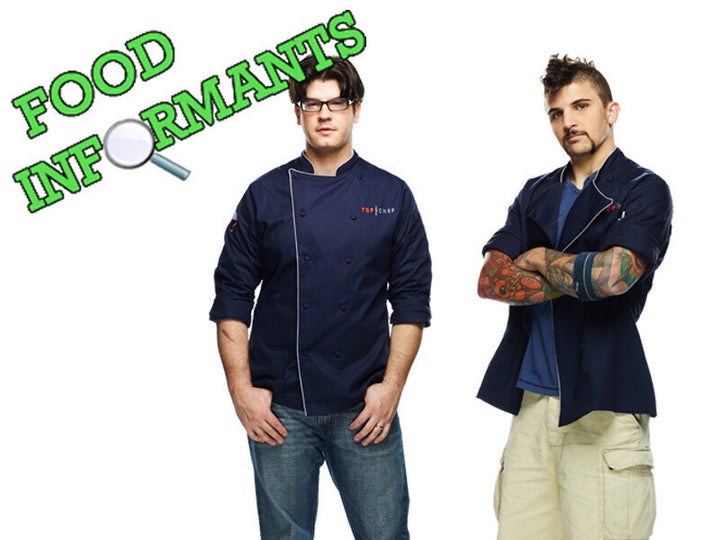 Food Informants is a week-in-the-life series profiling fascinating people in the food world. We hope it will give you a first-hand look at the many different corners of the food industry. Know someone who would make a great Food Informant? Tell us why.
Chris Jones and Richie Farina are chefs at Moto, a fine dining restaurant in Chicago that focuses on innovative and futuristic cuisine. They are both contestants on this season of "Top Chef: Texas." After attending Johnson and Wales University, Farina, the executive sous chef, started cooking in several Boston restaurants, and then joined Moto in 2008. In his spare time, he trains in mixed martial arts, a mixture of Ju Jistu wrestling and boxing. Jones, got his start cooking in his grandmother's kitchen. After working his way up the ladder in several restaurants, Jones is now the chef de cuisine of Moto. He lives with his wife and young daughter, Savannah.
Read Chris and Richie's diary to learn about their Thanksgiving traditions, and how they felt when Richie was kicked off "Top Chef."
Monday, November 21
Richie Farina
11:30am: Wake up. I get to sleep in on Monday, my one day a week to rest.
12:30pm: My mom is visiting for Thanksgiving, so I get to spend the day with her. We decided to get some lunch at Flub a Dub Chubs, a hot dog place down the street from my apartment.
3:00pm: I placed orders for Tuesday and watched some TV with mom. I also answered a lot of my new Twitter followers. I thank every new follower I have for their support.
5:30pm: On Monday nights I train MMA for about three hours. It is a mixture of Ju Jistu wrestling and boxing. It is a great workout. I probably completely soak three shirts with sweat but it is so much fun. I started training about a year ago and it has been amazing.
9:00pm: Shower and then mom and I go to get some sushi. We have a couple of traditions when she visits and getting sushi together is one of them.
Tuesday, November 22
Chris Jones
6:45am: I awake after a couple hours of sleep. My little girl Savannah is getting her first molar and she is not a happy camper. Tuesday is the toughest day of the week -- I hate leaving my family after a two day weekend.
8:15am: Head out to my second home and family at Moto. Tuesdays are a long day at Moto. We start from scratch, meaning all of our food comes in fresh and we rebuild our entire menu. We also have our brainstorming meeting; a tradition that started before I began at the restaurant, in which we discuss ways to improve ourselves, the service or the menu.
9:15am: One of my favorite things on earth: our kitchen when no one is there. You can close your eyes and still feel service like its pulsing through the veins of the restaurant. Its eerie how you can almost feel the heat of the pans and the sizzle of a fryer. The cooks moving in a hypnotic dance. What a fine machine Chef Homaro Cantu has built here.
10:00am: Meeting time! I can only tell you this is a think tank of the most brilliant young chefs in the country if I say anymore I will be shot on site.
11:30am: Opening my box on Tuesday is always like Christmas. All of my good friends there to welcome me back home.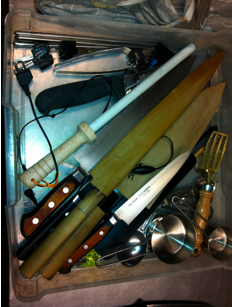 11am-4:15pm: A blur.
4:15pm: Staff meeting to discuss reservations and menus changes for both Moto and ING, Moto's sister restaurant. This usually takes a half hour.
5:00pm: Let's rock. Service is the rush of the day. Below, seared foie gras and orange.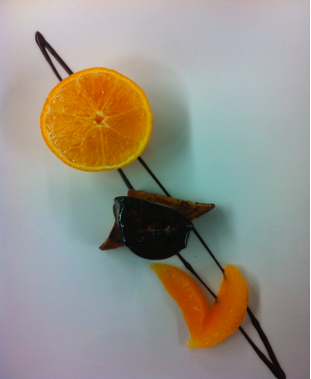 11:00pm - 1am: Clean clean clean. Our goal is to finish the break down and beat the last plate to walk so we can leave with it.
Richie
9:30am: I ride my bike to work, I ride year-round even when it is -20 in the middle of winter. It is cheaper than the bus and it a faster way to get to work. Plus, it is a little bit of a workout.
10:00am-1:00am: During the day, I help everyone prep. I usually take care of most of the butchering of meats while Chris takes care of the fish. I tend to be meat station helper and Chris helps out fish station. The meats that I butcher are suckling pig and quail. I help everyone prep to make sure that we are set up.
3:00pm: Staff meal is pretty much our one meal a day.
5:00pm: We put up dish demos so that Chris and I can taste everything. Then service starts, it is kind of a tame night -- we are doing 31 people which comes out to about 450 plates. After service slows down, I start planning for the Beard House dinner that we are doing on the 30th, make prep and order list for the dinner.
Wednesday, November 23
Chris
8:00am: On my way to work to the most exciting day in my work year. Moto and ING Thanksgiving Day Before Extravaganza. We will be frying some of farmer George's delicious turkeys out of Swan Creek Farms in Michigan. This is my absolute favorite holiday. I cannot wait to see what today brings!
10am: Let's get those turkey fryers set up. I need oil to come up to 400 degrees. I need a lot of oil -- these are 20-pound beauties. A stray thought rolls through my mind about prep I should be doing.
11:30am: Right on time. Let's fry those bad boys.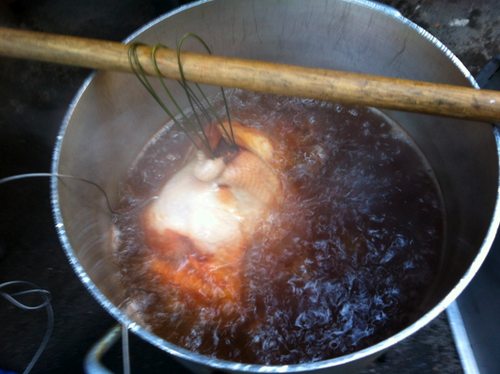 3:00pm: I am blessed in so many ways but I am very thankful for such a special team between Moto and ING. Happy family meal. Wednesday night is a special night for Richie and myself. We get to watch "Top Chef" and cheer each other on.
9:00pm: "Top Chef" is over and my hero Richie is asked to pack his knives and go over a bullshit challenge that would push anyone over the top. Richie is and always will be one of the most talented chefs I have ever met, and I'm very glad he is on our side at Moto.
12:52am: After maybe 300 Cheerios, Savannah is finally asleep. Night owl just like her papa bear. I cannot wait for tomorrow!
Richie
9:00am: Get to work. Today is the day before Thanksgiving ,so this is our big staff meal of the year.
Everyone in the restaurant makes a side dish and the chefs, mainly me and Chris, deep fry turkeys in the alley. We really look forward to this throughout the year, it is an awesome day. As the day progresses, I do usually prep as well as get some of the dry goods together for the James Beard dinner we are doing in a week. We also have a Art Culinare shoot going on today which is fun but a lot of work.
2:30pm: We sit down as a family and both restaurants eat Thanksgiving staff meal for about an hour and enjoy the day. This is a really good way to build camaraderie among the two restaurants.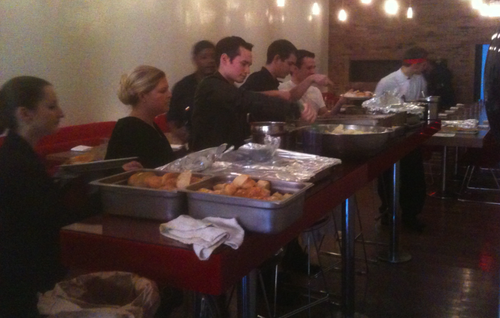 5:00pm: The restaurant is busy for the night before a holiday. As the night goes along we get a lot of on-the-fly restrictions on certain tables so we have to come up with new variations of dishes. We end up doing around 40 covers and once the dust settles Chris and I are able to leave and watch "Top Chef."
8:00pm: Leave to go home and on my way home I stop by Game Stop to get the new Zelda game. I am a huge video game fan.
9:00 pm: "Top Chef" starts. I watch the episode and tweet with fans while it is happening. Unfortunately I know how this episode ends and I watch myself get eliminated. I knew how it was going to go, but I didn't know how it would look. I was so emotional, coming up really short in the competition and it showed when I said by to Chris at the end of the show. The amount of positive support that I got on Twitter and Facebook was amazing. It made me feel really good.
10:00-1:00am: Relax with my family who are in town for the holiday and just enjoy the night.
Thursday, November 24
Chris
7:00am: Prep for today's feast begins. I have never cooked for my mother in law, so I wanted to do something special. No reason to cook a huge turkey for 3 people so I decide to do a tasting.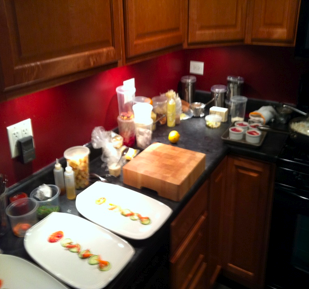 8:00pm: To end the night, everyone's favorite -- a cute baby in the box.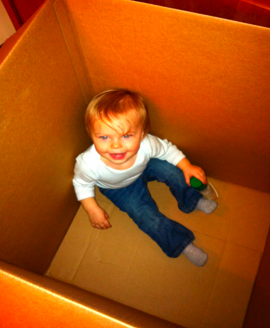 Richie
11:30am: It's Thanksgiving, so obviously I will be cooking. We have a little tradition in my family that we have breakfast at my apartment the head over to my sister's in-laws for dinner.
12:00pm: I start cooking, I take care of all the sides: mashed potatoes, sweet potatoes, roasted potatoes, mac-n-cheese, baked beans, carrots, string beans, stuffing.
3:30pm: We start eating and watch the Dallas Cowboys game. I love Thanksgiving because it consists of two of my favorite things: food and football. The Cowboys win (barely). If they lost I would have watched myself get eliminated and watch my team lose in 24 hour period which would have sucked. After dinner we hang out take the dogs for a walk then decide to go to the Horseshoe Casino.
9:00pm-12:30am: Play some slots. I think I lose about $60 but it is so much fun hanging out with my family I don't care.
Friday, November 25
Chris
4:15am: An email about staffing. Yes I sleep with my phone under the pillow.
5:00am: Start to feel kind of weird. My whole insides feel slippery.
7:13am: At exactly this moment, it hit me. So sick. I ran immediately to the bathroom. I just kept thinking "why today? why Friday? Get up, shower, keep moving." My day became a dream and that dream became a nightmare of images and feelings that are very intense to describe -- I just kept thinking if I could just get moving I would feel better and that I have to get up and not let my team down.
Richie
9:00am: This is a BUSY day, we are fully BOOKED at 90 people and we lost a day of prep because of the holiday. I am hustling today and Chris is sick so I am solo today. I am helping everyone. I butcher all the meats and fish even help out pastry for a while. My staff made chili for staff meal today. In their defense they planned on making it before the show aired (the challenge I got eliminated on was chili).
5:00pm: Service starts. I am a little behind -- I am prepping a vegan menu right now and my hot line is throwing down.
5:30pm: I am able to get on the line now and we are working great as a team, it is normally a four-man hotline with Chris working with me but running a three-man line is tough. The first seating is rough but we pull it together for the second seating. As the night goes on weare doing tours of the kitchen and since people want to meet Chris and I (which is weird but cool) we call them Top Chef tours. The vegans come down for a tour and say that it is the best meal of their life, which is cool to hear because we take diet restrictions very seriously.
11:30pm: Start breaking down the kitchen and we finish around 1:30am.
2:00am: Gym. I wanted to go because it was kind of a stressful day.
Saturday, November 26
Chris
11:00am: My first attempt at work failed. I just sat there. I couldn't move. I couldn't think. I felt like dying. But that just goes to show you how strong Moto is. The team came together and had an amazing prep and service. I am so proud of the team for what they can accomplish.
3:00pm: Second attempt. Got all the way to Halsted and had to turn back.
4:30pm: I go off to a sleepless slumber where my sickness awoke me more than I can recall and the demons wrestled for my sanity.
Richie
8:30am: Today I have to prep a lot of the stuff for the Beard House dinner, that is my main focus until about 3:00pm. I do some butchering for the hot line. Get an email from Chris that he is still sick. So we are solo again. This time though I ask for Omar's help because he is normally at ING but we are really busy and I could use his help. It has been a while since I worked the line with Omar and I forgot how much fun it is.
2:00am: Finish cleaning the kitchen and now we go to our normal Saturday hang out, the Jefferson Tap. Anne Burrell form the Food Network just happens to be there hanging out with friends and some of my friends want to meet her so they want me to be the ice breaker. I walk over and then we start talking about "Top Chef." She told me that she was sad when I was eliminated and the funny thing is that she recognized me! That is pretty cool to get recognized by a big network star. Other people in the bar come up and say that I got screwed on "Top Chef." The positive support has been awesome.
See more Food Informants below: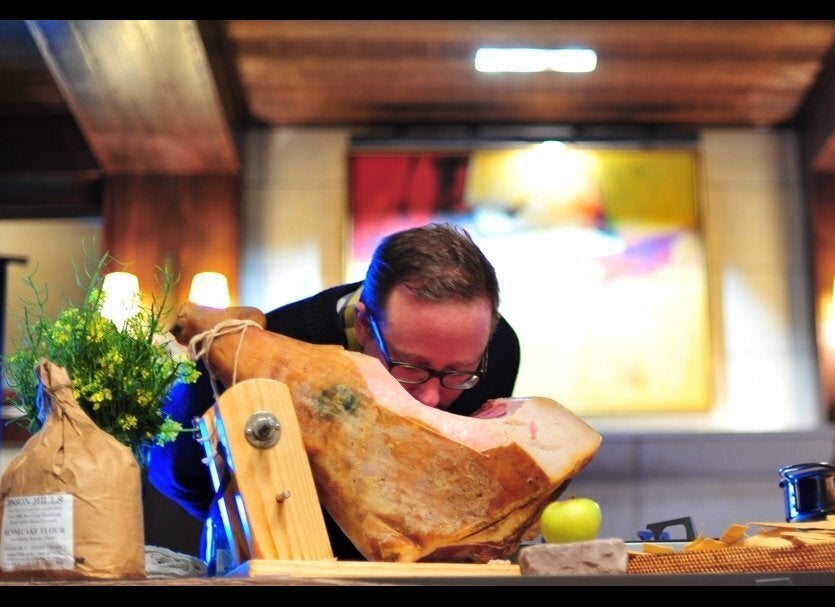 Food Informants(CLONED)
Related
Popular in the Community