The season premiere of Top Chef Duels debuted Wednesday evening. Here's a Q&A with two previous Cheftestants who dueled aboard the Celebrity Summit on a cruise to Bermuda, the first of four sailings of Top Chef at Sea, a joint venture between Bravo and Celebrity Cruises.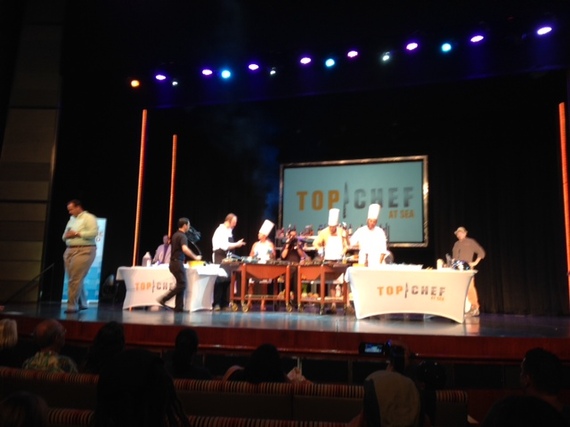 Ash Fulk, Angelo Sosa and Spike Mendelsohn recently entertained fans aboard the Summit with Quickfire challenges, private cooking classes and friendly banter at several meet and greets and photo ops:
Here's our second Q&A with two of these Top Chef bad boys:
Q: Do you travel with your knives?
Ash: Funny you should ask that. I just found out how hard it is to get knives and other long, sharp items on board. They stopped me when I went through security and, even though I explained why I had them, they wouldn't let me through. Chef Steve even came down and pled my case. Right now they're being held hostage in his office.
Spike: I completely shut down JFK one day after getting kicked off Top Chef All-Stars. I was kinda bummed, not paying attention and I threw all my knives in my backpack. I got to the airport, went through security and, when I got to my gate, I heard that all flights had been put on hold. There was this big orange alert. I assumed I had packed my knives in my checked baggage, didn't think much about it and went to get a steak and take a nap. When I woke up, all flights were still on hold. I thought it was pretty weird that the whole airport was shut down. No flights were going in or out. As I was walking toward my game, somebody yelled at me.
I assumed it was somebody wanting an autograph. I turned around with a big smile on my face. But instead, it was a security guard holding up an x-ray. I took a look at it and immediately recognized my cleaver, my chef knife, my utility knife and two other huge knives.
Q: What are your top three go-to ingredients?
Ash: Dijon mustard, chili pepper flakes and a lot of smoke. Smoke is my jam.
Spike: Fish sauce, fish sauce, fish sauce.
Q: How intense is it in front of the judge's table?
Ash: You're standing there the whole time and you don't want to go home. It's intense and emotional. I just tried not to pass out.
Spike: It's like being a new artist and standing in front of Picasso.

Q: Do the chefs ever try to sabotage each other?
Spike: Angelo (Sosa) "accidentally" tripped once and spilled yuzu all over my dish.
Q: What happens after you get kicked off?
Ash: You live in the "loser house" until the show is wrapped. We had great dinner parties.
Q: What's your favorite thing to cook?
Ash: I never like to cook anything twice.
Spike: I lived in Vietnam for awhile, so I like giving my dishes that Vietnamese French twist.
Q: What does it take to be a great chef?
Ash: You've got to be brave enough to add a little bit more than what you think a dish needs. The most valuable ingredients of any dish are love and courage.
Q: What did you learn on Top Chef?
Ash: Tom [Colicchoi] doesn't wear shoes under the judges table.
Q: Do you keep in touch with the other chefs?
Ash: Chefs are really busy people. I've kept in touch with a couple, but it's hard. Our lives are just crazy.
Spike: Yea, we need to start a Top Chef Anonymous.
Popular in the Community