This post originally appeared on artnet News. by Elizabeth Manus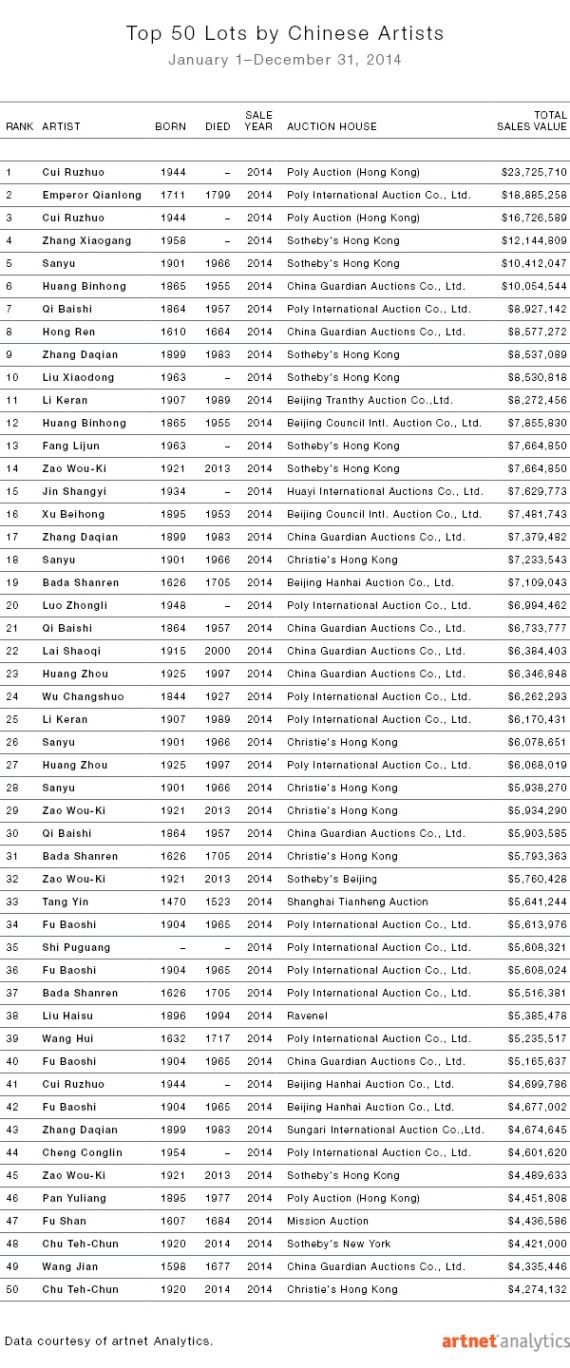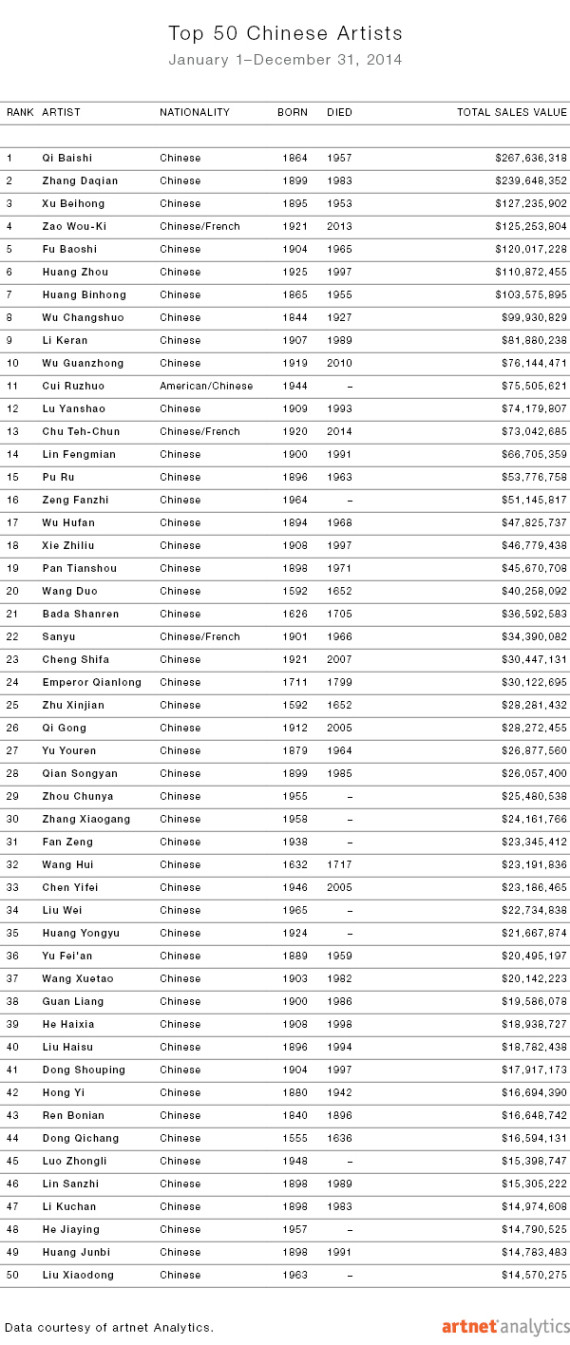 With help from artnet's Analytics team and the artnet Fine Art & Design Price Database, we combed through auction results from 2014. (If you'd like to see our latest list of the Top 100 Most Collectible Living Artists, have a look at the March 2015 report.)
According to artnet's Fine Art & Design Price Database, artworks by fine art artists of Chinese descent totaled just over $4.4 billion at auction and contributed approximately 25 percent to the global fine art auction market in 2014. Of those, the artists on this list garnered over $2.5 billion in auction sales throughout the year—58 percent of the value of all Chinese fine art artists.
Sales at New York auction houses realized about $70 million, or 85 percent of the North American auction market.
Of the top 50 artists, 10 artists are still living—Cui Ruzhuo, Zeng Fanzhi, Zhon Chunya, Zhang Xiaogang, Fan Zeng, Lin Wei, Huang Yongyu, Luo Zhongli, He Jiaying, and Liu Xiaodong—and together they rang up $288 million (11 percent) of the top 50 in total sales value.
The top Chinese artist of 2014, Qi Baishi, who died in 1957 (the year Mao launched the "great leap forward"), ranked 6th among all fine art artists for the auction year.
Each artist's place on the list is perhaps a story in its own right. The market of Zhang Xiaogang, for example, is a tale one of the most rapid increases in an individual artist's market. As Eileen Kinsella reported in her September 8, 2014, artnet News report Who Are the Top 30 Chinese Artists at Auction?:
In early 2006, Zhang Xiaogang's family portraits first started drawing attention in the US, where his Chelsea dealer Max Protetch was offering the works at prices under $100,000. In March of that year, when Sotheby's established a dedicated department and held a special sale for Chinese contemporary art, the artist set a new auction record. His 1998 oil on canvas Bloodline Series: Comrade No. 120 soared past its presale estimate of $250,000–350,000, all the way to $979,200.
If you're interested in learning more about these artists, their top lots, and past sales records, dip into the artnet Fine Art & Design Price Database and conduct your own investigation.
--------------------------------------------------------------------------------------------------- artnet News is the world's first global, 24-hour art newswire, dedicated to informing, engaging, and connecting the most avid members of the art community with daily news and expert commentary.
Before You Go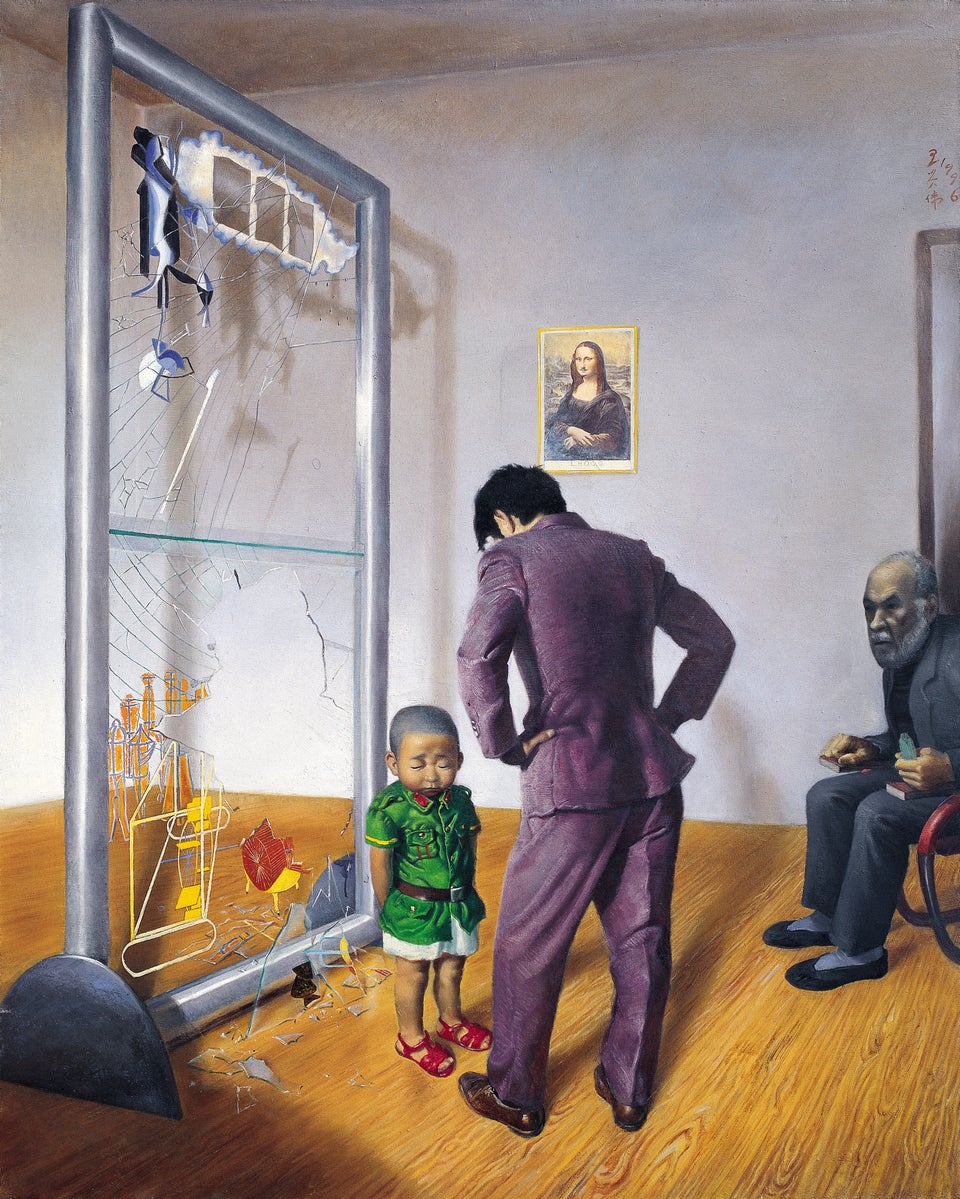 Wang Xingwei
Popular in the Community