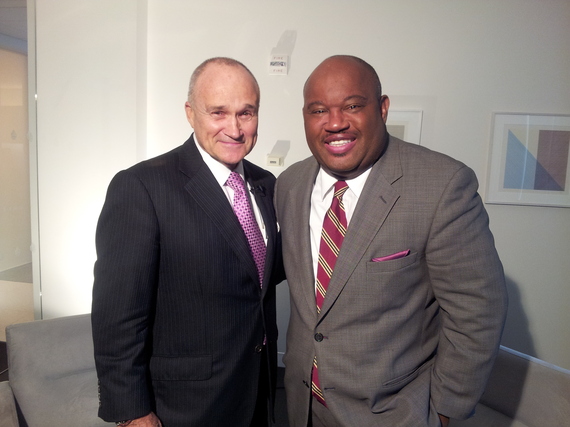 He was cautious and deliberate. I left the 30 minute interview almost shocked.
Ray Kelly, the proud former Marine and New York's longest serving police commissioner, is as strong a supporter of the police as they come. Kelly had a 47 year career in the NYPD. He's a cop's cop.
However, Kelly has enormous criticism for the authorities in Ferguson, Missouri.
Let's start by looking at the glass as half full. This was the most positive comment Kelly made in the interview about Missouri authorities. (Part One):
"This is an event of world proportions... It happened in a small town and understandably in some ways they simply were not prepared for it."
Ray Kelly and I have known each other for close to 30 years. As NYC police commissioner, in an attempt to improve police-community relations, Kelly mandated all police officers out of the academy had to come to the heart of black America.
He instituted a program where the new officers would visit Harlem and go to the same theater where many legendary music artists performed -- including Ella Fitzgerald, James Brown, and a young Michael Jackson. I moderated many of Kelly's events at the Apollo Theater, where at least one thousand new officers would be present, and Kelly told me privately don't hold back anything. Tell them the way the black community views the NYPD. Put another way, Kelly called it a "cold shower," if you will, to let officers get an idea of the community perspective, and at least be aware that issues exist. (For example, this is one of the NYPD press releases: Over 1,100 NYPD recruits undergo comprehensive multicultural immersion training.)
But on this day in the conference room of the 7th floor at Kelly's new job as president of risk management at real estate giant, Cushman & Wakefield, Kelly did something I had never seen him do in all the years before. Kelly actually used his arms to illustrate holding a rifle, and questioned why in the world did law enforcement in Ferguson have rifles to handle a protest.
"I have never seen police officers in a riot control mode pointing weapons at people. I've never seen that before."
Kelly quickly added law enforcement didn't help themselves.
Kelly went on, also adding another mistake was leaving Michael Brown's body on the street for more than four hours. But in our interview, the biggest issue Ray Kelly contended with is why authorities released the Michael Brown videotape.

"No competent legal authority was consulted on that matter... It was mentioned about a freedom of information request. Freedom of Information requests can languish, for a long time."
"To officially put it out, at the same time you are identifying the officer, it looked very bad."
In 1994 Kelly also served as International Director of the police force in Haiti. In 1996, he moved over to the Department of the Treasury where he was the under secretary, supervising the Secret Service, Bureau of Alcohol, Tobacco and Firearms, and the Customs Service. New York Senator Charles Schumer even pushed for Kelly to head the FBI.
Kelly's deep law enforcement background is why it's so refreshing to see the experts tell the truth about Missouri.
He even had criticism for that now infamous posting of former 17 year LAPD officer Sunil Dutta, titled: "I'm a cop. If you don't want to get hurt, don't challenge me," and in it Dutta went on to say:
"Don't argue with me, don't call me names, don't tell me that I can't stop you, don't say I'm a racist pig, don't threaten that you'll sue me and take away my badge. Don't scream at me that you pay my salary, and don't even think of aggressively walking towards me."
"That might be his wish list, but that's not the way the world works, and not the way it works in this country.... A lot of people voice their displeasure at the police and hey if you don't like it get another job."
Unsolicited, Kelly brought up running for NYC mayor, and said he had serious considered it.
"Campaigns have become very, very nasty these days and will only continue to move in that direction and I determined it simply wasn't the right thing for myself and my family at this stage in my life ... I thought seriously about it."
And on the controversial issue of police "Stop and Frisk" which has come under severe criticism, Kelly argues the successful program has been a victim of politics, that was in the middle of a race for mayor. He calls it a "false narrative."
"The police department had a 70 percent approval rating [which] undermines, totally, in my opinion, the false narrative ... that was put out in the last mayoral campaign that there was this huge schism between minorities and the police, particularly the African-American community, and the police. This belies that. It just simply was not the case, but it worked for the election because there was very low turnout and you are able to parse the electorate and go to, you might say, the edges, and the extremes, to a certain extent, and that's where that sort of vote was cultivated."
Kelly ruled out serving as New York police commissioner for a third time, but polling proves Kelly is very popular and certainly a guy to never say never with.
My prediction is Kelly may not be done with law enforcement or politics.
REAL LIFE. REAL NEWS. REAL VOICES.
Help us tell more of the stories that matter from voices that too often remain unheard.