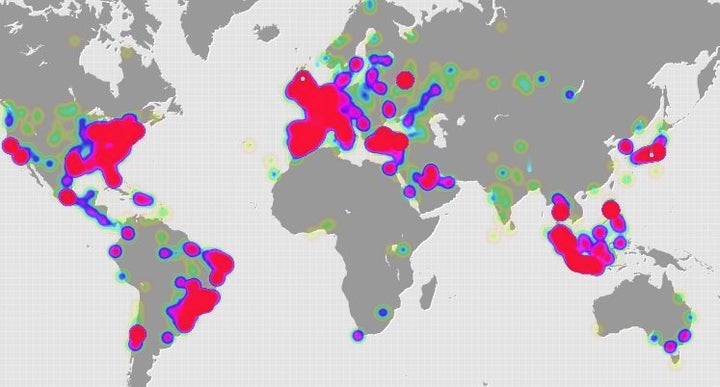 Call it the United States of Tweets.
According to a study by the Oxford Internet Institute that examined which countries use Twitter the most, citizens in the U.S. interact with Twitter more than any other country, followed by Brazil, Indonesia, and the United Kingdom.
"The six largest countries in terms of information production through Twitter are: (1) the United States, (2) Brazil, (3) Indonesia, (4) the United Kingdom, (5) Mexico, and (6) Malaysia," the Oxford Internet Institute wrote in its report. "It is interesting to note that only two of the countries on that list are in the Global North and are traditional hubs of the production of codified knowledge."
The researchers created a chart to illustrate which countries tweet most frequently, with more active nations getting a large portion of space on the "map." Countries with darker shaded blocks also have a higher percentage of internet users, giving them higher "Twitter penetration." (See the chart here)
For example, the graphic shows that Brazil produces a large number of tweets because it has the second largest box in the chart. The country also maintains a high amount of internet users, noted by the dark shading.
"A World Of Tweets" is another project that illustrates where tweets come from by displaying an interactive, constantly-updated map of Twitter activity. This website's information is consistent with the Oxford study, listing the same top tweeting countries.
A World Of Tweets includes some other fun facts about Twitter activity across the world: Since November 2010, 27 percent of tweets have come from the United States, 23 percent from Brazil, 11 percent from Indonesia, 7 percent from the U.K., and 3 percent from the Netherlands. (See more stats here)
The Oxford Internet Institute writes that Twitter is doing much more than keeping the world abreast about what people had for lunch and transforming the spread of information:
By mapping the distribution of tweets in the world it becomes apparent that Twitter is allowing for broader participation than is possible in most other platforms and media. In other words, it might be allowing for a 'democratisation' of information production and sharing because of its low barriers to entry and adaptability to mobile devices. Similarly barriers to the dissemination of information, such as censorship, are also visible through the small proportion of tweets originating in China (home to the largest population of internet users in the world).

Do you agree that social media really cause "democratization?" Let us know your thoughts in the comments section below, or tweet to us at @HuffPostTech
Support HuffPost
The Stakes Have Never Been Higher
Related
Popular in the Community