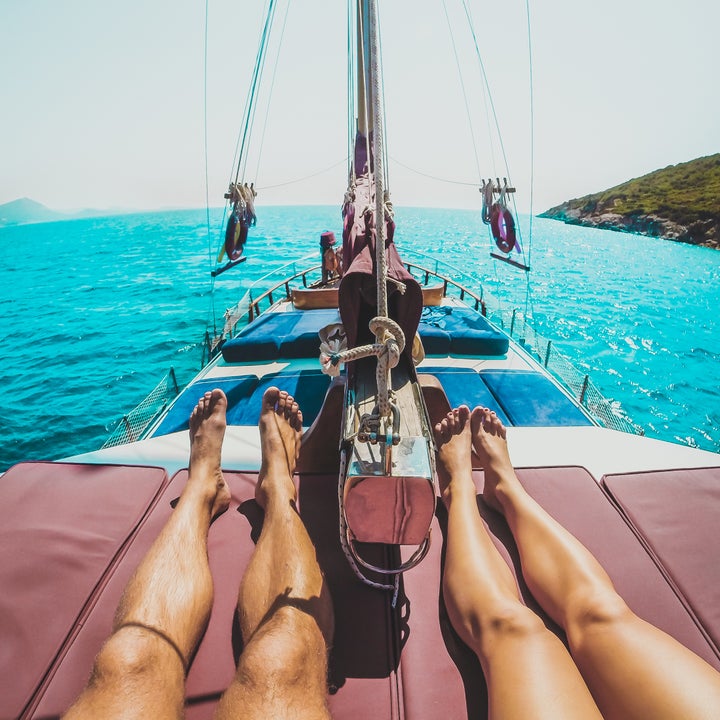 Whether you're planning a honeymoon, anniversary, or a lover's weekend getaway, there are certain destinations that are more wanderlust-worth than others. We surveyed the top travel couples bloggers to find out the top romantic retreats for your next holiday. #Wanderlove, Commence!
Lovers Location: South Island, New Zealand
New Zealand is a country known for its dramatic landscapes, exotic adventures, and omnipresent romance. From the glaciers of Franz Josef to the beaches of Abel Tasman, the aqua blue glacial fed lakes of Mt. Cook to the alluring mountains surrounding Arthur's Pass, every twist and turn of the South Island of New Zealand presents itself like a postcard. A visit to New Zealand is the perfect opportunity for lovers to connect with nature and with one another. While it's rustic and not your typical romantic getaway, it's the perfect place to reconnect and share an intimate journey with your partner. We could spend our days hiking in nature, laying on rock beaches, and swimming in glacier fed lakes. At night, we could pull over and camp underneath the stars, concentrating on each other to the exclusion of the world with the backdrop of one of the most beautiful places.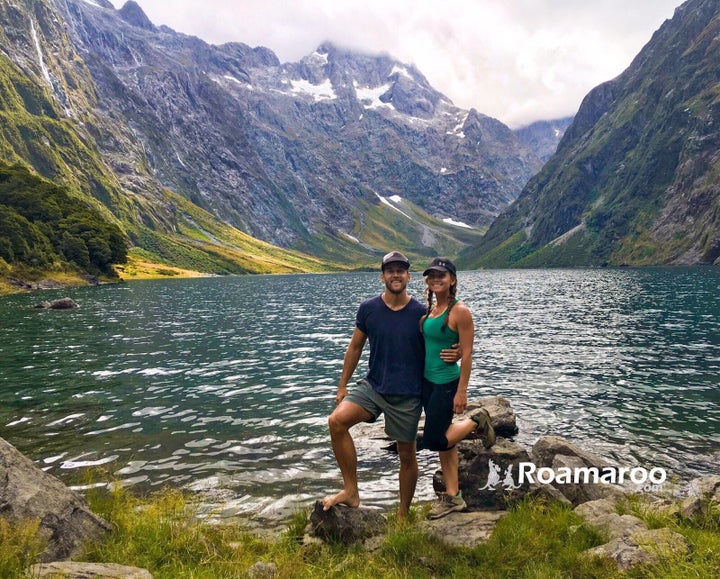 What to Do: Rent a campervan for two weeks and drive around, stopping and staying when you find a place that you resonate with, and moving along when you've had your fill of a city (warning: this island is extremely enchanting, thus you may never move on and you may want to stay forever). Romantic retreats to New Zealand aren't about the fluff of a five-star resort or finding a luxurious, overpriced restaurant. The romance is found in the raw beauty of the island. Spend your days hiking in nature, laying on rock beaches, skinny dipping (or swimming!) in glacier fed lakes, and "sleeping" under the stars with your sweetheart.
Lovers Location: Cappadocia, Turkey
Cappadocia, a historical region in central Turkey, encompasses one of the dreamiest landscapes you could possibly imagine! The unique topography, which is pierced with volcanic peaks and scattered with elaborate rock formations known as 'fairy chimneys', makes it perfect for a romantic escapade. A visit to Cappadocia is an opportunity to experience a fairytale life - where you live in a luxuriously appointed cave, are served the finest Turkish cuisine, and have adventures beyond your wildest dreams!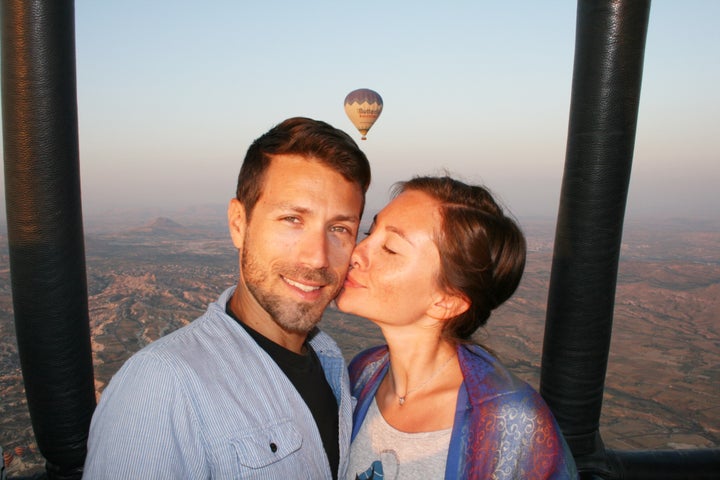 What to Do: Stay at Sultan Cave Suites, one of the best spots for chic cave dwelling combined with jaw-dropping views. The hotel is also home to arguably the finest restaurant in the area, Seten Anatolian, where you'll experience delectable Turkish dining in a romantic environment. There is much to explore, and while hiking through the region is highly recommended, hot air ballooning at sunrise is a once-in-a-lifetime experience that can't be missed! Just imagine... floating in the arms of your lover over one of the most distinctive landscapes on earth, surrounded by hundreds of colorful balloons, watching the sun slowly creep it's way over distant peaks. Your ride ends with a kiss, and a champagne toast to the most magical experience of your life... cheers!
Lovers Location: Koh Lipe, Thailand
Our favorite place as a couple is Koh Lipe, a magical little island in Thailand. Koh Lipe is often referred to as "The Maldives of Thailand" and having been to the Maldives ourselves we can honestly say this is true. Koh Lipe is an island most people have never heard of and kind of hard to get to, but this is what makes it unique. There is no airport on Koh Lipe, the only way to get to Koh Lipe is by speedboat either from Langkawi, Malaysia or Pak Bara, Thailand.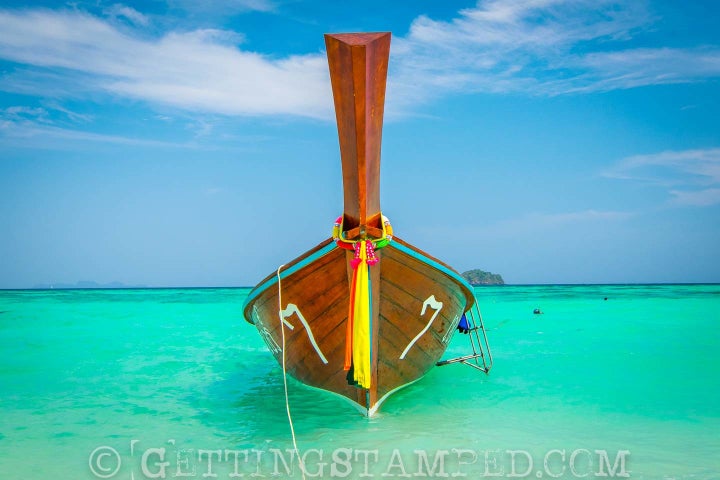 What to Do: Koh Lipe has amazing white sand beaches, turquoise waters, great diving, amazing day trips to nearby islands, and very little tourists compared to the more popular islands like Koh Phi Phi/Koh Samui. There are three beaches on Koh Lipe: Sunset, Sunrise, and Pattaya. We suggest staying on Sunrise beach, it's less crowded and very peaceful. Make sure to eat curry at our favorite restaurant in the world Sunrise Beach Restaurant, Adam loves the green curry and I (Hannah) love the Penang curry.
Lovers Location: Cape Town, South Africa
When we're on the hunt for our next romantic travel destination, we're looking for so much more than beautiful scenery and jacuzzi tubs. (But don't get us wrong - we love jacuzzi tubs!) We're looking for the perfect place to stay, delicious food, intriguing culture, and bucket list activities. While we realize that's a lot to ask from any one destination - but there is one place we've found, thus far, that surpasses our every wish and expectation. And that place is none other than Cape Town, South Africa.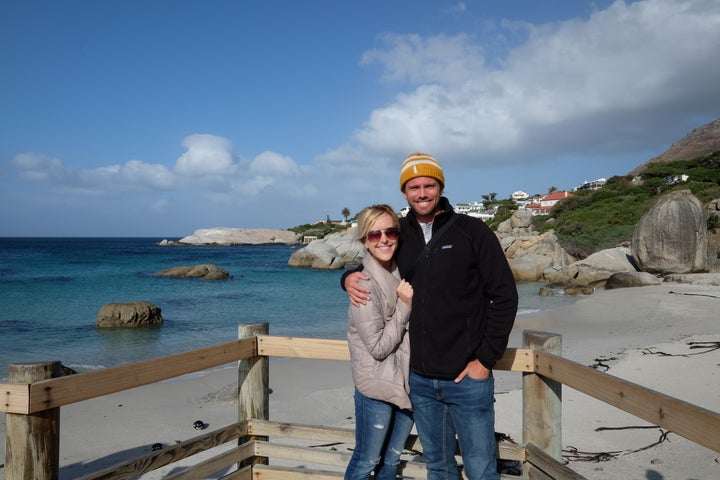 What to Do: Cape town, South Africa is a romantic travel destination that truly has it all. Intriguing culture, breathtaking scenery, bucket list activities, award-winning restaurants - and how can we forget the penguins at nearby Boulder Beach?! Head to the nearby Stellenbosch region for wine tasting. There are over 200 family owned and operated wineries in the scenic hills of Stellenbosch. And this wine-lovers paradise is only a 30 minute drive from the city center... Need we say more?
Lovers Location: Ohrid, Macedonia
The jaw dropping scenery makes you feel like you're in the idyllic Italian Lake District, but this gorgeous lake is just off the typical tourist path. The small winding roads of the Ohrid's Old Town make it easy to get lost in the best way possible in this small town.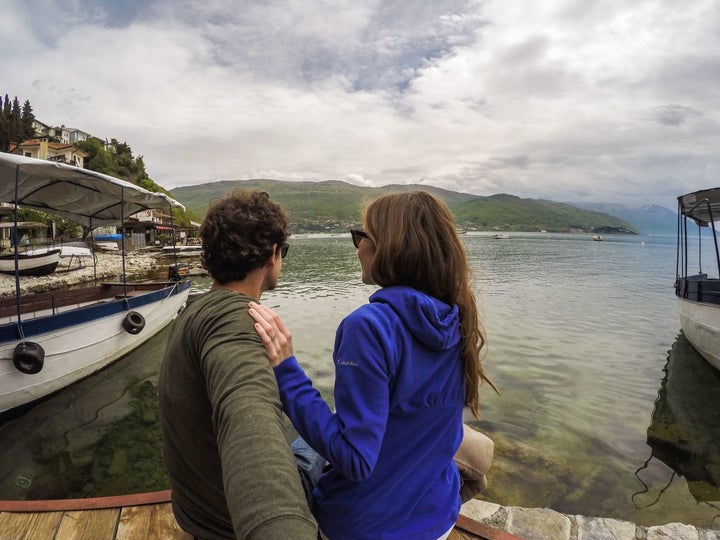 What to Do: For a romantic date, charter one of the small boats with a local fisherman as your guide at sunset or visit the delicious Gladiator restaurant overlooking the Roman built amphitheater for a traditional Macedonian dinner (try the freshly caught fish). There are also many nice lounge bars where you can sip on some local wine lakeside and watch the day go by. Ohrid, with its friendly locals, beautiful landscape and amazing history truly is a special and romantic place.
If you're looking for romance, adventure, or just want to visit someplace different and very unique, Iceland seems to have it all. We spent a week in Reykjavik and did everything from glacier hiking, a spa day at the Blue Lagoon and sampling the best lamb and fish we both have ever had at a variety of restaurants. You can see lava fields, glaciers, crashing waves, spurting geysers, majestic waterfalls and green as far as the eye can see, all in a single day. Then of course you can come back to the city, and be blown away by the fine dining scene. There are so many incredible restaurants that really focus on local dishes with tons of flavor. One of my favorite foodie stops for sure!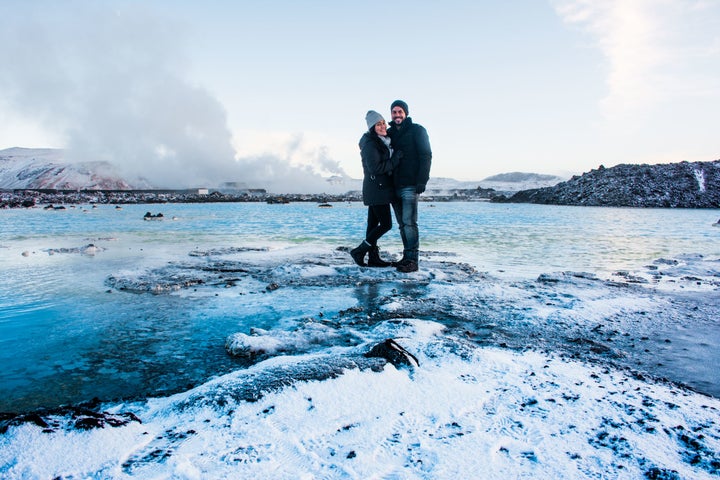 What to Do: For adventure, definitely spend a day hiking Sólheimajökull Glacier and spend at least one night chasing Aurora Borealis (Northern Lights). Visit the Blue Lagoon and make a spa day out of it (Go with the VIP package so you can have some privacy and private areas at the lagoon - totally worth it). Stay at Kvosin Hotel in Reykjavik and make sure to visit the Harpa Concert Hall if you're into architecture - it's all glass facade and lights are stunning, especially at night. Reykjavik is a place to splurge for some delicious gourmet meals. Dine at The Fish Company for a modern take on classic Icelandic dishes and at Kolabrautin, inside the Harpa for an Italian twist on local specialties.
Lovers Location: Lake Como, Italy
Lake Como is a magical couples destination. Breathtaking views, great wine and Italian cooking await around every corner.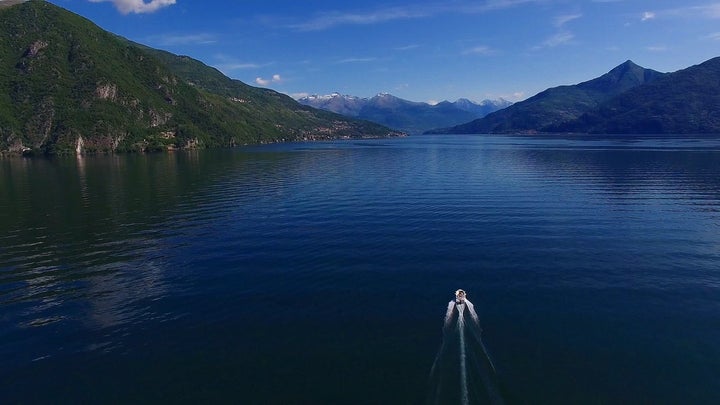 What to Do: For the perfect romantic morning, we suggest renting a private boat on Lake Como. You can pack a picnic brunch and enjoy the calm waters and mountain views of the Italian Alps. Try going a bit earlier in the morning. The feeling of having the lake to yourself is something incredible. Next, take an afternoon and walk along the Bellagio promenade to the Gardens of Villa Melzi. The views and calm atmosphere are perfect for a relaxing adventure. It is Italy, so enjoy a couple scoops of gelato as you explore. Don't forget to wander around the back alleys of Bellagio. Take some time to window shop and stop for a glass or two of wine.
If you are willing to drive 2 hours, we highly suggest a day visit to Lago di Montespluga. This lake is situated high in the Alps and boasts magnificent views and a charming village. Set aside some extra time to stop and take pictures during your drive!
Lovers Location: Cabo San Lucas, Mexico
Our current favourite hot spot for couples is Cabo San Lucas Mexico. If the scenery and wildlife don't convince you, the food will! With the downtown area located a 30 minute drive from the airport, you reach paradise soon after you touch down on the tarmac. Being in such close proximity to the California coast, it's also a hot spot for celebrities so keep your eyes peeled. Cabo is the perfect spot for couples to take time to indulge in luxury and relax at a spa with a view.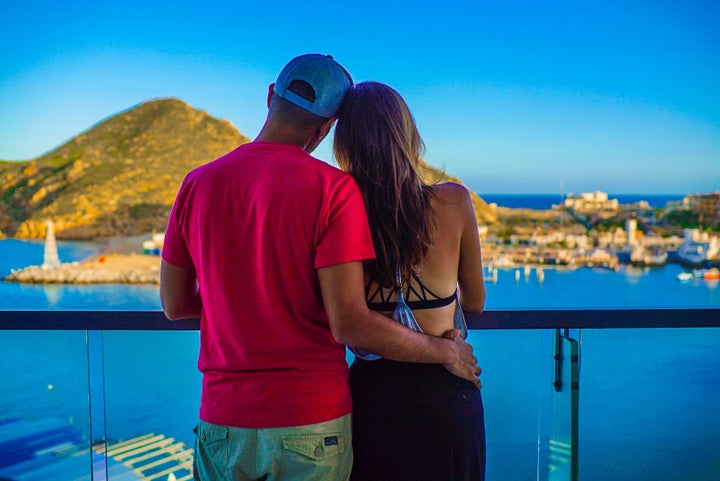 What to Do: We kicked off our days with romantic walks down Medano beach watching the boats leave the marina under the gorgeous rays of the rising sun. It's perfect for both relaxing and frolicking together in the waves. Taking a walk around town to visit all the local shops and eateries is a must. Pit stop at Carnitas El Michoacano for the best tacos in Mexico and enjoy your generous platter of crunchy salty goodness in the breezy air. We enjoyed a couple's massage and an Aromatherapy Salt Glow with views of the Pacific Ocean from the hot tub at the Breathless Resort.
Make sure to take in jaw-dropping views of the Arch and Lovers beach with a water taxi from the marina. Shadi planned a sunset cruise on the Caborey where we enjoyed the views, spectacular entertainment and the rays of the setting sun with drink in hand. Cabo has endless possibilities for authentic Mexican gourmet food and one of our favorite experiences was at La Biblioteca de tequila. Choosing from over 150 tequilas and spirits while dining on pork carnitas and watching the sunset is a perfect way to end your culinary experience for the day. The town comes alive at night and whether it's Cabo Wabo, Skid Roe or Mandala, the nightlife is sure to keep the romance and fun pumping throughout the night.
Lovers Location: Tulum, Mexico.
With it's pure white sand beaches, adorable "Boho-Chic" boutique hotels and super laid back atmosphere, Tulum tops our list as one of the hottest up and coming travel destinations for couples. Those who know about Tulum want to keep it a secret in order to preserve it's charm and authenticity. There's something to be said about a modern day beach town free of overcrowded resorts and the sound of Spring Breakers partying until the wee hours of the morning. Tulum is the perfect tropical affordable paradise for lovers seeking something different. Something more. What's truly unique about this adorable beach town is that everything is eco-friendly. The buildings and shops made from local natural materials plus the beautifully handmade artisanal decor pieces give this town a rustic boho chic vibe that many tourists crave for but rarely ever find nowadays.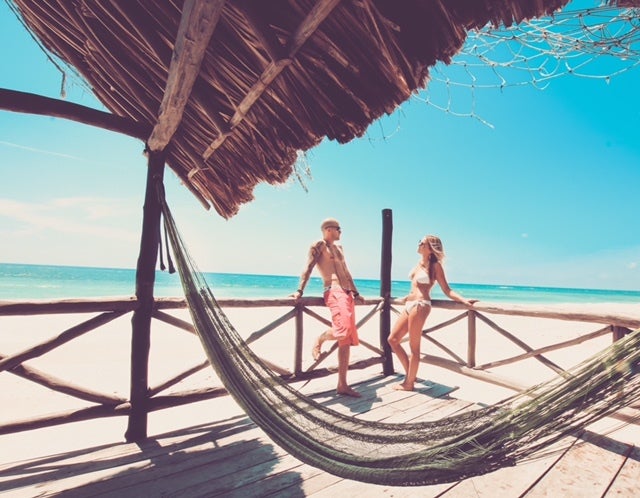 What to Do: While in Tulum, spice up your trip with that special someone by dancing to the beats of the salsa band at "La Zebra" and then nuzzling up in one of their outdoor beachside cabanas sipping on a "Healthy Margarita". Fall in love in Tulum while staying at the "Luv Tulum" hotel as you and your honey fall asleep to the relaxing sound of waves crashing nearby in one of their magical ocean view cottages. If you want to explore the adventurous side of your relationship, take a romantic dip in one of Tulum's famous "Ceynotes" which are fascinating cave-like swimming holes. "Ceynotes Dos Ojos" is a must see especially if you want to snorkel hand in hand with that special someone. If you have time for a day trip and have a strong urge to satisfy your wanderlust, drive two hours with your rental car, taxi or tour bus to the famous Chichen Itza to see the ancient Mayan ruins and spectacular Temple of Kukulcan step-pyramid. This historical place makes for some amazing photos ops and of course one heck of an adventure story to tell your friends about.
Lovers Location: Our recommendation for lovers would be Santorini in the Greek Islands.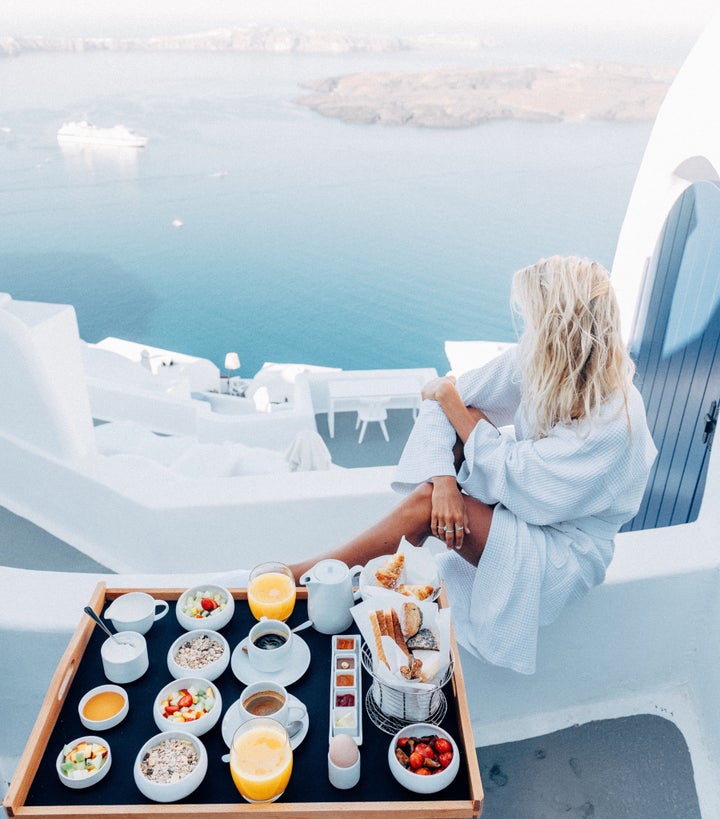 What to Do: The romantic island of Santorini is for lovers. We recommend staying up in Oia in Santorini, a total fairytale town. All the boutique hotels sprinkled along the hillside are the perfect escape for lovers. Nothing else compares to waking up to breakfast on your balcony overlooking the sea and all of Santorini. We recommend staying at the Charisma Suites, which have the best view of the caldera. During your visit, we also recommend exploring a few of the islands surrounding Santorini including Milos, Ios, and Mykonos. All of the islands were incredible for different reasons.
If you are craving adventure, go to the island of Milos, surrounded by stunning coastlines and coves. But there is no luxury accommodation there so much more for the adventurous. Mykonos has a wonderful food scene mixed with the luxurious hotels and beaches to explore, Those streets in the main town are what we came for, we spent hours walking around and exploring them most days!
Support HuffPost
The Stakes Have Never Been Higher
Related
Popular in the Community