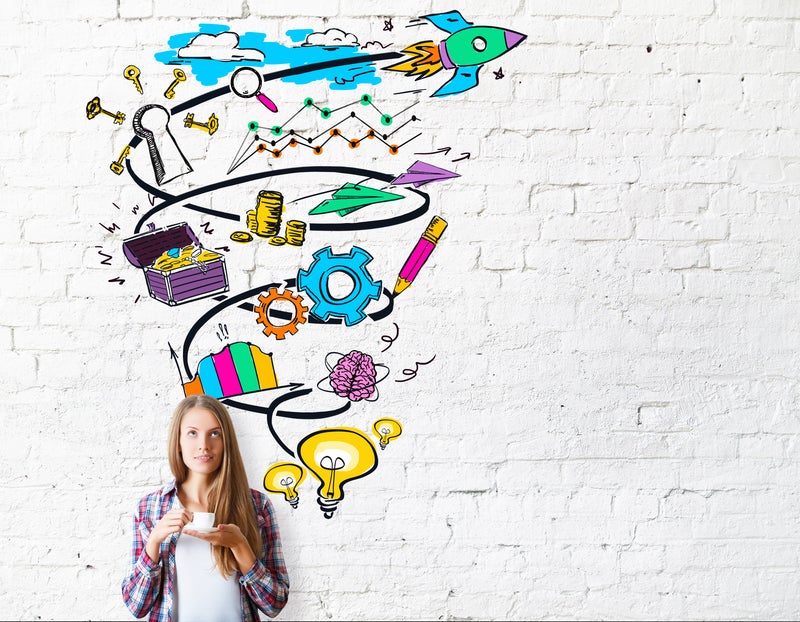 Almost everyone wants to be an entrepreneur. Let's face it. It does look pretty glamourous from the outside. You get to be your own boss, call the shots, be in control of the staff; what's not to like? After starting my own Public Relations Firm, I quickly realized, it's not as easy as it seems. It's actually quite the opposite. At the end of the day, all of the elements of the business are my responsibility. I look back at those days of being an employee and think, wow that wasn't so bad. Just kidding! I love running my own business. It has always been a dream of mine. People ask me all the time; what is the one quality you need to succeed as an entrepreneur? After really giving this question some thought, I finally came to the conclusion. Motivation.
In the digital age of 2018, it's very easy to start your own business. However, I see companies come and go almost everyday. The reasons of course may very well vary. It's not fair to judge. The one thing I do want entrepreneurs to consider before throwing-in the towel, is that feeling when you first opened shop. Remember that feeling when you first registered your business with the state? Your motivation was probably through the roof. Then we get into the nitty gritty of the day-to-day tasks; dealing with different personalities, demands, reaching sales quotas, making sure everyone gets paid, let's not forget bills, bills, bills (c) Beyoncé, and our motivation suffers. I had the opportunity to chat with top entrepreneurs in various industries on how they stay motivated. Try these tips today. If it works for them, it may work for you!
Liz Toombs, Certified Interior Decorator and President/Owner of PDR Interiors.
"Keeping a routine - No matter how tired I am, sticking with my morning routine starts my day off right and helps me stay on track for the day. My personal routine consists of 6 a.m. exercise (the type varies depending on the day of the week and time of year. But can include anything from walking three miles to taking a cycling or yoga class), reading my daily devotional, and having hot green tea with honey. Then I head into my office or on to client appointments starting at 8 a.m. By this time, I feel clearheaded/awake and ready to take on whatever threatens to de-motivate me that day."
"Find a mentor you can gain valuable insights from. A true mentor is someone who will listen to you and give you honest advice. They should also offer an alternative view and challenge you – not just cheer you up when something goes wrong. For example, my mentor taught me how to analyze my fails: admit it, cool off, and don't be depressed about, then find 3 things to improve and do it next time...Never forget about your friends and family. These people love you no matter what so they are your safe harbor in a rough business ocean."
"I find the best way to help keep me motivated is to surround myself with other motivating people— the energy is contagious! Plus it's a great way to learn some new tips and tricks on how to help move your business forward and it also helps to give you a fresh perspective and keep a positive outlook. Read up about other entrepreneurs and their success stories. Not only is it a great tool to help keep you motivated, it's also a great learning tool and can even help with issues you might be having and how to go about getting past them. Join peer groups- I have found Facebook groups to be extremely useful with this lately- there are so many great groups out there dedicated to bringing like-minded individuals together and learn from."
"Take a Break - So many times, we are so focused on our goals and outcomes, we get easily buried in our to-do list. We forget that sometimes the best thing to do is take a break. Stand up and move away from your desk. Go for a short walk, dance it out with Beyoncé or call a friend. Whatever you need to do. Then get back to work. In the longer-term, schedule time off. Pull out your calendar right now and schedule a vacation. It's no longer a badge of honor to burn yourself out! Take a break so you can recharge your energy, and gain some clarity on next steps."
Drew McElroy, CEO and cofounder of Transfix
"Burnout for business owners is a real thing, but having a great team and empowering them to make decisions is key to making sure the pressure doesn't rest squarely on your shoulders. I stay motivated by taking the time to reflect on why I started this business, and the tangible effect it has on not only my team, but the trucking and shipper community as a whole. My parents owned a brokerage company so the trucking industry is second nature to me. When I think about the positive impact that my team has made on the 3.5 million truck drivers in the U.S., it drives me to create a better product that is beneficial for drivers and the environment. Occasionally taking short vacations to help clear your mind is great as well."
"All motivation comes from passion. I stay motivated by engaging with our customers. When I see their passion and excitement for our products, I am filled with joy. It's their excitement for doing what we do that motivates us to be better. Find ways to be involved with the end user/customer/those who use your service/product. Be active on social media and communicate with your customers via those platforms. Participate in local and national events where you get to interact with customers. Not only is their feedback crucial, but you hear why what you do is so important to them. That's motivating!"
Georg Richter, CEO and founder of OceanX
"My motivation is based on the experience that even the toughest or seemingly impossible hurdles to overcome go away with good attitude and stamina. You need to stay healthy physically and mentally to keep a good, positive attitude and maintain stamina during the ups and downs of starting and scaling a new business. Being surrounded by a capable and dedicated team gives me confidence and also motivates me to reward my colleagues by creating wealth and sharing it. Seeing the team pulling and pushing (with some fun and laughs in between the hard work) is the biggest motivation of all."
"For us, Staying Motivated has more to do with keeping up our momentum than anything else. We are always looking ahead at what the next RIGHT thing for our small business would be, this becomes our next goal and our focus. We work to achieve that goal, all the while reflecting and learning from our successes and failures during the process. Keeping the momentum of forward movement toward the next RIGHT thing makes each day more exciting because we can see our business growing and always changing shape. When we see our efforts producing, it motivates us to keep up our hustle! We love it!"
"I'm always motivated to work on The Zeitgeist because I love coming up with new designs for my line, interviewing creative leaders for my blog, and communicating with my readers. These things are all so much fun and what I enjoy doing the most. Also, I know that growing my business will help me give back to my community and causes I care about in a meaningful way. I've always wanted to make a difference, and a business can always serve as a catalyst for change. In order to feel even more inspired, surround yourself with other entrepreneurs and people you look up to, and most importantly, always believe in yourself and your ideas."
"I stay motivated by always thinking about our amazing, hard working team. Each and every person who works with us took a chance on us, our concept and our company and I'm motivated by working tirelessly to exceed their expectations and to make sure we give them the opportunity to grow with us as the company grows. I'm motivated by my team to build a company that they are incredibly proud to be a part of."
Justin Kittredge, Founder of ISlide
"Think about being 90 and looking back at your life. Try to imagine what we would be doing if we weren't doing this. I think about being back in corporate america where I was just another pawn in the game without a voice. We are changing the industry one ISlide at a time and if you ask me how do I stay motivated everyday?.....I say, How Do I Not!"
"As a single mom with four children, I treat my business the way I would any one of them. Nurturing anything that gives you and other people joy and fulfillment is the most rewarding factor in entrepreneurship. Maintaining my values and mission keeps me grounded and focused. So just like parenting, staying motivated in business involves: Being honest and transparent. You'll never get in trouble if you are but you will always get in trouble if you aren't. Looking ahead for opportunity is so much more fun than having to cover up mistakes or misrepresentations...Respecting your competition. My competition motivates me everyday. We have an amazing industry, full of other passionate and creative brands. I consider many of my competitors true friends. When I see an opening on shelf for naturals, I know it's not going to be filled with just my brand. I better make friends with my neighbors...Maintaining humility. I can't think of any other profession where every day I learn what I don't know. This could sound awful in some professions, but it's really so freeing. Being an entrepreneur is an education like none other. Most importantly, I am motivated as a parent to show my children everyday that hard work, creativity and integrity will payoff in immeasurable ways. Watching them watch my business grow and seeing them internalize the lessons I am learning is a truly honorable experience. "
"The single most important thing you can do as an entrepreneur is to define your why and remind yourself of it often. That's going to look different for everyone. I like to keep a paper planner, and in the front of it I've written, 'Because you know there's a better way, and it shouldn't be a secret.' As a dentist, I believe I work in an industry full of half truths and vague explanations. I think people deserve better than that. Reminding myself of this keeps me going when things get hard."
Tell me your best motivation tips in the comment section!
Jenny Miranda is the Founder & CEO of Jenny Miranda Public Relations, LLC (New York, NY). Add Jenny Miranda PR on social media for daily tips @JennyMariePR
Calling all HuffPost superfans!
Sign up for membership to become a founding member and help shape HuffPost's next chapter
This post was published on the now-closed HuffPost Contributor platform. Contributors control their own work and posted freely to our site. If you need to flag this entry as abusive,
send us an email
.