ArtScene and Visual Art Source's editors and writers have tabbed some of the top exhibitions throughout the Western U.S. among the plethora of new shows opening during September and continuing into the month of October. Here are this week's selections.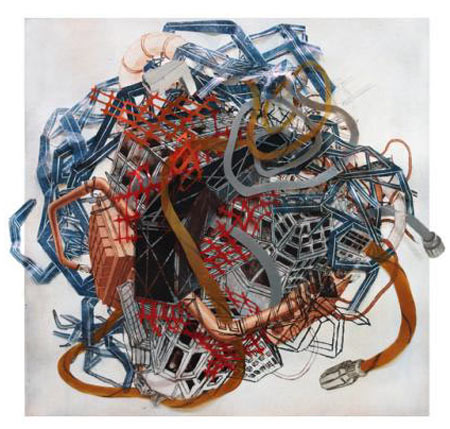 Nicola López, "Urban Transformation #5" 2009, etching, lithography, and woodcut on paper, 30" x 30", at Elizabeth Leach Gallery.
In "Small Transformations" Nicola López gives us a sample of what she is known for: the urban landscape in transition. Elements of architecture, fencing and borders, grids and angular shapes all collide and spin around, forming their own tentative abstractions. The world of López is mobile and in flight, a place where structures have an unpredictable life of their own.
These prints have been cut and woven together, presenting a three-dimensional puzzle referencing urban archaeology. We have a sense of past, present and future all at once, where history, landscape and technology are on the move. The artist utilizes cartography yet presents no clear map, no particular place, thus emphasizing journey over destination. López also works in collage and installation. That kind of materiality with a restless concern for layering is translated into her printmaking.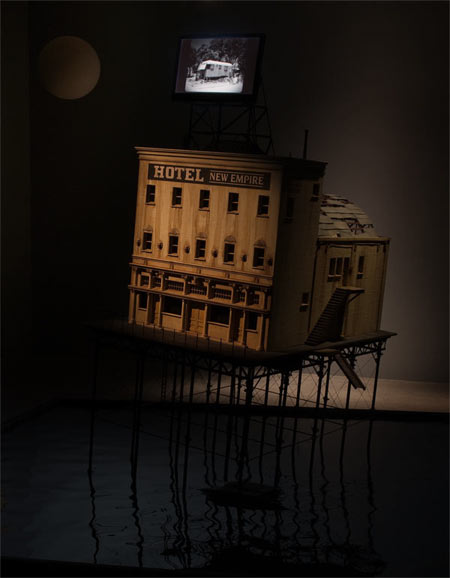 Michael C. McMillen, "Lighthouse (Hotel New Empire)," 2010, mixed media with artist digital motion picture, 97 x 132 x 144", at L.A. Louver.
Continuing through October 30, 2010
L.A. Louver, Venice, California
As we enter the gallery we open a pair of weathered screen doors. Above them reads a sign, "No Dancing." The doors swing open, creaking with the lazy movement of age. As one opens and then the other, a clanging string of keys rise out of a bucket and an anchor rises out of another. The resounding echo jolts and thrusts us into a different space. We are not in "the gallery" we thought we entered. Michael C. McMillen is transporting us somewhere else. As we look around, we first see a "Cistern" (2010, cast bronze) and then, we are suddenly afloat. Two ships - a submarine ("Neptune (Journey to the Surface)" (1985), wood and metal construction), and a weathered vessel ("Witch of Draconis," 1983, wood and metal construction) - sail above us. We join them, sailing along, sharing their space. A flotilla of five small, open boats sail silently alongside us ("Fleet," 2010, cast bronze). We float past and look into the empty boats. A weathered copper penny lies at the bottom of one, a handful of rusty keys lie in another. Floating high above to the far right is half of a bridge span ("Bendigo," 2009, birch and maple construction).
We reach for another age-worn door and as we push it open, we enter into a dark space in which a "Lighthouse" (2010, steel, wood) looms ahead. We have reached the shore. We are on land. Shifting our sense of proportion, we shrink to its size sensing ourselves on a boardwalk, implicitly having left the floating world behind. But have we? And "when" are we? Ladders, pipes, Greek and Victorian pillars and turrets, cargo boxes, vent pipes, clotheslines make up this " Lighthouse."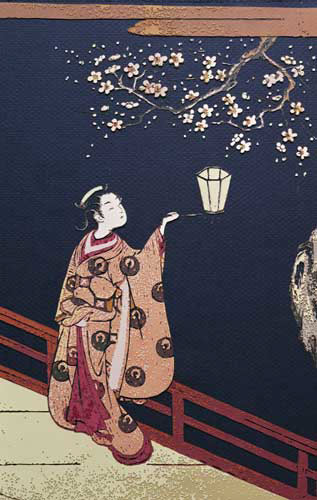 Vik Muniz, "Plum Blossom Viewing at Night, after Harunobu," 2010, digital C-print, 110 x 71", at Rena Bransten Gallery.
Continuing through October 23, 2010
Rena Bransten Gallery, San Francisco, California

"I was born in Brazil and grew up in the '70s under a climate of political distress," said artist Vik Muniz in a 2003 TED lecture. "I was forced to learn to communicate in a very specific way, like a semiotic black market. You couldn't really say what you wanted to say. You had to invent ways of doing it. You didn't trust information very much."

This cuts straight to the core of Muniz's work, which has consistently not been what it appears to be, and is also so much more. It is approachable, often immediately likeable. It is often clever, rife with puzzles, and layers of how it can be seen or understood.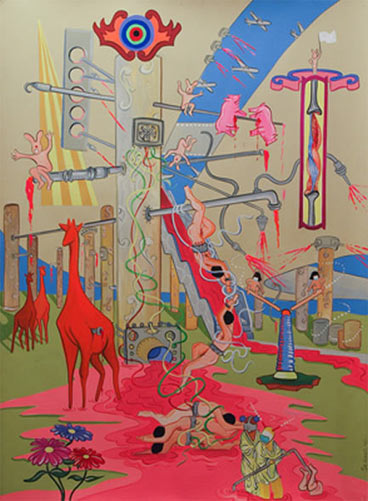 Timothy Siciliano, "Qingxi County Shock Tactic," 2010, acrylic gouache on paper, 30" x 22", at Catherine Person Gallery.
Continuing through October 9, 2010
Catherine Person Gallery, Seattle, Washington

"Dongguan Highways Hot Pink" by Timothy Siciliano is a hallucinatory exhibition of the ancient-meets-modern landscape of the Dongguan region of China, home to the ultimate symbol of consumerism: the world's largest shopping mall (the South China Mall has stood 99% unoccupied since its opening in 2005). In these works, as a reference to the mall and the ironies of the nation that created it, we see people and animals impaled in agony/ecstasy-inducing forms of torture, spilling pink, sacrificial blood which illustrates the discordant relationship of humanity's continued environmental encroachment. "Xintai Highway Sunset Explosion" masterfully explores the sexual sadism of the day-glo generation under Buddha's watchful eye. Pink bubbles, tiny explosions, and spurting liquids all build to a dramatic climax of hedonism.
Siciliano deftly combines vintage advertising, Eastern mythology and sexual taboos, resulting in a colorful orgy of old and new. His use of pink effectively gelds the grotesque imagery and renders it impotent. Most paintings are anchored by a target, the perfect symbol to act as both a reference point in a rapidly changing society and as a Western icon for consumerism.

- Joey Veltkamp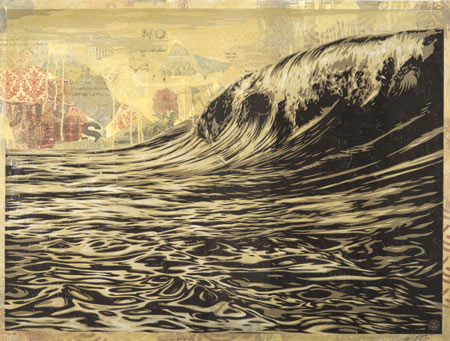 Shepard Fairey, "Dark Wave," 2010, mixed media collage on panel, at Subliminal Projects.
"Printed Matters" is a jam-packed tour that features an impressive number of works that propagate the importance of the printed form. The multiplicity of printmaking and its ready availability (both visually and physically) links conceptually to Shepard Fairey's political agenda as a street artist. Replication and distribution are cast as important concepts in "Freedom of the Press," which features a vintage printing press rolling off his stark and symbolically latent "Obey Giant" graphic. This image has become a cultural phenomenon, evoking a political philosophy that asks the viewer to question their surroundings.
The ubiquitous presence Fairey has impressed on pop culture is telling, as his work has invaded art, commercial and most famously political avenues. This energy triumphantly continues into the installation, as there is familiarity in certain images in addition to a few new takes on landscape and portraiture. Ultimately, the strength of Fairey's work does not derive from the initial images themselves but through their combined and holistic power. The artist uses the strengths of the print medium to question and challenge the imposing digital world. The rich surfaces and presence of the images gain power through this exposure as they are recognized upon first glance, but require more contemplation to unravel.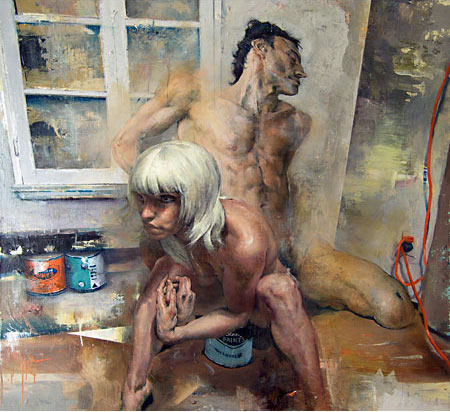 Kent Williams, "Blonde Natalia in Studio Arrangement," 2010, oil on linen, 44 x 48", at Evoke Contemporary.
Whether or not they actively subsume sexuality under the weight of calculated conceptual concerns, the formats of many media favored by contemporary artists tend towards disrupting acts of voyeurism. British artist Sarah Lucas's jury-rigged assemblages investigate its seedy socio-economic complexities. A.K. Burns and A.L. Steiner's collaborative, performance-driven videos reformulate the paradigms of its mediation to emphasize its role in community formation. Defused by the enforced deadpan of their documentary sensibilities, it never rises to the glossy surfaces of Mona Kuhn's at once bared and barren photographs.
By contrast, Kent Williams' current paintings and drawings derive much of their potency from exemplifying figurative painting's alluring tactility and coincidental ties to the long history of eroticized representation. Though tempered by comparison, the artist's stylistic extravagance - manifest in expressionistically smeared, splattered, and abraded paint handling - calls to mind Cecily Brown's fluent foregrounding of oil's in-the-flesh immediacy and the cunning ease with which obfuscatory gestures can suggest sexual frisson.
Perhaps the show's cynosure, "Blonde Natalia in Studio Arrangement" revels in the risqué, if also knowingly retardataire, associations of studio practice. Rendered in a flurry of writhing strokes of oil on linen, its physically idealized (i.e., sexually objectified) male and female models writhe in independent ecstasies against a backdrop of paint cans and orange extension cables - the latter an explicit reminder of the erotic currents snaking through the composition's literal and figurative middle ground. Indulgent, irresponsible, and wickedly immediate, the painting - suitably representative of the majority of works on view - largely ignores the continuing crisis of representation. Williams' willful indifference to such intellectual conceits serves to make it sexier.
ArtScene and Visual Art Source are the in print and online resources to fine art galleries and museums in Southern California and the Western United States. Visit us online or pick up a copy for complete listings of art venues and editorial Reviews, Recommendations and Previews of the best current exhibitions. Be sure to visit our Openings Calendar page so you can plan visits to the latest exhibitions--of wherever you may be in the Western States.
Want to opt-in for a free subscription to stay current every day on our Weekly Newsletter, as well as new shows, events and (if you are an artist) artists' calls? It's easy.
Popular in the Community