Being gluten free is anything but easy, and eating at (almost) every restaurant is a hassle (if you have ever eaten with somebody who is gluten free, you know exactly what I am talking about). Luckily, restaurants are (finally) picking up on recent trends and offering options for us gluten-free folks. I have ventured to some of the most popular North-American restaurants and have put together a list of the top five chain restaurants that offer gluten free options:
1. California Pizza Kitchen. California Pizza Kitchen has THE BEST gluten-free pizza. My favorite is the Original BBQ Chicken Pizza, however, the Margherita pizza is a close second. California Pizza Kitchen takes Celiac disease very seriously. They not only prepare and cook their pizzas in a different area than their "regular" pizzas, but they use different to-go boxes as well.
2. BJ's Restaurant and Brewhouse. BJ's has a wide variety of gluten-free items. My favorites were the Garden Vegetable Stuffed Potato and the Kale and Roasted Brussel Sprouts Salad. To top it off, they have a gluten-free chocolate chip Pizookie (a MUST try!)
3. PF Chang's. I was a little surprised to see that PF Chang's had a gluten-free menu, but the food did not taste any different than the food off of the regular menu. My favorite items were the Chicken Lettuce Wraps (of course) and the Ginger Chicken with Broccoli.
4. The Cheesecake Factory. I was not impressed with their menu, but I did enjoy their turkey burger and gluten-free Godiva cheesecake.
5. TGI Friday's. Friday's claims they are not a gluten-free environment, but I did not have an issue with their food. I have ordered the Seasonal Strawberry Fields Salad (with chicken) and the Turkey Burger (which comes on a gluten-free bun). They even have a gluten-free ice cream sundae for dessert!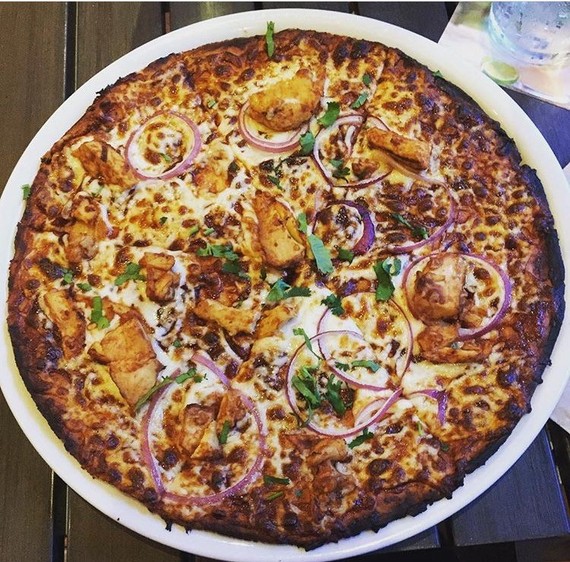 Be sure to follow Arielle's gluten-free adventures on Instagram- @glutenfreegalpal