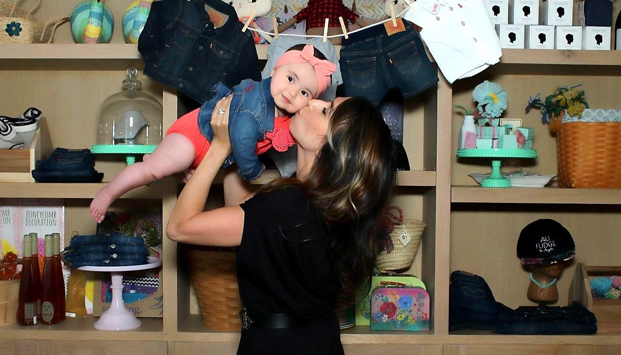 As you settle into motherhood, full nights of sleep and time for yourself become distant memories. Days are spent looking after the family, keeping the house together, caring for the baby and, if you're lucky, you won't show up to work with puke on your shirt. I am a working mom, who's still breast-feeding, and if there is anything I've learned in the past seven months it is that motherhood ain't easy! I've received some good advice, I know it takes a village to raise a baby and I've accepted all help with open arms, but I still find juggling daily life tasks to be a bit of a challenge on most days… OK, maybe everyday. The good news is I have collected some pretty sweet life hacks that have made motherhood (or life in general) a bit more manageable. For example: Did you know that you don't need to wash your breast pump bottles and attachments after each use as long as you store them in the fridge? If you didn't happen to know that, I just saved you a good seven minutes of your day. Which means, you can actually check your voicemail now. Want more hacks? Read on!
o Technology is your friend.
InstaTemp is a point-and-click, no-touch handheld thermometer that provides fast and accurate temperature, without disturbing the little ones. Fast and accurate, two things us moms like.
BEABA Babycook steams and purees baby food in minutes. Even better, BEABA also makes an ice tray so you can store the food in tiny portions. You get a few meals in a few minutes - winning!
The Nest Cam streams excellent 1080p video to any internet-connected device (laptop, tablet, or smartphone) anywhere in the world. So you can check on the babes while meeting with your boss - that's pretty nest level.
Wait a Minute Mr. Postman
o Get as many things as humanly possible delivered to your house.
Services like Google Express have changed my life. I get everything delivered without having to set foot in a Costco or Target. No, you don't actually have to go into Costco to get the deals! (Yes, you will miss those sweet samples).
There's the ever-popular Amazon Prime where you can get everything from toys, diapers, and books to you name it, delivered the same day. Oh hey, Supermom!
Can't make it to the grocery store? Just log onto Instacart and get groceries delivered within the hour.
Opt for organic? Sign up for an organic vegetable delivery to support your local farmer and healthy eating!
Hair Done, Nails Done, Everything Did!
o Utilize your free minutes for quick beauty spurts.
Don't have time to wash your hair? (Me, every day.) Just reach for your favorite dry shampoo and get shower fresh hair in minutes. Just spray and pray the rest of your day goes well!
Have a big night out? Grab GlamSquad, the at-home beauty app for blowouts, nail services, and make-up applications that come right to your door. Hello, hot mama!
Have a big night in? When your baby is sleeping, grab a facemask, some teeth whitening strips, and put on a clear topcoat to save that mani/pedi. Turn that naptime into you-time!
o We don't want anyone in the household hangry!
Don't have time to cook after work? Look up some slow cooker recipes and throw everything in before you leave in the morning. Dinner will be ready when you get home. Happy husband, happy life, oh, wait…
Have time to cook, but no time to shop? Call on Blue Apron to send you just the right ingredients needed for your meal. Since products arrive in a refrigerated packaging it'll be ready for you right at your doorstep. Honey, I'm home!
Don't have any time for either? Postmates delivers food from wherever you damn please! No shame, you're worth it!
And don't forget the kiddos! There are services like Little Foodie Club that will deliver fresh organic cooked food for your little one without having to step foot in the kitchen! Mama likey!
Want a massage in the comfort of your own home? Try Soothe.
Wish someone could come to your work and just fill your tank with gas? Try Purple—you just leave the door to your tank open and they come with in two hours and fill 'er up!
Wish your car would magically wash itself? Try Dryve where a car concierge takes your vehicle on a spin and returns it so fresh and so clean (clean).
#MomLife isn't easy, but if some of these tips save you just five minutes a day it'll make me happy! Have great tips that you want to share with me and other time-saving moms? Tell us in the comments!
Calling all HuffPost superfans!
Sign up for membership to become a founding member and help shape HuffPost's next chapter
This post was published on the now-closed HuffPost Contributor platform. Contributors control their own work and posted freely to our site. If you need to flag this entry as abusive,
send us an email
.