Marrakesh (or Marrakech) is a mysterious and beguiling, if tattered, beauty. Set in the rocky and palm tree-dotted plains at the foot of the snow-capped Atlas mountains, the city is a mix of old and new. The walls of the fortified old city were built in the 12th century and still stand today. Outside the walls, condos are being erected around golf courses and shopping malls. But inside the walls, the medina - the beating, nay throbbing, heart of the city - is another world entirely, home to a seemingly endless maze of narrow streets teeming with bazaars, hidden palaces, and street vendors hawking their wares. Marrakesh is not for the faint of heart - it has long been a city that beckons the traveler with a flair for the exotic. So it stands to reason that it might not be the first place that comes to mind on the list of family-friendly travel destinations.
However, Marrakesh has a lot to offer families looking for something different than the old beach vacation. And it was thus with dreams of Arabian Nights (and sunshine!) in our heads that we recently boarded our Ryanair direct flight from London with my parents, and our 2-year-old and 4-year-old in tow, to discover Morocco's "jewel of the south." I am pleased to report that there is a wealth of things to do in Marrakesh to satisfy even the most discerning (and littlest) travelers. And it's easier to navigate than you might think. Without further ado, my top five Marrakesh... with children.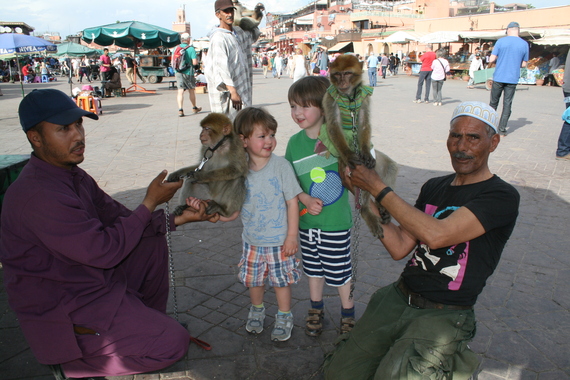 1. Jemaa el Fna At the heart of the medina (old city) is Jemaa el Fna, Marrakesh's central square and Africa's busiest square, also a UNESCO world heritage site. The square was founded in the 11th Century, and in a sense remains largely unchanged from its origins. Throughout the day a variety of services are offered- from dental care to fortune-telling; from preaching to henna tattooing. Snake charmers and Berber musicians set up camp next to storytellers and traditional dancers. The call to prayer (adhan) reverberates through the square five times a day from nearby Koutoubia mosque. And in the evening, large food vendors wheel in their stalls and grills and serve up a mix of Moroccan specialties such as tagines, sausages, and snails in broth. It's a good place to come in the evening with children where they can be as loud and rowdy as they please while they take in all the entertainment the square has to offer. Top Tip: Because Jemaa el Fna is the main tourist attraction in the city, you must be prepared to be targeted by its more enterprising (aggressive) denizens. If you snap a picture of a performer (and you will want to!), you are expected to pony up; and when snakes and monkeys were thrust upon our unsuspecting children, exorbitant amounts of money were demanded (around $50). Keep your wits about you and agree to prices in advance when possible. And make sure to carry some smaller change/notes, as no one will be eager to offer up change.
2. The Souks At the north end of Jemaa el Fna you will find a labyrinth of souks (markets) crammed in the streets of the medina. Here motorbikes and donkey-pulled carts speed through the crowded and narrow streets and alleyways, and vendors' goods spill out into the road. You can find anything from sticky sweet patisseries (a favorite with our kids) and spices piled high, to soccer jerseys and fake designer purses, to butchers selling sheep heads and emporiums selling Berber rugs. Take it all in, get lost among the alleyways, and haggle to your heart's content. Top tip: Walking the narrow streets while motorbikes speed past can be a harrowing experience, especially with a 2-year-old who refuses to ride in his stroller. For a different view of the medina that will delight your children, hop in a caleche (horse drawn carriage) and hold your breath as you weave your way through the city's markets. Just be sure to agree on price up front - note that many listed prices are per person, and make sure to negotiate that your children ride free!
3. Marjorelle Garden Just outside the medina in a newer area of the City, you will find the lovely Marjorelle Garden, a twelve-acre botanical sanctuary that was designed by expatriate French painter Jacques Marjorelle in the 1920s and 30s. The garden fell into neglect until it was saved by fashion designer Yves Saint Laurent in 1980, and it is here his ashes were scattered after his death in 2008. Stroll the garden with the kids and marvel at the extensive number of different kinds of cactii on display, smell the flowers, and count the fish in the several koi pond dotted around the garden. It is a surprisingly peaceful place despite its popularity, and makes a nice respite for a morning away from the bustling medina. In the garden is a small but enjoyable museum dedicated to Berber culture. My kids loved looking at the traditional Berber dress, weaponry, and tools. Top Tip: The restaurant in the garden is among the most expensive in the City and hard to nab a table during the busy lunch hour. Head directly across the street to Restaurant Kaowa for tasty and child-friendly wraps, smoothies, salads and burgers.
4. The Atlas Mountains On a sunny day in Marrakesh, the Atlas Mountains stand in their snow-peaked glory in the distance. But it is well worth the trip to see them up close. Tour companies recommend several day trips to various destinations in the Mountains. We settled on a trip about an hour and a half's drive from Marrakesh to Imlil village, which lies at the foot of the tallest mountain in Northern Africa, Mount Toubkal. Imlil is a popular jumping off point for trekkers wishing to hike between the mountains and Berber villages, and the village largely caters to these trekkers. From Imlil, you can take a 15 minute hike up to Kasbah Toubkal, which was in ruins before it was lovingly restored to its former glory and turned into a hotel. Its rooftop terrace is the perfect spot to enjoy the breathtaking views of the mountains and waterfalls, as well as a traditional Moroccan lunch. This also happened to be our favorite day in Marrakesh. Top Tip: The hike up to the Kasbah is manageable for adults in decent shape, but young children are better served by the cadre of mules waiting to take them up to the top. My children got such a kick out of their mule, they affectionately named him "Mr. Mule."
5. Take a Camel Ride As if a horse drawn carriage and a mule ride were not enough, there are camels all over the city at the ready to escort enthusiastic groups of tourists around the surrounding countryside. With the thumbs up from our children, we hired camels to have our own Lawrence of Arabia moment. If you head out to the Palmery section of Marrakesh (about 10 minutes drive from the City) you can take your pick of any of the number of camels that wait. Many of these same camel depots also offer dune buggy rides, which if you have older children might be a more adrenaline-filled adventure. Top Tip: If you are staying at one of the hotels out in the Palmery (which we were), ask if your hotel can arrange for the camels to pick you up and drop you off at the hotel. Door-to-door camel rides - now that's service!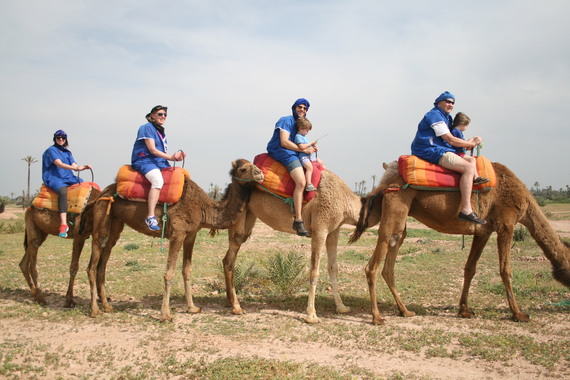 Marrakesh is an exotic destination, and you will feel it the minute you step off the plane. It's a place where you can soak up as much culture as you can sunshine. But the best part about a family trip to Marrakesh is that it is a destination that will thrill and delight you as much as it will your children. It's definitely not your average family vacation!