This holiday season I'm thankful that through my work leading this homegrown industry, I constantly meet communities and people whose lives have been changed for the better by wind power.
Whether it's a recent graduate starting a brand new career as a wind technician, or a farmer whose regular lease payments allow the next generation to continue the family tradition, I get to see firsthand how wind energy strengthens America.
And that makes coming into the office hardly feel like work at all (at least most of the time).
So with that in mind, here are the top five reasons we can all be thankful for this clean, low-cost, job-creating energy source:
1. Wind power supports 88,000 well-paying American jobs in across all 50 states. And this number is growing quickly--wind energy jobs grew by 20 percent in 2015 alone. Many of those jobs go to returning American veterans, whose skills in project management, heavy equipment and working at heights translate well.
2. Opportunities include 21,000 manufacturing jobs at more than 500 factories nationwide. Where other sectors of American manufacturing are struggling, wind energy is a bright spot and a chance at revitalization. TPI Composites now makes wind turbine blades in an old Maytag factory in Newton, Iowa. Vestas employs nearly 4,000 people in its three Colorado factories.
3. Wind turbine technician is by far our country's fastest growing job, expected to increase by 108 percent over the next decade according to the Bureau of Labor Statistics. By comparison, occupation therapy assistant is number two on this list, with employment increasing by 42 percent over the same time frame. For many rural communities, this offers young people who don't want to leave home an attractive career option.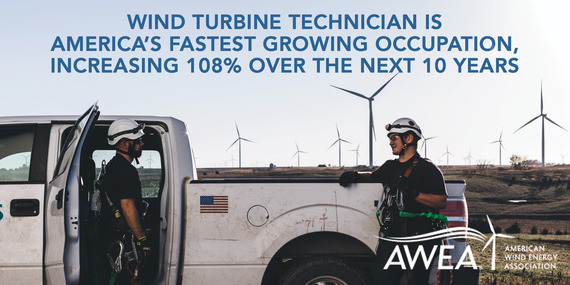 As Richard Wilson, a third generation rancher in Colorado told me earlier this year, "I know if we didn't have this wind farm my sons wouldn't be able to keep this. I might have been able to, but they could not-- there's no question."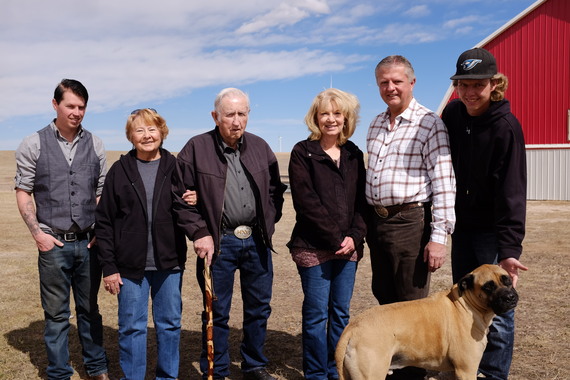 5. Wind energy brings new economic development into small towns and rural communities. Over the last decade, $128 billion of investment has been attracted into the U.S. economy through the construction of wind farms. That's higher average yearly revenue than Major League Baseball, and much of it has gone right where it's needed the most: seven out of 10 wind farms are in low-income areas.
In Van Wert, Ohio, the Lincolnview school district was able to provide every student with a laptop because of added wind farm revenue, while the Lowville school district in upstate New York was able to build brand new athletic facilities. In both places, the funds would not have been available to make these sorts of investments without nearby wind farms, and stories like these are playing out across the U.S.
Long-term policy will continue to be an important part of keeping this American success story going. States and Fortune 500 companies are choosing to get more of their electricity from renewable sources. Building new transmission to update the country's grid for 21st century needs will help ensure they have access to the product they want. In turn, this clean energy will save money on electric bills for American families and businesses.
Growing American jobs and energy independence. Helping families stay on the family farm. Bringing resources into communities we can invest in our children. I'm proud to speak up on behalf of all of those things, and for that I'm deeply thankful.
Calling all HuffPost superfans!
Sign up for membership to become a founding member and help shape HuffPost's next chapter