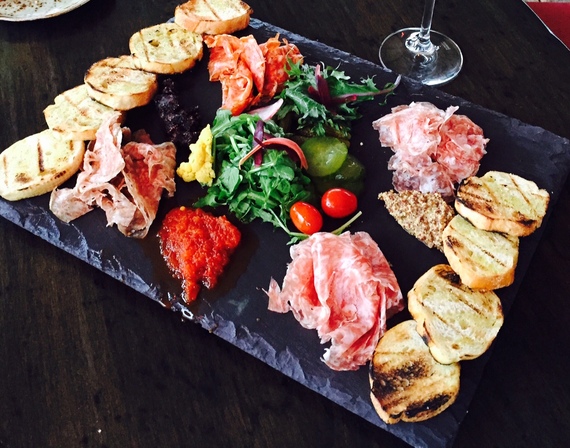 Mention Park City, Utah and visions of powder-covered slopes, summertime mountain biking, the 2002 Winter Olympics, and the annual Sundance Film Festival instantly come to mind. And, now, after a memorable visit to this year-round wonderland, I'm adding food lover's paradise to the short list. It's no wonder two of my favorite, multiple award-winning, artisan food companies, Beehive Cheese and Creminelli Fine Meats are headquartered nearby (when looking for creamy gourmet cheddars hand-rubbed with espresso or handmade truffle-filled salami, these guys have you covered). From the ultimate farm-to-table destination to elegant, on-mountain dining, Park City dazzles any discriminating diner...
If the coma-inducing photo above of the wildly colorful Charcuterie Platter, laden with house-made red pepper chutney and fig confit isn't enough to convince any diehard foodie to head straight for this knockout farm-to-table experience, nothing will. Located in the bustling heart of Park City's premiere ski resort, The Canyons and connected to the charming and rustic, Grand Summit Hotel, The Farm was named one of Utah's Top 25 Restaurants and rivals anything you'll find in other top foodie meccas like Los Angeles and New York. Under the masterful hands of Chef Steven Musolf, you'll indulge in local, sustainably-raised delicacies like the Sugar House Herb Brined Tomahawk Pork Chop. My husband was so floored by this dish he's ready to fly back solely for a repeat escapade. And, nothing compares to relaxing inside the restaurant's adjacent yurt while digging into the hearty Roast Stew of Winter Squashes or Pan Braised Half Chicken and Dumplings and taking in views of the mountains on your doorstep. This is the kind of place you'll quickly return to on all of your Park City visits.
Since arriving on Main Street five years ago, this divinely-designed favorite has become the town's must-have reservation. Housed in a charming brick building, Executive Chef Serge Smith has created a menu of modern American cuisine certain to satisfy all ages (yes, they even have a tasty kid's menu). Seafood lovers will be floored by the starters: massive Tiger Shrimp and Beans drizzled in parsley chimichurri, Baby Octopus with olives and fennel and Bay Scallops accompanied by an intoxicating combination of strawberry and pancetta. For the main event, the Pappardelle + Wild Mushrooms is both light and bursting with just the right amount of shallots and butter. And, meat lovers will rejoice in the tender Wagyu Coulotte Steak + Potatoes. In the mood for an original cocktail? Let Bar Manager, Jonnie Long know what tickles your fancy and he'll use his wizardry to whip up something you won't soon forget.
On mountain eats are most often a fast food vibe... burgers, chips, and floppy grab 'n go sandwiches. But, not at this Canyons Resort fine-dining find. With gawk-worthy views of the Wasatch Range (book a table on the expansive patio), Lookout Cabin serves freshly prepared, elegant dishes. Not to be missed...the Salmon Spinach Salad and Cheese and Chocolate Fondues with all of the gourmet accoutrements like peanut butter balls and sliced bananas - just the motivation you need to, once again, get all geared up and shred back down that powder. This is quite a well-deserved treat after a few hours on the slopes.
This lively, rustic establishment envelops you in a true taste of the West and pays homage to Utah's "saloon" history. Nothing overly fancy here... just great vibes and tasty eats they like to call "High Country Cuisine." Executive Chef James Dumas emphasizes local, seasonal offerings that pair well with whiskey. That's right, they suggest whiskey with their fare and even have their own small-batch distillery on the premises (be sure to request a tour!). Tickle your taste buds with the House Pretzel dipped in the whiskey whipped cheddar beer cheese or the Dijon rye mustard. Main course standouts include the High Country Pot Pie with chicken, pheasant and winter root vegetables and the High West Burger, a mix of Bison and Niman beef smothered in Gruyere and whiskey braised onions. They sure know how to elevate a Mac & Cheese side dish by filling it with bacon, roasted jalapeños and crispy pork rind crust; could almost be dessert. High West is just the place to kick up your boot heels and dig in!
Traveling is about trying something new. And, if you haven't yet experienced Modern Kosher cuisine, this is the place to do it. Located in Silverado Lodge and offering traditional Friday Sabbath dinner, I was very impressed with the laid-back vibe and inventive menu offerings. Everyone in the family will delight in the Turkey Latke Croquettes, especially when doused with the spiced apple compote and date syrup. This is what you call taking Latkes to an entirely new level! Most memorable of the main fare was the Red Wine Braised Beef Short Rib, and of course the savory Chicken Noodle Soup will help relieve any sore muscles and blows away anything I've tried at the neighborhood deli. Those who are watching their dairy intake will appreciate The Bistro's offerings and mustn't leave without ordering the Chef's Cobbler with Vanilla Sorbet for dessert (nary an ounce of dairy).
P.S. Not To Be Missed On Main Street... before dining at Silver or High West spend a few hours strolling this historic area that happens to look just like a movie set, and is filled with shops, restaurants and galleries. Take a self-guided tour inside the Park City Historical Society Museum. Learn about the history of the town, the early miners and get an up close look at their working conditions. You'll even get to walk inside two real, live jail cells from the "olden days" down on the basement level. The kids will love it too!
Follow Elycia on Instagram: @ElyciaRubin on Twitter: @ElyciaRubin and visit her website: www.WhatImLoving.com