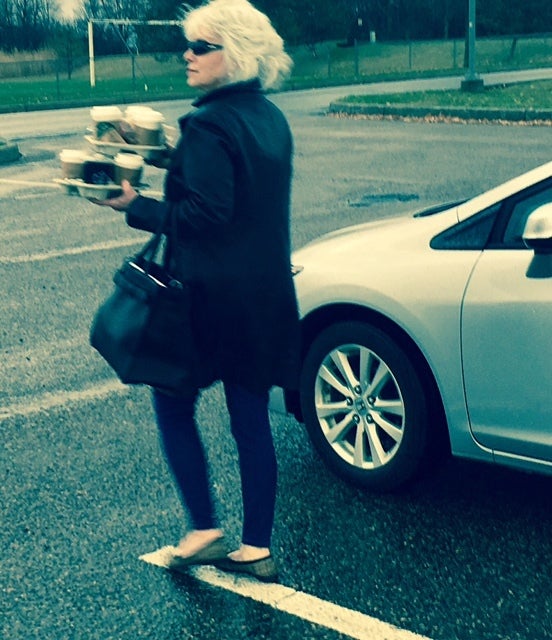 Because my daughter, who has Autism Spectrum Disorder, was on an IEP (Individualized Educational Plan) from age 3 to 22, my husband and I participated in hundreds of IEP meetings to discuss and plan her education.
As many parents know, these high-stake gatherings can often be hellish and so it's vital to have coping mechanisms and strategies for success. Mine were varied and often successful while occasionally silly and even strange. Here are my top five:
Tired of being criticized by some school officials for having too much to say and speaking too fast about my own child (Nice, huh? I mean why get so personal?), I went to a 90 minute meeting one fine Friday and Spoke...Like...This...separating each word by about a two second delay in an effort to make the point that I didn't appreciate criticism of my relatively rapid rate of speech and voluminous input (One superintendent called me "vociferous," which he meant as an insult but to which I said "thanks," natch).
While speaking like this, I watched incredulously as no one even batted an eye. My odd presentation was without warning or precedent so I'd have thought someone might ask if I were OK, had lost my mind entirely or were possibly having a stroke. All I can figure is that they recognized it as a ruse since my husband sat looking unconcerned, having been forewarned that I was going to do this thing which he recommended against in vain.
I can only imagine what was later said in the privacy of the teacher's lounge but have to admit, I...Enjoyed...Every...Minute...Of...It...in my own perverse way.
Far less dramatically, I altered my verbal stylings another time in an effort to shake things up or at least entertain my fast-talking, "vociferous" self. And so I adopted "School Speak" and uttered grossly uncharacteristic statements like:
* "Let's begin with celebrations!" (Things had been going poorly at school and so this was particularly odd coming from me.)
* "Let's unpack this." (Prior to my IEP life, I thought unpacking related to luggage and boxes only.)
* "Let's parking lot that so we can be mindful of time and stick to the agenda!" (Who knew "parking lot" was a verb?)
* And finally, after suffering a brutal defeat in furthering our agenda with regard to the IEP's language goals, I stunned the room with: "Let's give ourselves a pat on the back for a great meeting!"
Funnily, that got a bigger rise than my previous antics.
For the first 10 years of these meetings, I brought coffee and tea from the nearby Barnes & Noble Cafe, one for each attendee. Why go to such trouble and expense for people who mostly had competing agendas and criticized the rate and content of my speech?
The short answer: Diplomacy designed to help us get goals and services we needed. Sometimes actually a sincere show of appreciation. Mostly what it got me was a depleted bank account, burned fingers and stained car seats as liquids sloshed in tipping containers.
I eventually stopped this inane practice after one senior staffer started placing orders with me in advance, one day informing me that she'd like to try cream with her coffee if I wouldn't mind. At that point I decided she could buy her own freaking beverage and that I was a mom, not a barista. While I did deliver the goods, it was the last time.
This is not to suggest that mommy-bakers shouldn't bring lovely homemade treats to these sessions as so many do. I suspect there's magic in those edible gestures that simply failed to translate to my clumsily carried cups o' joe. I have no regrets about the earrings, flowers and assorted ceramics I gifted the many special teachers and paraprofessionals to whom we were truly grateful and who were mostly absent from these meetings, through no fault of their own.
3. & 4. TURNING A BLIND EYE
3. I began donning dark RayBans during meetings in an effort to less clearly see what some parents call the "administrator eye-roll." What you don't see can't hurt you or something like that, right?
4. This one is about my husband, whom I discovered rather late in the game had been removing his eyeglasses for years to avoid seeing the actual features and grimaces of our meeting mates. How could I not know of this genius strategy all those years? I'd noticed, of course, that his glasses were off but didn't realize he'd removed them to purposely dim his already compromised vision of the many faces which confronted us. No wonder he felt calmer than me. He was present and participating but had nearly blocked one of his senses.
I broke my record and cried. I'm pretty tough (or so they say) but I eventually broke down and shed a few. Overcome by despair when confronted by a particularly onerous district position, I figured what the hell and let myself lose it. Having read and heard that schools were sympathetic to "vulnerable" parents, I allowed myself to be visibly shaken rather than suck it up and blink back tears. Guess what? No one cared! I learned my lesson about being vulnerable (which evidently is much more compelling if you're on "The Bachelor") and never let them see me crumble again.
Another time, I laughed. I just laughed, at nothing. If they took data on me that day as they did on my daughter, I'd have earned many hash marks for "non-contextual laughter." I can't recall what it was that struck me as funny, but suspect it was just the flip-side of crying, hilarity derived from combined irony, inanity, grief and fatigue endured over years of bargaining, negotiating, winning and losing.
To all parents still attending IEP meetings on behalf of your child, I wish you smooth sailing, success and someone to bring you a beverage at meetings.