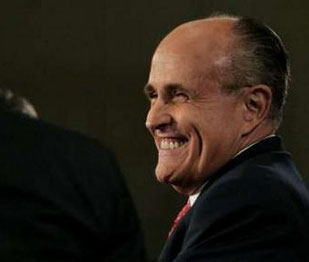 Former New York Mayor Rudy Giuliani beats all his Republican competitors hands down for contributions from prominent gay Republicans.
A survey of 34 members of the board of the Log Cabin Republicans and the organization's New York and California chapters shows seven contributions totaling $9,700 going to Giuliani, according to Huffington Post's Fundrace.
The Log Cabin clubs are the premier organizations representing gays affiliated with the GOP.
The group has not endorsed, but it has turned decisively against former Massachusetts Governor Mitt Romney, who campaigned in the Bay State as an ally of the gay community only to become an outspoken adversary of gay marriage, using the issue as a centerpiece of his presidential campaign.
The Log Cabin Republicans have run ads in Iowa and on Fox nationally attacking Romney. "Whether it's taxes, immigration, education, gay rights, gun ownership, stem cell research, abortion, campaign finance reform, or other key issues, Mitt Romney has a long list of flip-flops. The American people don't trust Massachusetts flip-floppers, whether they're Democrats or Republicans," said Log Cabin spokesman Patrick Sammon.
Romney is by no means alone in his use of gay marriage to mobilize socially conservative voters -- a major force in Republican primaries and caucuses. Former Tennessee Senator Fred Thompson, who is divorced and remarried to a woman 24 years his junior, declares on his web site:
"Strong families are the bedrock of our nation and our culture. They are built around the sanctity of life and the institution of marriage, which is the union of a man and a woman. To counter coarseness in today's culture that oftentimes victimizes our children and undermines the traditional values parents want to instill, we must not only protect but strengthen the institutions of family and marriage."
While Giuliani holds a decisive advantage in his support from homosexual Republicans, the larger picture is one of a noticeable lack of enthusiasm among gays affiliated with the GOP for the entire field of candidates.
One person listed on the Log Cabin's National Board, Troup Coronado, is listed as giving $750 to John Edwards, a Democrat. A spokesman for the Log Cabin Republicans said Coronado is no longer on the board.
Only two other contributions from the Log Cabin officials surveyed were made to Republican presidential candidates: $3,000 to Romney and $2,300 to former Wisconsin Governor Tommy Thompson, who has since withdrawn from the contest.
Giuliani, as Mayor of New York, was a strong supporter of gay rights, signing domestic partnership legislation, joining gay pride marches, and, when he left his second wife Donna Hanover, living with a gay couple.
More recently in the presidential campaign, however, Giuliani has shifted to the conservative line on social issues, proclaiming his belief that a "marriage should be between a man and a woman," and promising to appoint conservative judges. During a gathering of social conservatives this past weekend, Giuliani signaled his conditional support for a constitutional ban on gay marriage.
Thomas Wahl, Jr., chairman of the New York Log Cabin chapter, said the very modest level of political contributions to presidential candidates from officials of his organization "is because the jury is still out about how supportive the candidates are going to be of the gay and lesbian community. People are wary about where they are on our issues."
Wahl said "we are going to let them beat each other up" in the primary contests in what he described as a competition to be "most pleasing to the 'religious wrong'," his description of the religious right.
Wahl donated to John McCain in 2000, but this year has not given to anyone. He is hopeful, nonetheless, that a more liberal Giuliani will emerge. "His heart is in the right place," Wahl said. "Under that conservative skin he is showing a true moderate and a libertarian."
Popular in the Community