The month is slowly cruising to an end, but we never stop looking for opportunities to express our gratitude, love or appreciation to friends, colleague and family. Relationships have been a core block in mending fences, resolving wars, closing huge deals, and building an empire. It is generally accepted that in this side of the planet, more emphasis is placed on people and their minds, hence the slang 'People/Mind over matter'. Things will come and go, but people, relationships will stay to bring more 'things' around if only they are managed well.
Giving gifts especially when they're least expected is one very effective way of maintaining relationships. It's a double edged sword in killing seeds of discord that could have been sown due to lack of appreciation. People, without really asking, expect to be shown love in one way or the other. Whether on their wedding day, birthday, anniversary or any other day, gifts will crack a hard face anytime. Gifts serve as a warm embrace to that soul that doesn't really know he needs it. Many things mean different things to different people. However the common consensus on the most preferred gifts especially in the month of April are listed below.
Perfumes: Everyone loves a good scent and a gift of a perfume to a friend or colleague will leave a lingering smile on their face. In a bid to know your customers better, you could send a nicely packed perfume. Let it echo your sentiment and appreciation towards them. This kind of gift will most likely be shared for the high net worth customers.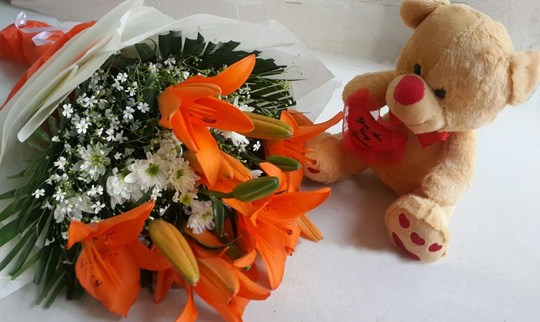 PhotoCredit Sams Flower Shop in Delhi, India
Flowers: April 30th, honesty day, can be a good excuse to share amazing gifts. Flowers are always a simple yet classy way of telling a friend or loved one how much he/she is deeply appreciated. Whether a confession of love or bad manners, flowers are a beautiful way to serve secrets on honesty day. A trip to the flowershop will set a crooked relationship straight back up.
Headphones: Music is an intricate part of a person's world and most people will appreciate this thoughtful gesture. A pair of headphones is a beautiful way of saying you're incredibly special even in your world. This gift will not only warm your friend or colleague's heart, it will last a long time to come.
Polariod Camera: If you're thinking of giving a unique and unconventional gift, this is one creatively classy one. It goes to show the extra thought put into getting him/her this gift.
A Nice Book: Although the world has castle progressing, a good number still greatly appreciate a good read. Get a lovely book on friendship and send to that lovely colleague or best friend. Amazon offers a wide range of lovely books to choose from. Treat him/her to a quiet evening with good wine and a good book.