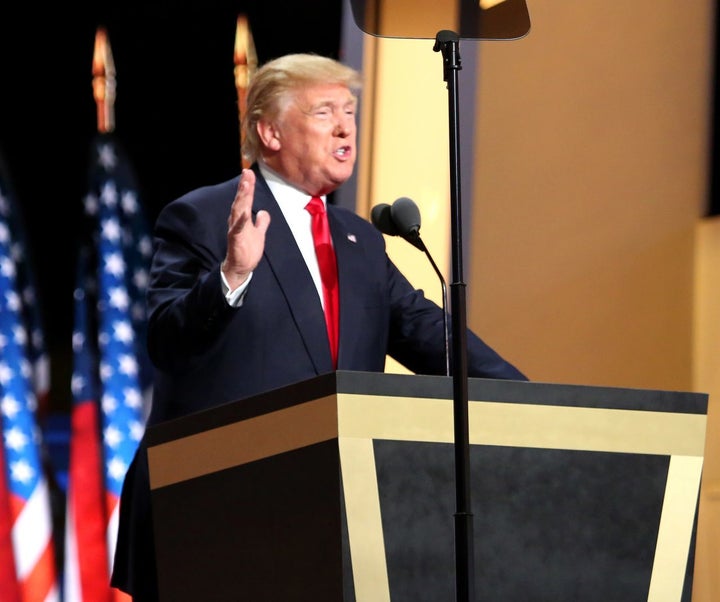 President Trump went back to Florida this weekend to address the nation's top GOP donors and fundraisers during a retreat organized by the Republican National Committee. The RNC Spring Retreat has drawn several members of Congress and political hopefuls in prior years and this year was no different.
The retreat was being hosted by RNC Chairwoman Ronna Romney McDaniel along with Co-chairman Bob Paduchik and finance Chairman Steve Wynn. Among those who orchestrated the event are RNC Finance Director Richard Walters, a recent addition to the RNC from January, and Deputy Finance Director Sarah Robinson, who was also Deputy Finance Director for Marco Rubio's presidential campaign.
On Friday evening, President Trump delivered a keynote address to Republican Party officials, trusted members of his administration, and the party's top donors. With the leader of the free world as the keynote speaker, the invitation-only event required pre-clearance and credentials to attend. Invitees were provided with a list of items prohibited by Secret Service to ensure the highest level of security, banning everything from drones to toy guns, balloons, and even selfie sticks.
Expectations from President Trump's speech were equally high. President Trump's Joint Address to Congress left many party loyalists optimistic about the new administration delivering the change Trump promised during his campaign.
The president's first major speech on the heels of his Joint Address to Congress presented President Trump with an opportunity to continue laying out his policy agenda and set the course for a working relationship with the party. As the RNC ramps up fundraising efforts for 2018 midterm elections and the Trump Campaign gets an early start on President Trump's re-election in 2020, a lot was riding on finding common ground with the party's top donors.
President Trump did not disappoint. Lloyd Claycomb II described President Trump as "on fire, both calm and focused," noting that he spoke for a solid hour about how excited he was to accomplish all of his campaign promises and would continue to move forward in spite of all the opposition. According to Claycomb, attendees of the retreat were told that the reason Reince wasn't there as planned was due to his daughter's birthday.
Lloyd Claycomb II also said that many White House staff were in attendance, including Deputy White House chief of staff Katie Walsh who spoke at length about "the ground game and why we were so successful at turning blue States red."
President Trump personally thanked all the big donors in the room which included over twenty billionaires in the room, according to Claycomb. The president also expressed his gratitude and recognized the hard work of Elliot Broidy of Broidy Capital in Beverly Hills and owner of the Jets Woody Johnson fundraising hundreds of millions for the campaign. President Trump "heaped huge praise" on Ronna McDaniel and thanked her for winning Michigan for him then personally brought Bob Paduchik on stage and spoke about "how smart Bob is and how he looked forward to working with him." Lloyd Claycomb II noted that RNC Finance Chairman Steve Wynn spoke and even had a few select individuals over to his new 217 million dollar yacht for a private strategy meeting.
Although President Trump will be delivering the keynote speech, he spent the weekend at Mar-a-Lago. Meanwhile, other attendees will be housed down the street at Four Seasons Resort Palm Beach with an overflow at the Tideline Resort and Spa Palm Beach just minutes up Ocean Boulevard.
Officials attending the retreat included former RNC Chairman and current White House Chief of Staff Reince Priebus as well as a White House panel on Saturday. Other top Trump administration officials were also expected to attend the retreat this weekend.
Governor Rick Scott and RNC Co-Chairman Bob Paduchik spoke at a luncheon on Saturday while Senator Marco Rubio and RNC Chairwoman Ronna Romney McDaniel headlined that night's dinner. The first part of Saturday's events included the Chairwoman's Report followed by a segment called 2016 Recap and Looking Forward.
A small group of top West Coast donors and fundraisers got a preview of RNC Chairwoman McDaniel's vision for the future of the RNC as the Republican Party ramps up fundraising efforts leading up to 2018 midterm elections. During a private luncheon at the Montage Beverly Hills attended by top GOP donors from California, Chairwoman McDaniel spent time talking with high-level donors about the RNC's plans as they turn focus to the next round of elections.
According to sources familiar with the event, the select guest list included billionaires Sheldon Stone of Oaktree Capital Management and Manchester United director Ed Glazer as well as renowned businessman and philanthropist Lloyd Claycomb II. Also spotted at the event were Attorney Marc Little, Northridge-based contractor Susan Groff, and longtime GOP fundraiser Esther Wachtell along with her husband Tom Wachtell, who is the chairman and CEO of an independent oil and gas exploration and production company, were also spotted at the event.
According to attendees, RNC Chairwoman Ronna Romney McDaniel spent time speaking with Lloyd Claycomb II about the future of the party and lessons from the 2016 election. Lloyd Claycomb II noted that one of the keys to the election was door-to-door voter contact.
She echoed this rhetoric in interviews early this week, saying that the party has been fundraising at a massive extent and seeing positive feedback from everybody since President Trump took office. RNC Chairwoman McDaniel emphasized the importance of seeing "from a grassroots, average voter standpoint." The RNC reported a $19.8 million fundraising haul in January—the best post-presidential election month in the party's history—but Chairwoman McDaniel says that's only the beginning "We are going to have to pass things and get things done because now we have it all. And so I think that's going to be the next big step, is to run on what we have done."
During election cycle, the RNC started working in traditionally blue states becoming involved in the communities and focusing on building relationships with small pockets of voters. Following new efforts during the 2016 election cycle won two hundred new counties and increased the election of Republican governors, Lloyd Claycomb II says that the RNC plans to continue focusing on investing in communities that aren't always "red."
A member of the Transition Finance team as well as the Presidential Inauguration Committee who also served as Arizona State Finance Chairman for the Trump Victory joint fundraising committee, Lloyd Claycomb II was recently appointed as Director of the United States Navy League and says he aims to maintain a close working relationship with the party as well as the administration. Lloyd Claycomb II is enthusiastic about the party's new approach, "I am sick of the democratic obstructionist attitude and if they were smart, they would see that the American people are tired of the constant fighting. If they continue with this line of action, they will lose even more house seats. They have 10 seats at risk and a more cooperative approach would bode them well."
Related
Popular in the Community