WASHINGTON ― With a hint of a blue wave on the horizon, Republicans are facing added pressure to get their house in order and field the best candidates possible ahead of next year's congressional midterm elections.
If last month's raucous Senate election in Alabama is any indication, it won't be easy.
Even though Democrats are defending a historically high number of Senate seats, including many seats in traditionally red states, Republicans have had substantial difficulty persuading quality candidates to run against Democratic incumbents next year. And given large Democratic statewide gains in local elections in Virginia and New Jersey last month, the chances of Democrats retaking the House have shot up ― a scenario many thought unthinkable just a year ago.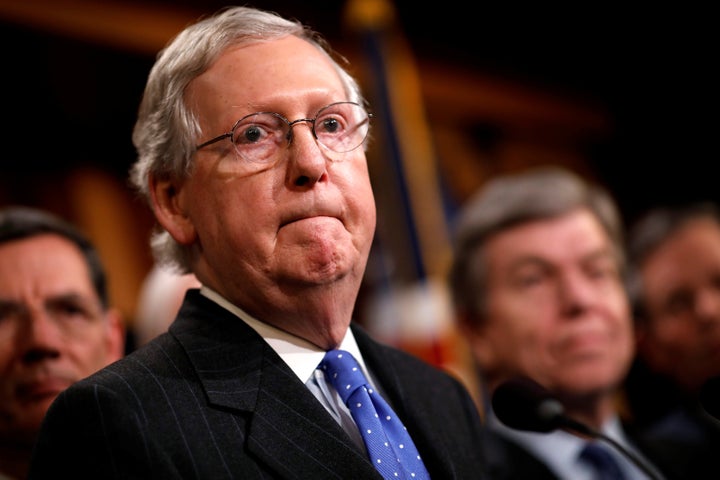 Further compounding the challenge in maintaining GOP control of Congress is overwhelmingly negative public sentiment about a first-term president, as well as an insurgent effort to purify the Republican Party that is being led by Steve Bannon. While the former White House aide and current executive chairman of Breitbart News suffered a stinging defeat by backing Roy Moore, the loser in Alabama's Senate race, he's still looking to boost other anti-establishment GOP primary challengers across the country.
"The environment today is not great, the generic ballot's not good, and I'd love to see the president's approval rating higher," Senate Majority Leader Mitch McConnell (R-Ky.) acknowledged in an interview on Thursday. "So I think we should anticipate a real knock down, drag out — even on the Senate side."
It isn't all bad news for Republicans, however. The successful passage of their tax cut legislation and the repeal of the Affordable Care Act's individual mandate in the process finally gave them something to tout as they head into 2018 ― a victory they badly needed after a long and grueling year marked by few major legislative accomplishments. The achievements ought to make life a bit easier for GOP incumbents facing the threat of a primary next year.
Whether voters reward GOP lawmakers for their work in the general election, however, is another story. The tax cut bill is deeply unpopular, with just 33 percent of the American public in favor of it, according to a recent CNN poll. Voters also increasingly want Democrats to control Congress after 2018. A NBC/Wall Street Journal poll released this month showed that 50 percent of voters favor the Democrats in power, while just 39 percent favor Republicans on top.
Democrats have framed the result in Alabama as part of a referendum on the GOP tax bill, especially in the suburbs, where voters are most likely to be affected by the bill's shrinking of the state and local tax deduction. In addition to going after GOP lawmakers for supporting the tax bill, Democrats also say they will use the controversy over Moore, who was credibly accused of preying on teenagers, to attack incumbents in 2018 Senate races.
"There were lots of Republican Senate candidates who either supported Roy Moore or refused to take a position," Sen. Chris Van Hollen (D-Md.), who chairs the Democratic Senatorial Campaign Committee, said in an interview last week. "We will remind voters of that just like we will remind them six months from now that the GOP promised big increases in their paychecks when in fact corporations will use the money for stock buybacks and reward their shareholders."
Republicans face more immediate problems in the race for the Senate. For example, they've yet to settle on a suitable candidate to run for the seat of retiring Sen. Jeff Flake (R-Arizona). McConnell hinted this month that person may be the establishment-minded Rep. Martha McSally (R-Arizona), but she's yet to officially enter the race. Meanwhile, Bannon has already endorsed far-right candidate Kelli Ward, setting up another likely intra-party showdown there.
Some conservatives aren't satisfied with either choice right now:
The GOP has also had problems fielding top-tier candidates in other states. As a Democrat from a state President Donald Trump carried overwhelmingly in last year's election, Sen. Heidi Heitkamp (D-N.D.) is seen as one of the most vulnerable senators up for re-election next year. But her most logical challenger, Rep. Kevin Cramer (R-N.D.) has left top Republicans looking elsewhere because of his penchant for controversial remarks. Wealthy former state Sen. Tom Campbell has jumped into the race, but Cramer has not yet announced whether he will do so.
The top Democratic target in Nevada, Sen. Dean Heller (R-Nev.), must first fend off a primary challenge from Danny Tarkanian, who is mounting his sixth try at elected office. The Bannon-backed conservative candidate says Heller is not sufficiently supportive of Trump's agenda. When Heller opposed several early versions of a bill repealing Obamacare earlier this summer, Trump issued a memorable threat to him at a meeting at the White House. "Look, he wants to remain a senator, doesn't he?" he asked, with Heller seated nearby.
Another GOP brawl of Alabama proportions could also be brewing in Mississippi, where Sen. Roger Wicker (R-Miss.) is facing re-election next year. State Sen. Chris McDaniel, who narrowly lost to the state's senior Sen. Thad Cochran in a wild and bitter election in 2014, is expected to announce next month whether he will challenge Wicker. McDaniel has been encouraged to run by Bannon, and is likely to take a similarly anti-establishment position if he decides to enter the race. According to The Washington Post, however, Trump in October assured Wicker of his support for his re-election bid.
It's also possible that Mississippi could see two Senate elections next year. Cochran, 80, has been absent from Washington for months and has been unable to cast votes due to issues with his health ― a condition that has fueled speculation that he will step down in January.
Indiana's crowded GOP Senate primary to take on vulnerable Democratic Sen. Joe Donnelly, meanwhile, has already been a slugfest. The primary isn't until May, but Reps. Luke Messer and Todd Rokita have whacked each other early and often over just about everything ― residency, Wikipedia, planes and even top hats.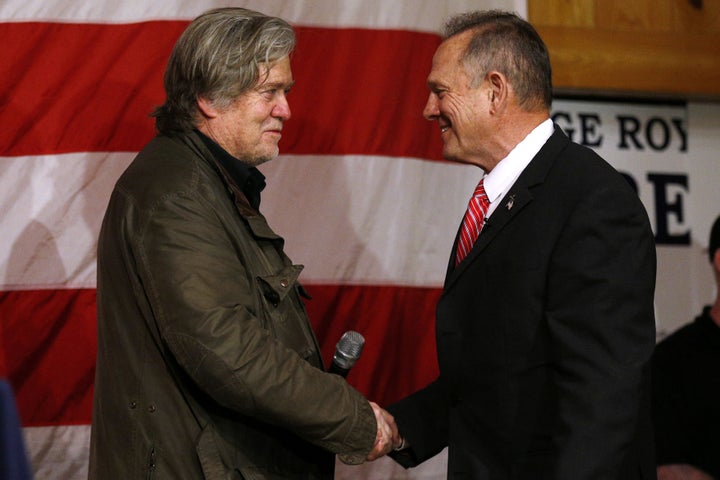 Despite his designs for the shape of the party in the Trump era, Bannon ended 2017 in worse shape than when it began. In addition to his setback in Alabama, Bannon cut ties this week with Paul Nehlen ― the far-right activist who is challenging House Speaker Paul Ryan (R-Wis.) ― after HuffPost revealed he appeared on fascist podcasts and posted incendiary tweets that were widely considered anti-Semitic. Nehlen, who stumped for Moore in Alabama, received favorable coverage on the Breitbart News website when he ran against Ryan last year.
Still, Bannon remains active in other House races. Former Rep. Michael Grimm has his support in a campaign to oust Rep. Dan Donovan (R-N.Y.) next year ― a long-shot bid from a disgraced former convict who once threatened to throw a reporter off a balcony. Bannon is also fundraising on behalf of another New York Republican ― Rep. Lee Zeldin, a vulnerable Democratic target who opposed the GOP tax cut legislation.
Even as top Republicans are sounding the alarm about their prospects for the 2018 elections, there's one person who doesn't sound exactly worried. The president this month tweeted that the GOP would do "very well" in 2018, even though his tally for the year was incorrect. (Republicans won five races, while Democrats won two.)
CORRECTION: A previous version of this story misstated the political affiliation of Nevada Sen. Dean Heller. He is a Republican.
Before You Go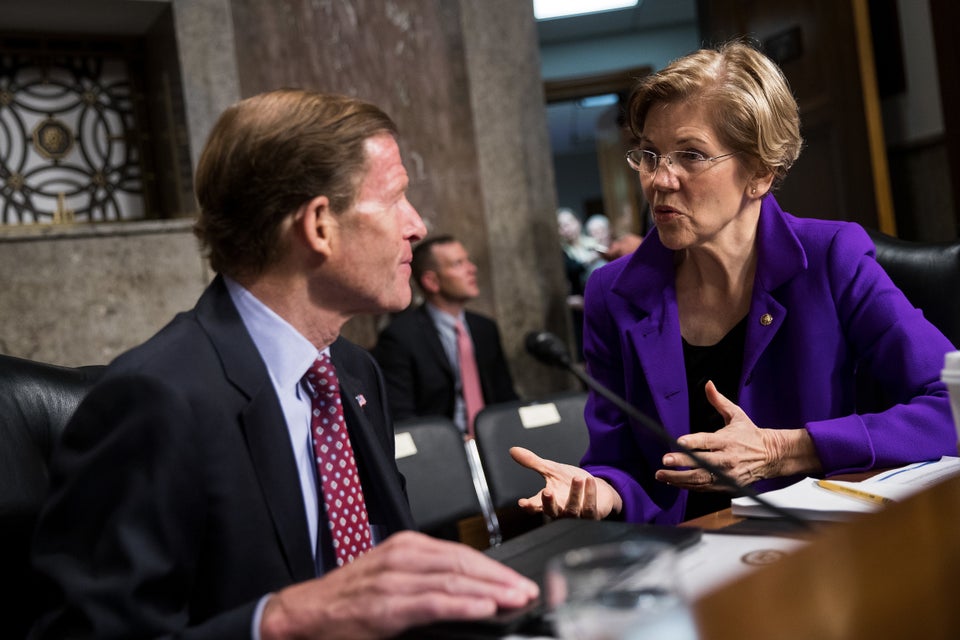 2017 Scenes From Congress & Capitol Hill
Popular in the Community