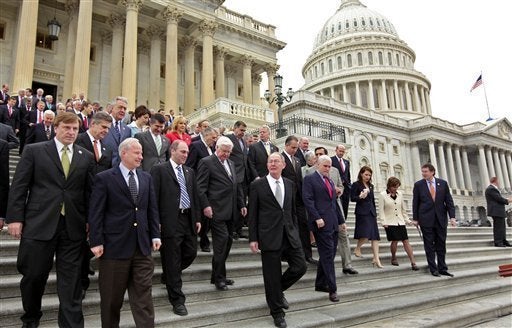 The Republican Party is looking at a decidedly more diverse list of potential candidates this year. Several top GOP officials have suggested recently that the party needs to be less ideologically rigid in order to be relevant, and they are trying to recruit a broad array candidates -- even some pro-choice candidates -- to win them seats in the mid-term elections:
California Representative Kevin McCarthy, the chief recruiter for House Republicans, said he wants his party to select candidates based less on ideology and more on their chances of winning. The goal, he said, is to seek out prospects who are ethnically diverse, female, less partisan and even supportive of abortion rights.
House Republican Whip Eric Cantor, for his part, "didn't appear to rule it out when asked if he would back pro-choice candidates."
He told Bloomberg News, "The essence of being a Republican is the belief in free markets, the belief in individual responsibility, the belief in the faith of the individual. This is what our party is about."
This new openness to moderation is not sitting well among conservatives, who most recently expressed outrage over the National Republican Senate Committee's decision to endorse moderate Florida Gov. Charlie Crist's Senate bid.
NRSC Chairman John Cornyn brushed off the criticism though, saying the group's primary goal is to win seats and "that it is pursuing candidates who best fit their states," the Associated Press reported.
Republicans have to "get away from this attitude that people who disagree 20 or 30 percent of the time somehow are not welcome in the Republican Party, particularly if we're going to maintain our relevance and grow our numbers."
Popular in the Community