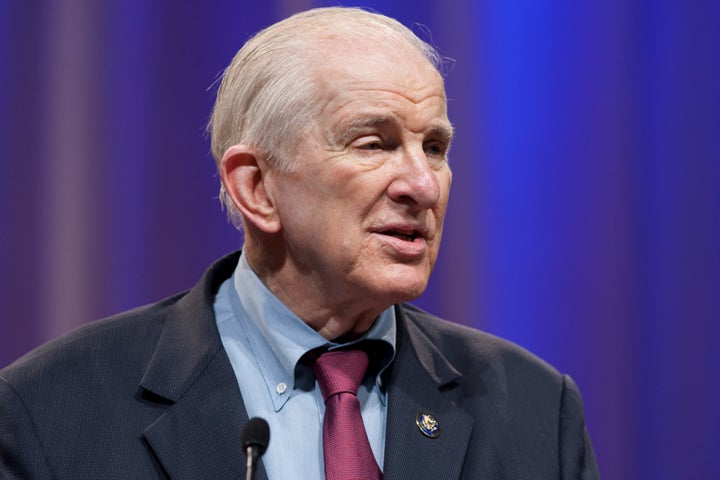 But Republicans in Congress have other plans for the two popular social insurance programs ― and they are wasting no time rolling them out.
Rep. Sam Johnson (R-Texas), chairman of the House Ways and Means Committee's Subcommittee on Social Security, released a plan Thursday to reform Social Security that would drastically reduce benefits. The bill would make the program less of a universal earned benefit and more of a means-tested safety net that aims only to provide basic support to the poorest retirees and disabled workers.
In order to close Social Security's long-term funding gap, Johnson would make Social Security's benefit formula less generous for all but the lowest earners, rapidly raise the retirement age and reduce the annual cost-of-living adjustment, among other changes designed to save money.
Johnson also proposes changes that would cost the program money, like an increased minimum benefit for the poorest retirees ― provided they have a long history of covered employment ― and the elimination of income taxes on Social Security.
Under Johnson's plan, a middle-class 65-year-old claiming benefits in 2030 ― one with average annual earnings of about $49,000 over 30 years of covered employment ― would experience a 17 percent benefit cut relative to what the program currently promises them, according to the Social Security Administration's chief actuary. A 65-year-old with the same earnings history claiming benefits in 2050 would experience a 28 percent benefit cut compared to current law.
"For years I've talked about the need to fix Social Security so that our children and grandchildren can count on it to be there for them just like it's there for today's seniors and individuals with disabilities," Johnson said in a statement introducing the bill. "My commonsense plan is the start of a fact-based conversation about how we do just that. I urge my colleagues to also put pen to paper and offer their ideas about how they would save Social Security for generations to come."
Due to the retirement of the Baby Boomer generation, Social Security faces financial strain in the coming years. If Congress fails to act to either reduce the program's obligations or increase its revenue by 2034, a 21 percent across-the-board benefit cut will automatically take effect.
Conservatives like Johnson favor closing this funding gap by reducing benefits.
Many progressives would rather address it entirely through revenue increases, such as lifting the cap on earnings subject to Social Security taxes. President Barack Obama and the vast majority of congressional Democrats have recently even coalesced behind expanding benefits to address the inadequacy of Americans' other sources of retirement income.
Linda Benesch, a spokeswoman for Social Security Works, a progressive organization supporting benefits expansion, noted that for many workers, Johnson's plan would cut benefits more than if Congress did nothing and allowed the automatic cuts to take effect.
Benesch dismissed the increase in benefits for the poorest earners, which she said would be insignificant relative to the large cuts for middle-class earners and tax cuts for wealthy retirees.
"A minimum benefit increase is a staple of a lot of Republican plans to cut benefits because they want the veneer of increasing benefits," she said. "But that's just a stalking horse for what this plan would do over time, which is to turn it into a poverty-level benefit and not an earned benefit."
That would in turn risk reducing popular support for Social Security, which enjoys widespread backing thanks to its status as a universal wage replacement program, Benesch argued.
Protecting Medicaid, Benesch said, "is going to be a lot harder precisely because it is [a] benefit targeted to poorer folks rather than a universal benefit."
Even Third Way, a more business-friendly Democratic think tank often at odds with Social Security Works over the former's support for other plans that cut benefits, largely panned Johnson's bill.
"Chairman Johnson deserves credit for putting out a plan," David Brown, deputy director of Third Way's economic program, said in an e-mail. "But this is the Bernie Sanders plan of the right. It is a partisan, ideological plan that reaches solvency entirely through benefit reductions, and harms retirement security as a result."
House Speaker Paul Ryan (R-Wis.), who has built a career on ambitious proposals to scale back social insurance programs, has repeatedly said he plans to prioritize overhauling Medicare. Although Trump hasn't weighed in on the matter since the election and Senate Republicans have signaled their wariness at the prospect, Congressional Democrats are already expressing their excitement at the idea of a fight over the popular seniors' health insurance program.
In an interview on CBS' "60 Minutes" this past Sunday, however, Ryan indicated he had no comparable plans to reform Social Security.
But Rep. Richard Neal (D-Mass.), the incoming ranking Democrat on the Ways and Means Committee, seized on Johnson's plan as a sign that Ryan has already changed his mind.
"As Congressional Republicans prepare to dismantle Medicare and Medicaid, it now appears that Social Security has been added to the Republicans' chopping block," Neal said in a statement Friday. "America's seniors will be alarmed to hear that the top Republican on this important Subcommittee quietly put forward a plan to drastically cut Social Security benefits for millions of seniors."
"Democrats will fight any effort to undercut Social Security, just as we will fight any plan to replace Medicare with a voucher," he added.
Support HuffPost
The Stakes Have Never Been Higher
Popular in the Community