London Calling: Eat, Eat, Eat
If New York is a melting pot, London is a curry. Chicken tikka masala, to be precise - it's been declared the national dish of the United Kingdom.
We can thank the queen's subjects for this. They brought their kitchens when they moved here from around the world.
And just as India was the brightest jewel in the crown of the British Empire, so too is its food, as I discovered one weekend in London.
Ayurvedic theory informs Indian cooking. The tongue's taste buds - sweet, sour, savory, heat, etc - stimulate different organs, so flavors must be balanced in each meal: Sweet must be cut with heat, dates and molasses combined with tamarind and chili. An Indian sandwich can have seven layers of flavor. Unforgettable flavor combos are how street food vendors keep customers coming back.
The Corinthia Hotel in the heart of London served as base camp for my expedition into the belly of London. This gorgeous Victorian edifice from 1885 has been restored into a stylish modern hotel. Westminster Abbey, Big Ben, Piccadilly Circus and West End theaters are all a short walk away. The Thames is literally across the street, the London Eye across the river.
Setting forth on my exploration, I stumbled onto Churchill's War Rooms a few blocks from the hotel. The hard-drinking, cigar-smoking prime minister directed the British war effort from this subterranean warren of map rooms and offices, sealed in 1945. I expected Keira Knightley and Benedict Cumberbatch to appear around the corner in period costume as I listened to Winston intone the words that inspired a nation.
Emerging into the daylight, I was transported from war to peace in beautiful St James Park, where swans on the pond glide beneath the willows. It was lunchtime, and a stroll through the park led me to a close encounter with curry at Chutney Mary. Around the corner from where the young Churchill once lived, this upscale eatery has a casual bar, sunken dining room and impeccable service catering to the hedge funders who now make St. James their headquarters.
The courteous staff guided me through a menu of delights, many unfamiliar to this New Yorker. A starter of baked Venison samosas wowed with presentation and flavor. Equally impressive was the lal maas, lamb curry with mathania chilis smoked with garlic and cloves, a Rajasthani specialty packing the heat of the desert. Sarson ka saag, a puree of mustard leaves, sorrel, butter and jaggery balanced it nicely. A chocolate kufti parfait topped with gold leaf and pistachio finished the meal and nearly finished me off.
What could match the opulent meal? The awesome Westminster Abbey, where the voice of Jeremy Irons audio-guided me from tombs of medieval kings to the tombs of Poets Corner. The Brits give their artists a place of honor alongside royalty.
In need of rejuvenation, I headed back to my retreat at the hotel. An invigorating deep muscle massage at their flagship Espa Life spa followed by a dip in the vitality pool and a spell in the amphitheater sauna did the trick. It was time for dinner.
The farm to fork movement has transformed British cuisine from mushy peas and kidney pie, and the salubrious results are featured at The Northall at the Corinthia. The menu focuses on seasonal produce and British artisanal suppliers. An appetizer of chilled cucumber and watercress soup couldn't be more British. For the main, a perfectly toasted rectangle of Cornish hake, moist white flesh beneath crispy golden skin, was served over cauliflower cream studded with capers and sugared pine nuts.
I moved to the pleasantly clubby lobby lounge to enjoy people watching beneath the Baccarat chandelier and valerian tea and pumpkin seed cookies from the Northall's Sleep Menu before retiring to a king sized bed with Pratesi sheets. The Corinthia says it's in the business of selling sleep, and I was sold.
The next day, my eating expedition took me to a milestone in food history, Veeraswamy, the oldest Indian restaurant in the U.K. When this elegant dining room overlooking Regent Street opened in 1926, the king of Denmark became one of the celebrity regulars. He kept a stash of his beloved Carlsberg on hand, initiating a marriage that lasts to this day: curry and beer.
Veeraswamy takes kachori, a popular spicy snack, and gives it the royal treatment, transforming it into Raj Kachori. Pomegranate seed rubies bejewel a billowing puff pastry drizzled with ermine-white yogurt and velvety chutneys. It's a maharajah's crown on a plate.
Chefs from diverse regions prepare their specialty main courses, classical recipes with a contemporary influence. Scallops in a coconut and ginger moilee, lobster Malabar curry and pineapple curry hail from south India, chicken butter masala and Kashmiri Roghan Josh from the north.
And as with much of London, street food has also gone upscale.
The glowing charcoals of India's street vendors have ignited Michelin stars for Amaya, a high-end Knightsbridge establishment regularly featured on lists of top restaurants of the world. An open kitchen where chefs roast prawns, scallops, meats and vegetables over charcoal or plunge them into tandoori ovens is the centerpiece of the funky-chic dining room.
The trick is to order as many of the small plates as you can manage. Blackened ginger flecks scrumptious grilled red prawns. A king scallop appears as Botticelli's Venus on a shell and green sea of herbs, red-topped with sun dried tomato. Flash grilled oysters float in golden coconut ginger moilee. A char-grilled jumbo Madagascan prawn is larger than many lobsters. Crab kebabs have a dollop of coriander cream that greets the tongue coolly before unleashing its heat. Don't forget the naan, essential for scarfing up sauces too precious to lose a drop.
Street food is also the muse for Masala Zone, a moderately priced restaurant featuring snacks and fifty curries from across India. In the former category, dahi puri, a Maharashtra snack stuffed with chickpeas, yogurt and chutneys, and gol guppa, ping-pong ball sized puri biscuits with lentils and tamarind that I top off with spicy juice before popping in my mouth whole. The effect is like a soup dumpling, only different. And crunchy. Malabar green chicken curry was spiked with coriander, curry leaf and cloves. Golden chicken Mangalore provided a contrast of color and a spicy kick. The dessert of warm carrot halva with vanilla ice cream extinguished the fire.
After contemplating how the Elgin Marbles would have become collateral for the German bankers had the British Museum acceded to Athens' demand, I was in a Mediterranean mood.
The Corinthia obliged with Massimo, contemporary Italian fare served up in a striking art deco room with soaring striped columns. The tagliatelle with tuna, cod, capers and chili, was simple, fresh and as satisfying as anything I've enjoyed in Italy. A rose and mozzarella panna cotta finished the meal nicely, cool, refreshing and not too sweet.
I like to believe all the walking I had done plus a workout in the hotel gym and laps in the pool the next morning remedied any damage the expedition had possibly done to my waistline. Satisfied it had, I tucked into the ample breakfast buffet before my driver whisked me to Heathrow in a black Jaguar.
The British experience actually begins before takeoff when you fly British Airways Club World class. Curry, cod, pasta and a selection of salads and British cheeses are among the choices for a pre-flight supper in the Galleries Club lounge at JFK. Dining before take off and a complimentary Elemis Spot-on back massage ensured a good night's sleep in-flight on the comfortable lie-flat bed. I arrived in London in the morning ready for the day without even a hint of jet lag.
Before you go, check out VisitLondon.com, the one stop for the latest on exhibitions, events and city information.
Baked Venison Samosa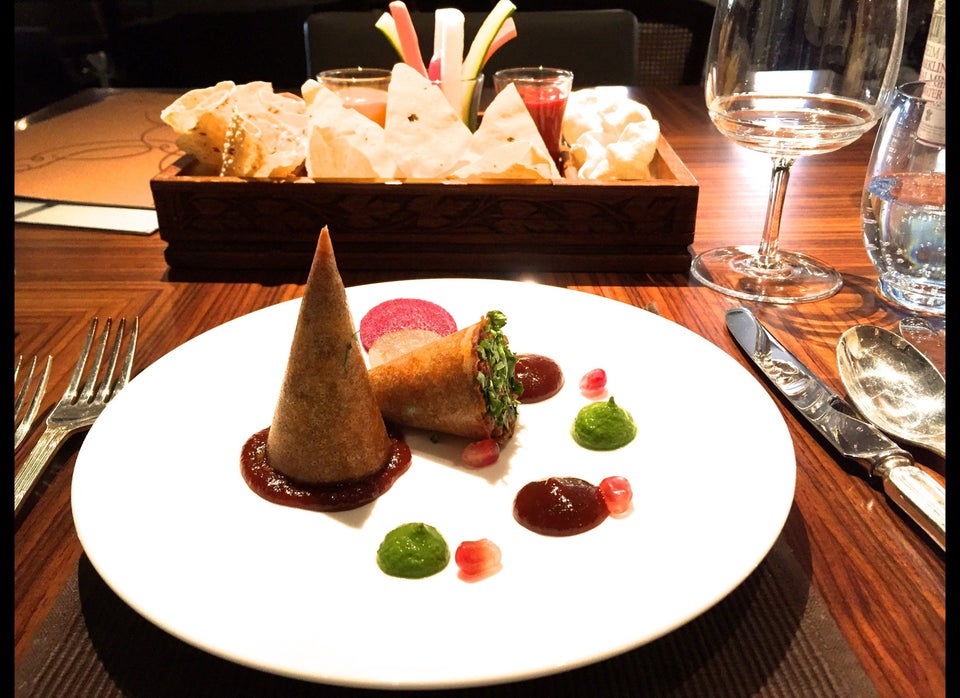 Corinthia London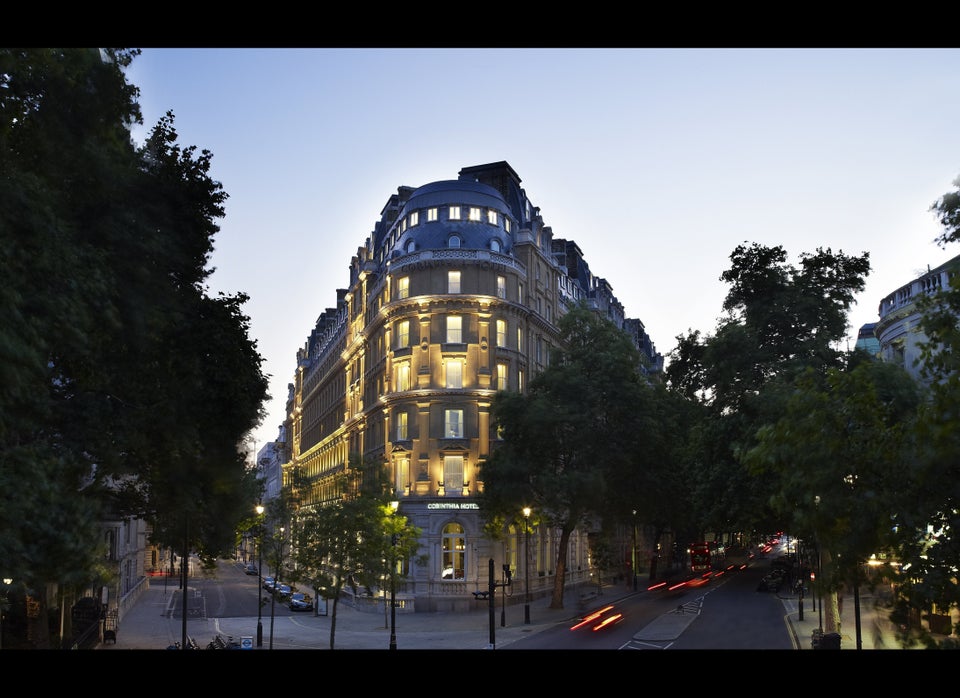 Raj Kachori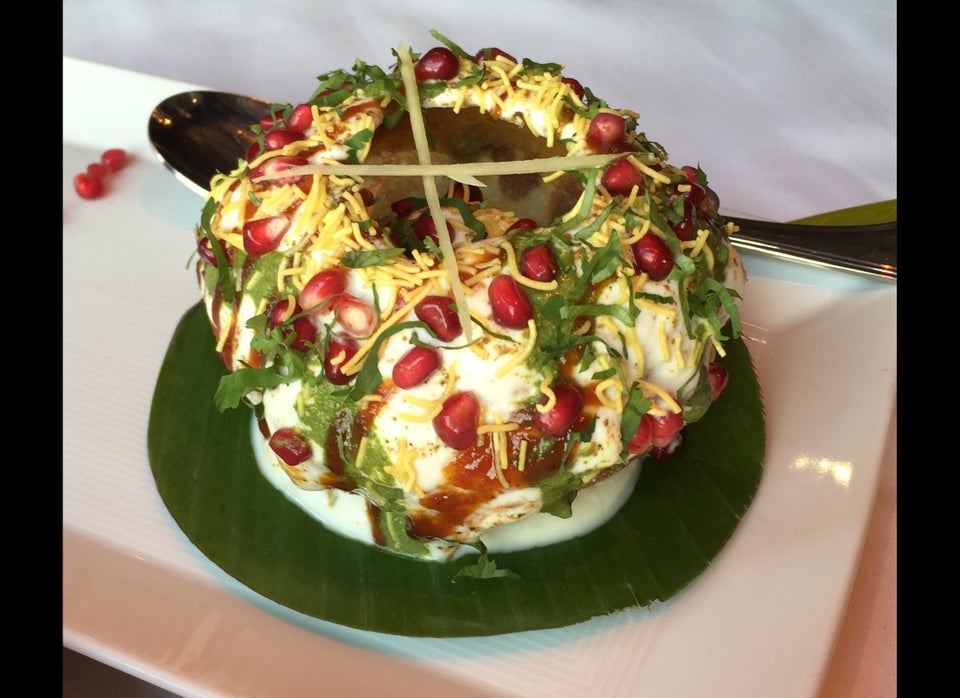 Scallop moilee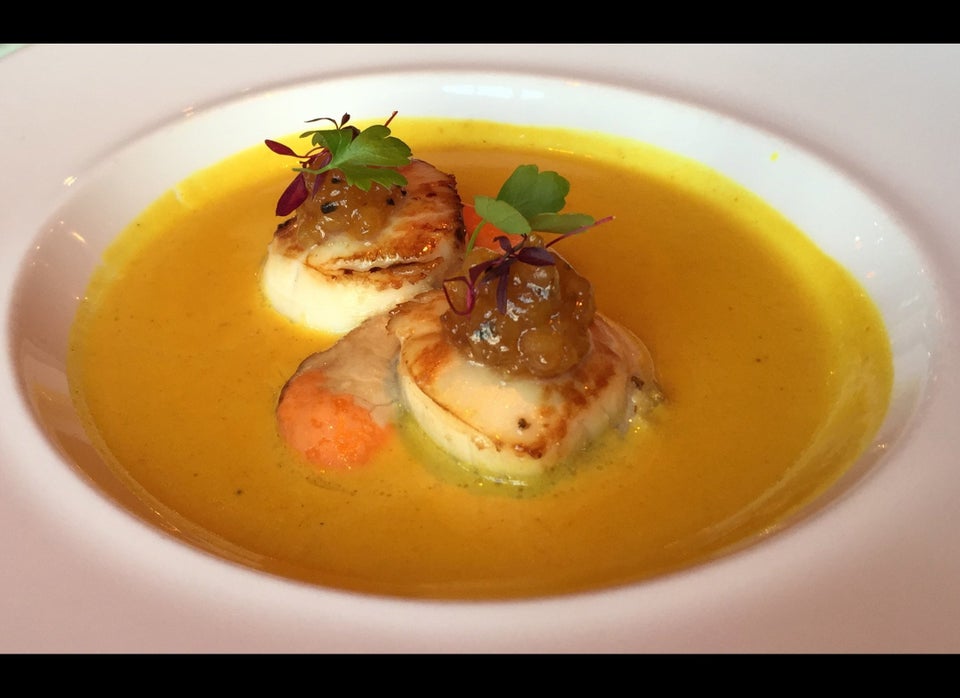 Veeraswamy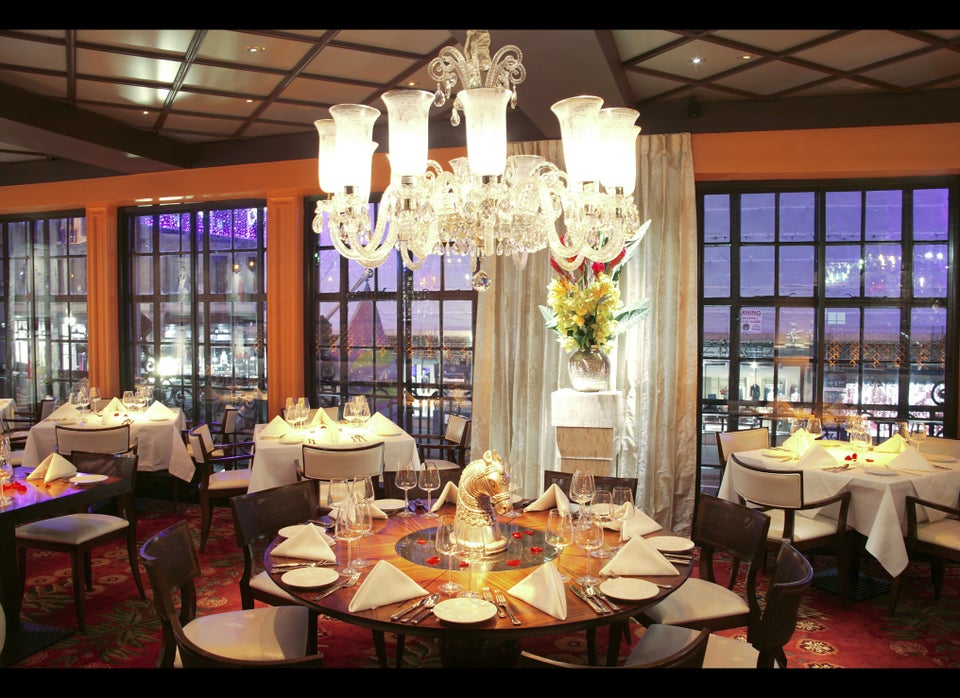 PIneapple curry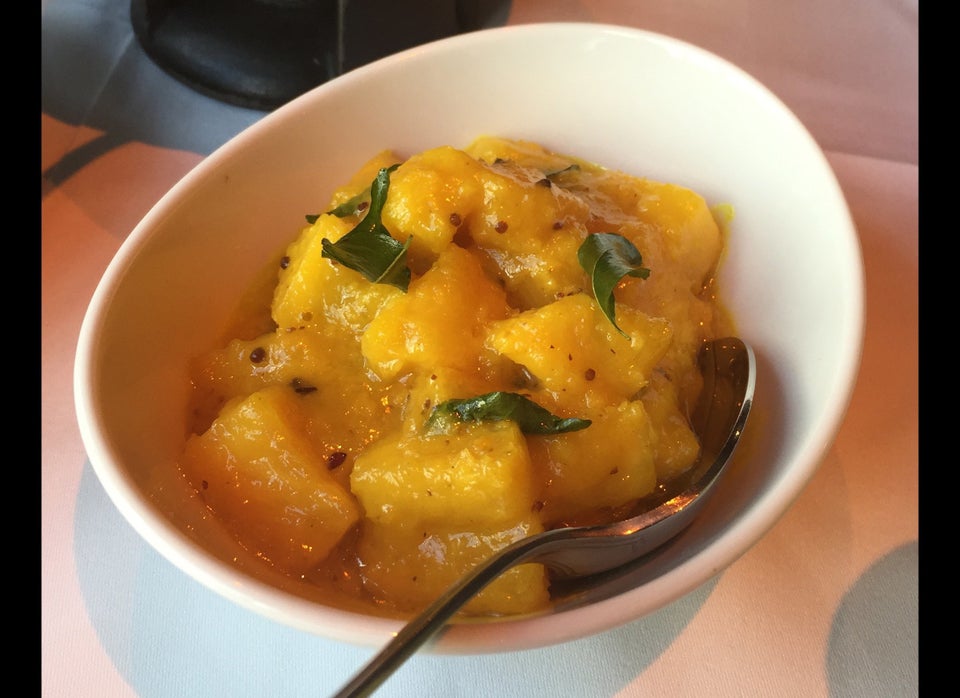 Kufti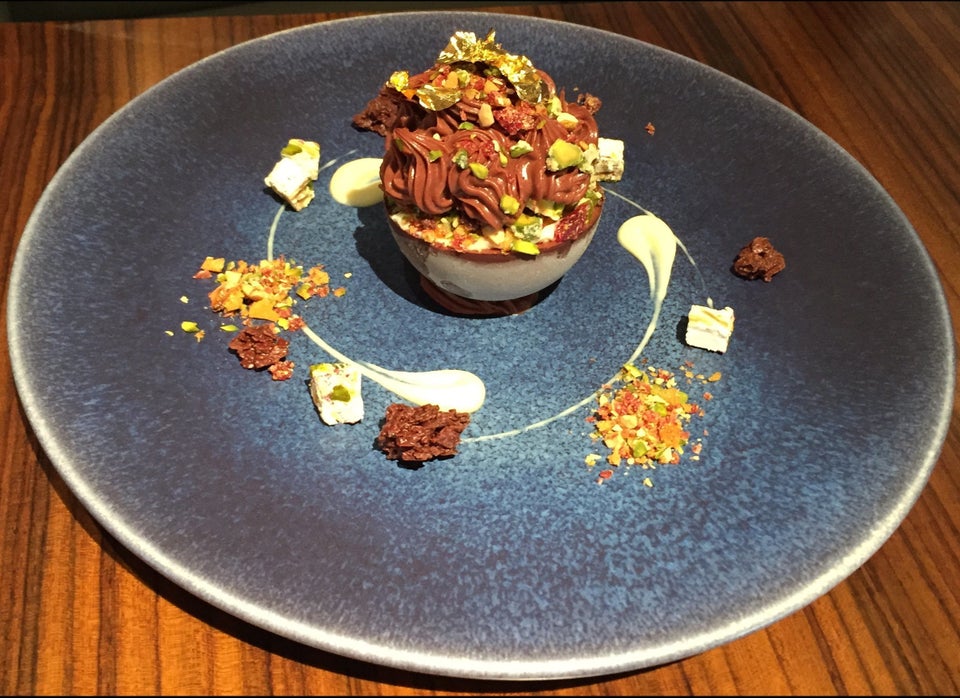 Crab kebab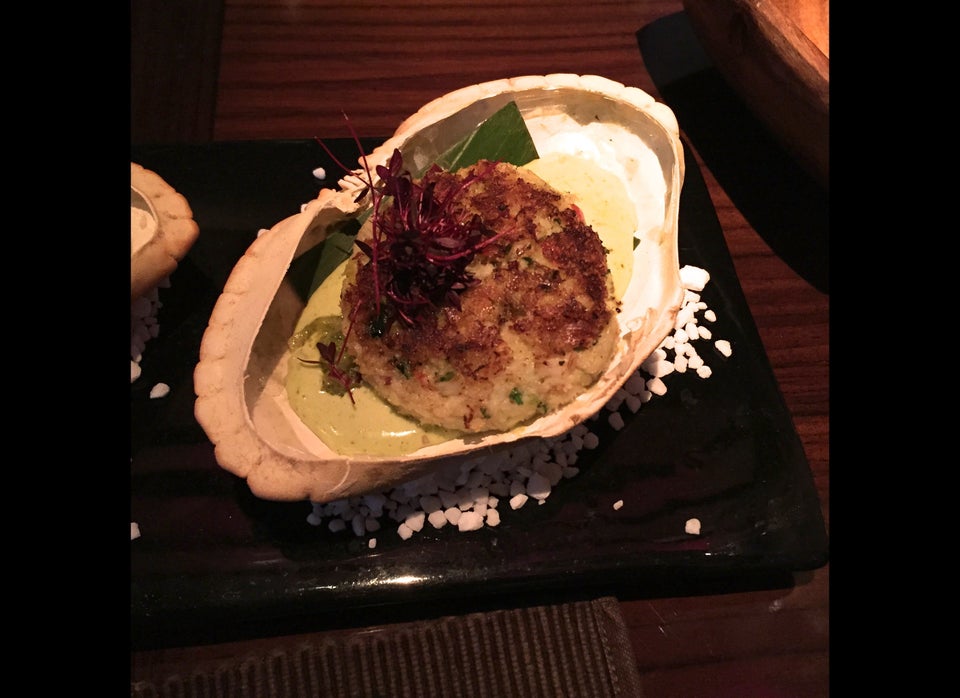 Lobby life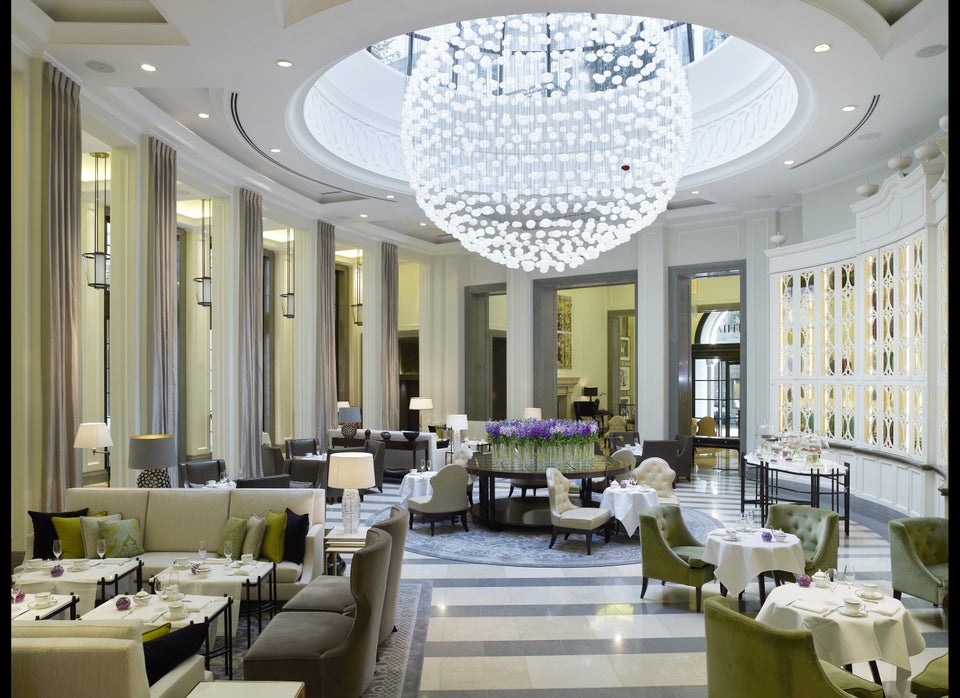 Street food is in the house!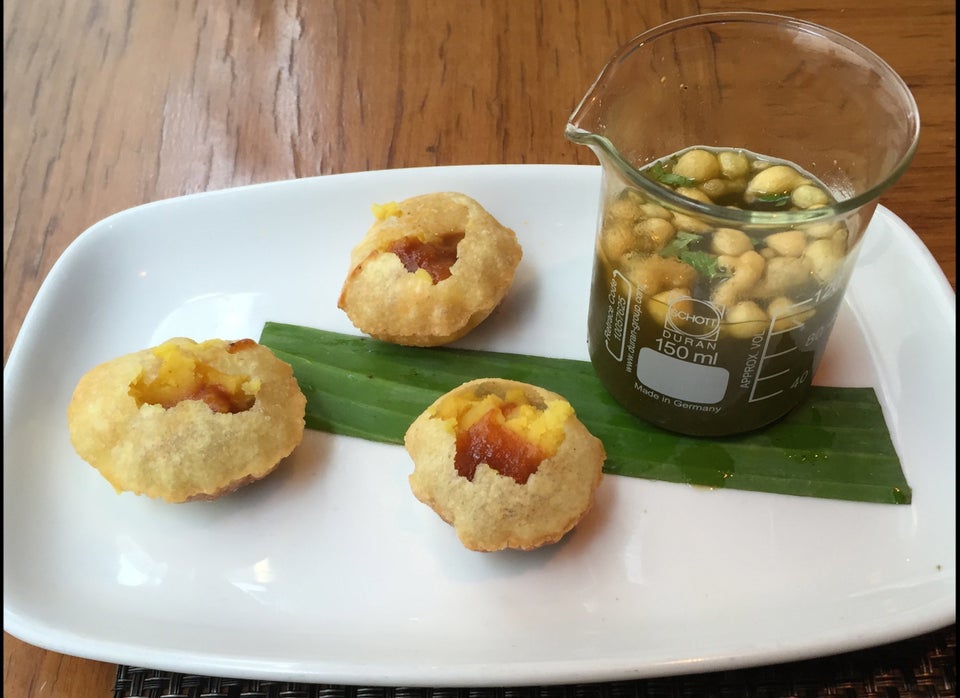 Street food is in the house!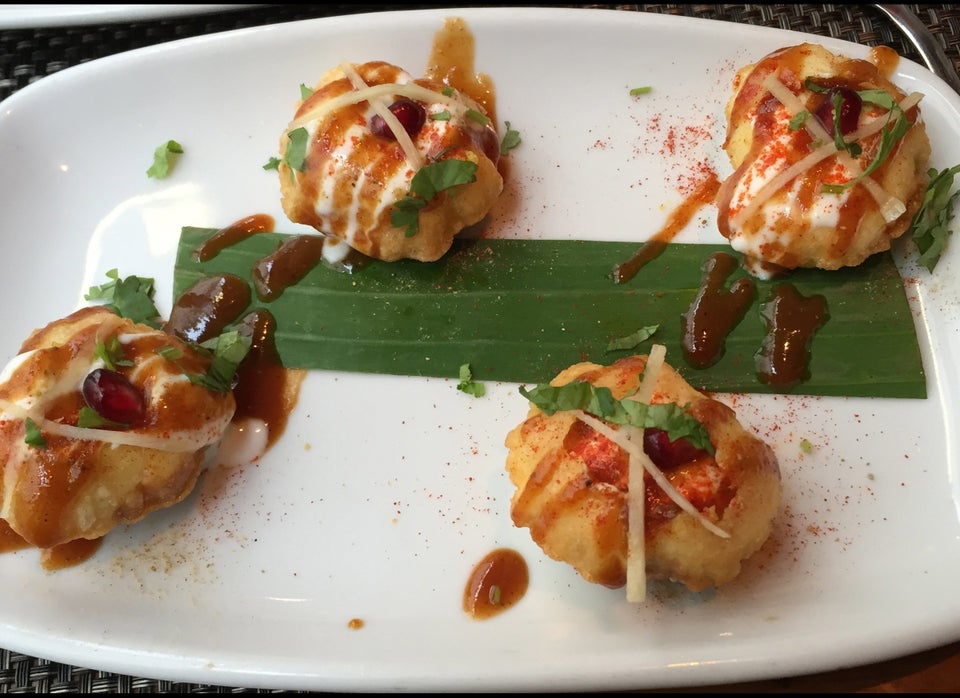 Deco extravaganza