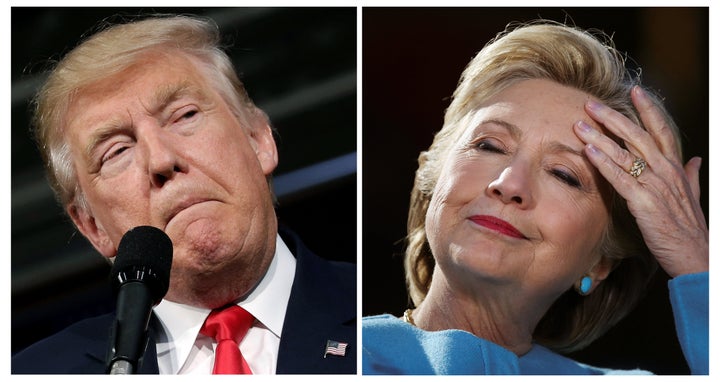 As atypical as the 2016 election has been, Americans are heading to the ballot box with the same top concern they normally have: the economy.
The public, though, believes neither major party nominee shares that priority, with Hillary Clinton instead largely attacking Donald Trump's character and Trump devoting much of his time to anti-immigration rhetoric.
Asked in a new HuffPost/YouGov survey to pick the two issues most important to them in this election, 43 percent of Americans named the economy. Health care, at 29 percent, and nominating justices to the Supreme Court, at 21 percent, took a relatively distant second and third place. Fewer than a fifth of respondents selected any of the remaining eight options, including immigration, foreign policy and each candidate's personal qualities.
Both Americans who'd rather see Clinton win, as well as those who'd rather see a Trump victory, put the economy first, although the first group's second-biggest concern is health care while the latter names immigration as a second priority. Both groups named the Supreme Court as the third concern.
Prompted to select the two issues that each nominee has spent the most time talking about, 32 percent said that Clinton had focused on the candidates' personal qualities, and 26 percent that she'd focused on social issues. Just 18 percent named the economy as one of her main planks.
A majority of Americans, 53 percent, said that Trump's campaign had focused mostly on immigration, with 27 percent saying he'd mostly addressed the candidates' personal qualities. Only 23 percent thought that the economy was among the GOP nominee's top two issues.
Supporters of both candidates were more likely to see their chosen nominee as focusing on the economy and their rival as focusing on personality.
Americans who wanted to see Clinton win believed that she had mostly emphasized the economy (34 percent) and social issues (29 percent), while those who wanted to see Trump win said she concentrating on personal qualities (44 percent) and social issues (33 percent).
Trump was seen by his supporters as focusing on immigration (55 percent) and the economy (43 percent), while those who'd prefer Clinton believed Trump was spending the most time on immigration (57 percent) and personal qualities (40 percent).
The perception that much of this year's campaign has revolved around character attacks is especially out of step with Americans' concerns. Clinton and her surrogates have repeatedly advanced the argument that Trump is temperamentally unfit to serve as commander in chief, while Trump and his allies have devoted much of their time to attacking Clinton as corrupt.
Just 8 percent of Americans, however, consider each candidate's personal qualities to be a top concern. And in a separate HuffPost/YouGov poll, conducted earlier in October, 78 percent said it was more important this year to pick a candidate with better positions on the issues they cared about, while only 15 percent said the candidates' personal qualities were more important.
As past elections have shown, a party or candidate who is perceived as focusing on relatively unimportant issues can pay a price.
In 2014, a HuffPost/YouGov poll taken just before the midterm elections found that voters, overwhelmingly worried about the economy, thought Republican candidates shared their concerns, but believed Democrats were prioritizing social and women's issues. Republicans went on to win the election in a wave.
The public's self-assessments of what matters to them most should probably be taken with a grain of salt ― few people understand exactly what combination of factors drives them to support the candidates that they do, and "caring about the issues" perhaps sounds more virtuous than getting dragged down into weighing each candidate's personal attributes.
Currently, according to HuffPost Pollster's average of head-to-head surveys, about 89 percent of Democrats plan to vote for Clinton, with close to 87 percent of Republicans voting for Trump. With third party candidates such as Libertarian Party nominee Gary Johnson included, Clinton's share of the vote remains at 89 percent of Democrats, with Trump taking about 83 percent of Republicans.
The HuffPost/YouGov poll consisted of 1,000 completed interviews conducted in November among U.S. adults, using a sample selected from YouGov's opt-in online panel to match the demographics and other characteristics of the adult U.S. population.
The Huffington Post has teamed up with YouGov to conduct daily opinion polls. You can learn more about this project and take part in YouGov's nationally representative opinion polling. Data from all HuffPost/YouGov polls can be found here. More details on the polls' methodology are available here.
Most surveys report a margin of error that represents some, but not all, potential survey errors. YouGov's reports include a model-based margin of error, which rests on a specific set of statistical assumptions about the selected sample, rather than the standard methodology for random probability sampling. If these assumptions are wrong, the model-based margin of error may also be inaccurate. Click here for a more detailed explanation of the model-based margin of error.
Popular in the Community