WASHINGTON ― The man acting as the nation's top law enforcer when it comes to the Russian hacking investigation said Tuesday that it's "theoretically" possible for him to fire Special Counsel Robert Mueller, but he'd never listen to an unlawful order to do so from President Donald Trump.
"I'm not going to follow any orders unless I believe that those are lawful and appropriate orders," Deputy Attorney General Rod Rosenstein said in a Senate Appropriations subcommittee hearing.
Rosenstein appointed Mueller and is in charge of the Russia probe since Attorney General Jeff Sessions recused himself after failing to disclose his own contacts with Russians.
After reports surfaced Monday that Trump is considering trying to fire Mueller, Rosenstein got questions from senators on both sides of the aisle about whether the president can do so.
Rosenstein said he, as overseeing the Russia probe, is the only person who has the authority to fire Mueller, and while Trump could ask, Rosenstein doesn't have to listen.
"Under the regulation, Special Counsel Mueller may be fired only for good cause, and I am required to put that cause in writing. So that's what I would do," Rosenstein said. "If there were good cause, I would consider it. If there were not good cause, it wouldn't matter to me what anybody says."
Sen. Jeanne Shaheen (D-N.H.) went out of her way to read the regulation out loud, noting that it allows for a dismissal only for "misconduct, dereliction of duty, incapacity, conflict of interest, or for other good cause including violation of departmental policies."
Asked if he has seen any good cause, Rosenstein answered more than once, "No I have not."
He also insisted that Mueller, who was director of the FBI for 12 years, would have all the freedom he needs to probe the entire Russian case and any ties to Trump and his campaign.
"I am confident that he will have sufficient independence, and it's certainly theoretically possible the attorney general could fire him, but that's the only person who has authority to fire him," Rosenstein said, noting that he is the person serving as the attorney general in this instance.
"You have my assurance that we are going to faithfully follow that regulation, and Director Mueller is going to have the full degree of independence that he needs to conduct that investigation appropriately," Rosenstein said.
He did hint there was a way Trump could try to fire Mueller, absent good cause, when Sen. Lindsey Graham (R-S.C.) asked him to reaffirm that he was the only person who could fire Mueller. "As long as I'm in this position," Rosenstein said.
He declined to get into hypothetical questions from Sen. Chris Van Hollen (D-Md.) about what would happen if Trump did fire Rosenstein to clear the path for removing Mueller.
"I hope I won't have to answer that hypothetical," Rosenstein said. "I do not anticipate that it is going to arise."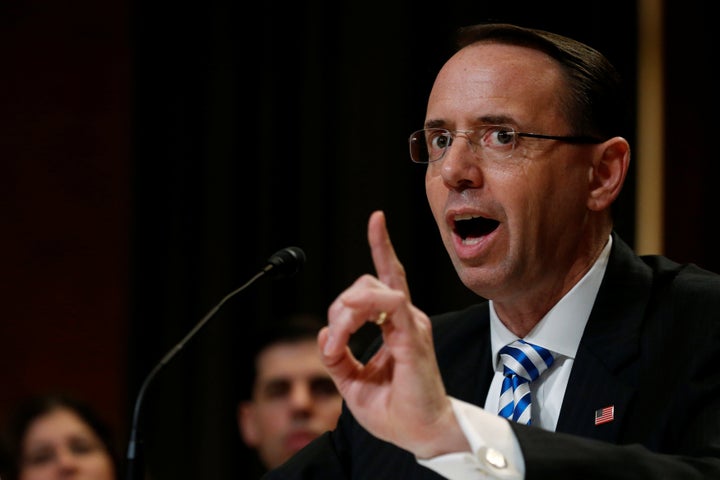 Popular in the Community