Once the subject of far-out science fiction plot lines, artificial intelligence (AI) is now a mainstay of everyday life, whether we recognize it or not. But, rather than the fantastical robot overlords once associated with the technology, AI's actual manifestations are far less outlandish and much more business-oriented. AI enables banks, for instance, to automatically detect fraudulent activity and warn their customers. AI can also equip customer service departments to evaluate callers' voices, determine their moods and route them to the right agents.
While use cases span business units, AI is particularly top of mind for marketing leaders today, many of whom see AI as a way to save time and money, while meeting new standards of consumer engagement.
New research published by Salesforce, based on a global study of 3,500 marketing leaders, shows that 51 percent of those surveyed are already using AI in at least some capacity. More than a quarter of marketing leaders will follow suit over the next two years, resulting in an AI growth rate that's much higher than other technologies surveyed (53 percent growth for AI vs. 34 percent growth for Internet of Things (IoT)/connected devices).
TOP MARKETERS ARE GOING ALL-IN ON ARTIFICIAL INTELLIGENCE
First, what's meant by "top marketers"? In the 4th annual "State of Marketing" report, these high performers are the elite 12 percent who are "extremely satisfied" with current outcomes realized as a direct result of their company's marketing investment. Compared with underperformers, top marketers are 2.2x more likely to currently use AI (and still 1.4x more likely than moderate performers). High performers lead the way with 72 percent reporting current AI use. While that may seem high for a still-emerging technology, AI has deep roots in product recommendations, predictive lead scoring and other tactics that marketers have been using for years.
WHY ARE TOP MARKETERS USING AI — AND HOW?
The reality of today's marketplace is that consumers hold brands to super high standards. People are demanding more proactive, intelligent exchanges that predict their needs. In fact, half of consumers say they're likely to switch brands if a company fails to anticipate their needs.
So how are successful marketers using these expectations to their advantage? There are already some compelling case studies of how AI is revamping marketing engagement and efficiency. For instance, the travel website FareCompare uses AI to combat rising unsubscribe rates across their email campaigns by preemptively removing customers who are most likely to opt out. Doing this allows them to focus more on the audience that delivers the best ROI.
Leading marketers have quickly adopted intelligent tech to serve up the extremely personalized experiences their customers crave. But, what about moderate performers—those marketers in the middle of the pack? What's their take on AI?
AVERAGE MARKETING TEAMS ARE PLAYING CATCH-UP ON AI
Moderate-performing marketers fall in the middle of the road, with 50 percent reporting current AI usage. But, these "average Joes"—who represent a majority of marketing teams surveyed (76 percent)—plan to quickly double down on AI.
Moderate performers anticipate 57 percent growth in AI usage over the next two years—a rate that's 2x higher than their top-performing counterparts. These marketers see how their competitors are using intelligence to win over consumers, and they're making a play to catch up.
WHAT'S THE MARKETING IMPACT OF AI?
AI's marketing benefits go beyond the obvious. Among marketers who already use AI, 64 percent say it's greatly or substantially increased their overall marketing efficiency. AI allows marketers to unlock new and more robust business insights and campaign analytics; increase transparency in programmatic ad/media buying; and (perhaps most importantly) make consumer journeys more predictive and personalized than ever. In fact, 57 percent of marketing leaders using AI say it's absolutely or very essential in helping their company create 1-to-1 marketing across every touchpoint. While high- and moderate-performing marketers vary in their AI adoption levels, the two groups are more aligned on the actual impact. Most forecast that AI will help to revolutionize marketing's ability to target consumers in the near term. Currently, most marketers say about half (51 percent) of their campaign messages are identical broadcasts from one channel to the next. But 61 percent of moderate-performing marketers expect AI will have a transformational or substantial impact on their ability to execute predictive journeys in the next five years. In other words, instead of basic message retargeting across channels, AI will equip marketers to send personalized messages based on a consumer's behaviors and interactions with previous marketing touchpoints.
Instead of a one-size-fits-all journey or a static chain of messages, it becomes a truly dynamic and personalized journey when AI is at the root.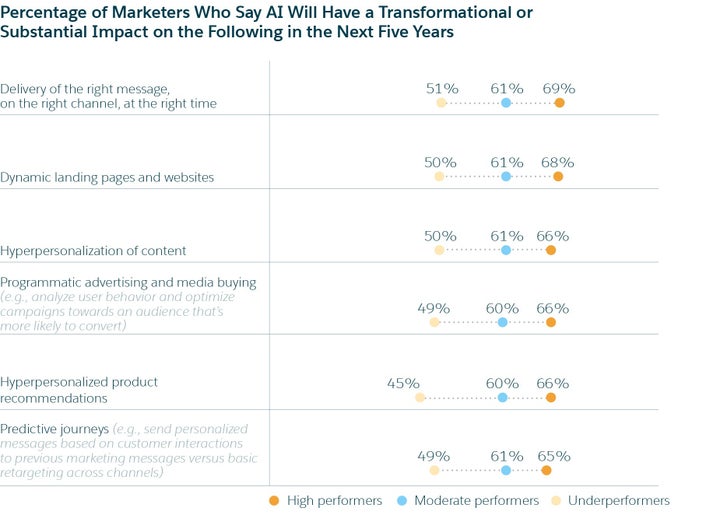 MARKETERS' AI CHALLENGES—AND HOW TO OVERCOME THEM
What stands between moderate-performing marketers and their AI dreams? Mostly, it's an issue of budget, customer privacy, and company buy-in.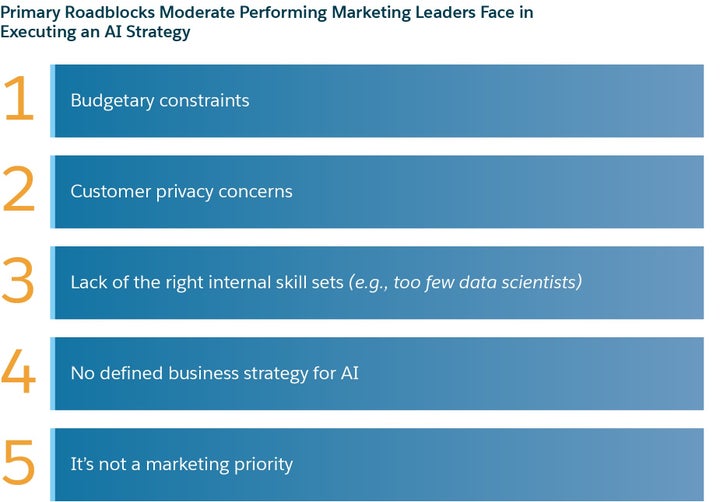 Four out of these top five challenges are inherently linked. Read: If your company doesn't see AI as a marketing priority, it won't devote time to defining a strategy or budget for hiring the right personnel—which of course leads to a lack of internal AI abilities. But as they say, understanding the problem is half the solution. Identifying these AI roadblocks is the first step in helping moderate-performing marketers pull ahead. Next steps to tackle include:
Educate your company on elevated consumer expectations. Remember the earlier statistic about half of consumers changing brands if a company fails to anticipate their needs? If your company isn't talking about AI already, then they probably don't realize that this is the new normal. Don't shy away from the topic of privacy, but help them understand that consumer stances on data privacy are changing. Consumers understand how valuable their personal data is, and they're willing to provide it in exchange for hyper-personalized, contextually-relevant brand experiences. Millennials, in particular, are big proponents of this dynamic, with 63 percent willing to share data with companies in exchange for personalized offers and discounts. By helping influencers and decision-makers at your company understand the new data-value exchange through compelling market and industry proof points, you'll already be well on your way justifying a deeper look at AI.
Define how AI will impact your business. Start by identifying the unique challenges your team faces in not only engaging today's connected consumers, but also the data sources that can be leveraged in finding solutions. Only after you've developed a business strategy for AI should the technical aspects be plotted—and those in traditionally "techy" roles aren't the only ones who can partake. AI is truly applicable across the business, and businesses are currently implementing it through practices like sales and marketing lead scoring, sales forecasting and customer service case routing, among others.
Advocate for the right resources. Scale is the challenge here. Having a manual personalization process would never work. Augmenting human campaign planning with AI can deliver a powerful partnership.
AI is revolutionizing marketing today—and will be nothing less than absolutely crucial to marketing tomorrow. Without it, marketers will find it increasingly difficult to to truly know each consumer, understand their needs and provide the personalized, connected experiences they expect in return for their loyalty.
AI can empower all marketers if they make it a priority throughout the business, and anticipate the challenges they'll face along the way.
Note: Marketing-related data in this article comes from the fourth annual "State of Marketing" report which can be found here.
Popular in the Community