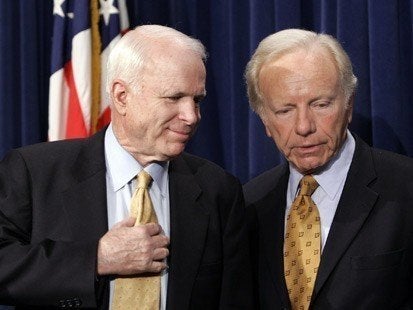 Republicans have seized on Barack Obama's call for drivers to inflate their tires as a laughable response to the energy crisis. But at least three prominent John McCain supporters have recently agreed with the Democrat on tire efficiency.
While Joe Lieberman may be a recent convert (along with McCain) to the necessity of offshore drilling, the independent senator has long advocated a smarter approach to the nation's tire fleet. Lieberman's own website still features several press releases that treat tire efficiency as a smart idea -- even a critical national security issue.
Nestled within the "Vehicle and Fuel Choices for American Security Act of 2005," which Lieberman introduced in the Senate, section 201 requires the creation of a "national tire fuel efficiency program for tires designed for the use on passenger cars and light trucks."
It doesn't stop there, either. Lieberman is on record going as far back as 2001 touting the significant role tire efficiency can play in any plan to reduce the nation's dependency on foreign oil. In a 2001 press release arguing against exploration in the Arctic National Wildlife Refuge, the Senator said: "Increasing the fuel efficiency of replacement tires for our cars to the same level as those sold on new automobiles will save drivers $90 in fuel costs over the lifetime of the tires and will save the U.S. more than 70 times the amount of oil we might find in the Refuge."
In 2005, another press release referenced the benefits of creating "a tire efficiency program for tires used on light duty vehicles."
Lieberman is not the only McCain supporter who feels that tires are a useful point of leverage in the battle for energy security. As the LA Times reported in June, both California Governor Arnold Schwarzenegger and Florida Governor Charlie Crist have encouraged drivers to keep tires inflated -- even as they disagreed about the value of offshore drilling. Indeed, tire maintenance would appear to be the one energy cause that almost everyone can get behind -- save for McCain's campaign.
So while the Republican National Committee thinks they've found an effective way to lampoon Barack Obama's judgment, it's not clear that the quote they decided to focus on is quite so ridiculous. Still, the Obama camp is wasting no time responding to the notion that the candidate does not have a comprehensive energy plan. On Monday, Obama is set to unveil his "New Energy for America" plan in a speech in Lansing, Michigan. The plan includes a pitch to create five million new "green jobs" and eliminate America's dependence on Middle Eastern oil in 10 years.
Meanwhile, his campaign has released a contrast ad meant to sting McCain for his $2 million in campaign donations from Big Oil.
While the candidate sketches the big picture on energy, Obama spokesperson Linda Douglass told the Huffington Post that his campaign isn't especially concerned about the GOP's tire taunts, noting that Obama's original comment came in response to a town hall questioner. "It's fascinating that every time a consumer asks a question about what he can do while waiting for Washington to act -- which it never does -- Republicans mock the idea," Douglass said.