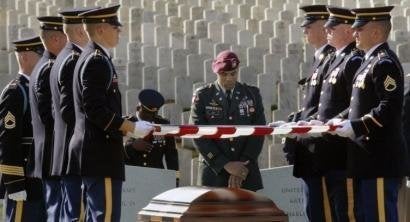 Andrew Olmsted, who also posted here as G'Kar, was killed yesterday in Iraq. Andy gave me a post to publish in the event of his death; the last revisions to it were made in July.
Andy was a wonderful person: decent, honorable, generous, principled, courageous, sweet, and very funny. The world has a horrible hole in it that nothing can fill. I'm glad Andy -- generous as always -- wrote something for me to publish now, since I have no words at all. Beyond: Andy, I will miss you.
My thoughts are with his wife, his parents, and his brother and sister.
What follows is Andy's post: a bit here; the rest below the fold. [UPDATE: I'm adding links to Andy's last post at his Rocky Mountain News blogs, from about a week ago, where friends and family are expressing support in comments; to an article from yesterday that I believe is about his death; and to a post he wrote on his reasons for going to Iraq last June.]
Popular in the Community