Each Veterans Day, people across the country celebrate the service and sacrifice of the members of America's armed forces.
Undoubtedly one of the best moments for any veteran is safely returning home to their family after a long deployment. Luckily for the rest of us, some of these heartwarming homecomings have been caught on video.
Many of the videos capture the emotional moment when a soldier first walks through their front door, some of them surprising loved ones who hadn't expected them, others overwhelming pets who simply lose it at the sight of their long gone owners. A couple are bound to wrench out a tear or two from viewers.
To mark this Veterans Day, treat yourself to the top five most watched YouTube videos of veterans coming home from their service to the country:
1. German Shepherd Fetches Ball, Returns To Find Soldier In Yard
In this 2012 video, a dog totally loses it after he fetches his ball and comes back to find his owner standing in his yard in uniform.
2. Soldier Comes Back From Afghanistan Early, Surprises Family In Scuba Gear Under Water
Try not to cry at this 2013 video of a soldier's wife and kids casually snorkeling at a beach in Japan, when their veteran dad ― a U.S. Air Force doctor who had been in Afghanistan for six months and wasn't expected home for another three weeks ― pops out of the water in scuba gear to surprise them.
3. Happy Pit Bull Flips Out At Sight Of Soldier Coming Home
In this 2012 video, a deaf rescue pit bull, who has since passed away, shakes its tail off when his owner, who was away for a drill with the National Guard, comes through the door.
4. Soldier Walks In Door, Cat Leaps Into His Arms
In this 2014 video, a cat meows wildly and leaps into his soldier owner's arms after he walks through the door in full uniform.
5. Dog Can't Stop Jumping Around Soldier Who Just Got Home
But perhaps no pet has ever been more excited than the boxer in this 2012 video totally losing it in a parking lot after his soldier dad comes home.
To watch the rest of the 20 most viewed homecoming videos, visit YouTube.
Before You Go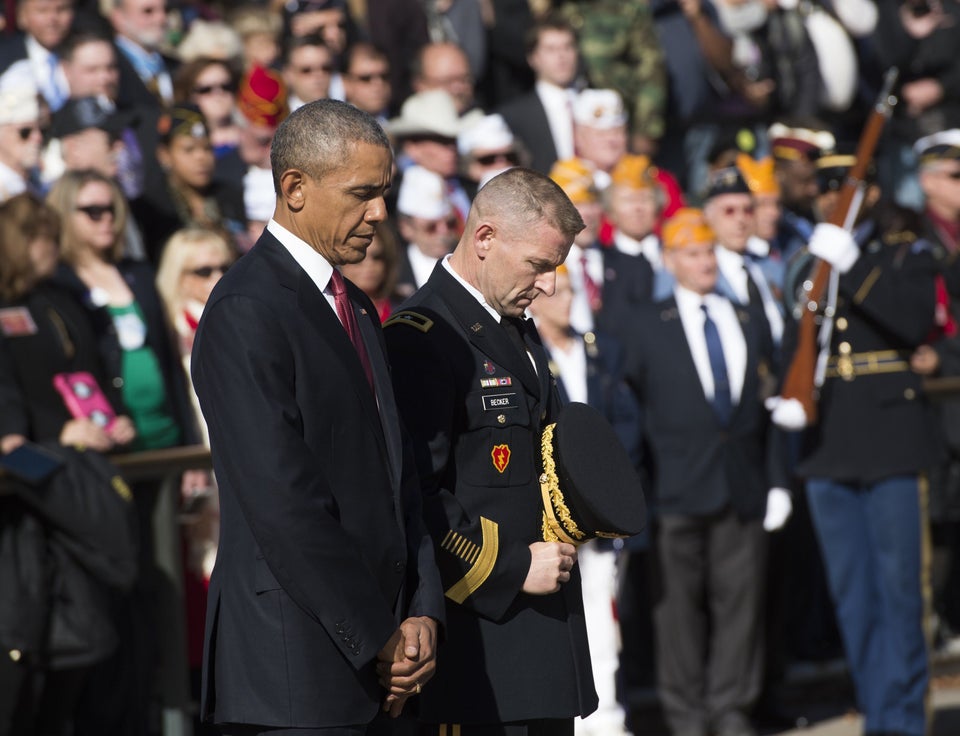 Here's How Americans Are Commemorating Veteran's Day Across The Country
Popular in the Community