The August issue of Dessert Professional features the magazine's picks for the Top Ten Pastry Chefs in America. The prestigious list, now in its 19th year, has named such pastry luminaries as Johnny Iuzzini, Michael Laiskonis, Dominique Ansel and Ron Paprocki. In this year's Top Ten are pastry chefs Damien Herrgott, Nathaniel Reid, Angela Pinkerton, Chris Hammer and Sally Camacho (both alums of Top Chef Just Desserts), Christina Tosi, Jean-Marie Auboine, Marc Aumont, Craig Harzewski and Sandro Micheli.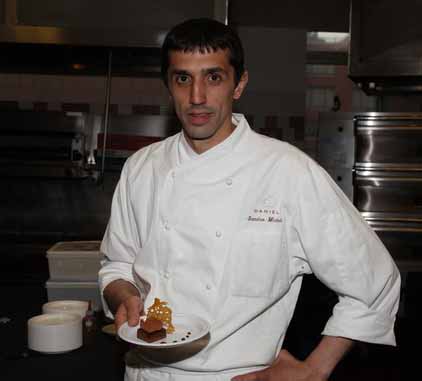 Restaurant Daniel's Executive Pastry Chef Sandro Micheli, a Michelin 3-star pastry chef, presenting his refined dessert of almond dacquoise, milk chocolate parfait, and salted caramel tuille (Paparaji for Dessert Professional, Photo courtesy Dessert Professional Magazine)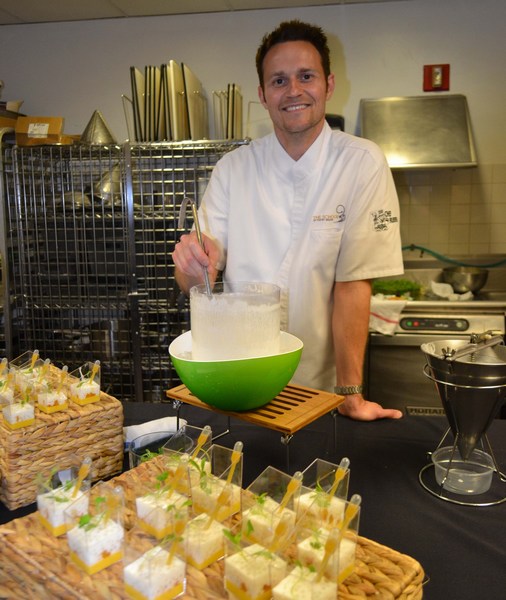 Top Chef Just Desserts Season Two winner and founder of The School of Pastry Design in Las Vegas, Chris Hammer working on his dessert (Regina Varolli)
At the Dessert Professional awards, all ten pastry chefs gathered for a crowd of roughly 300 food media and fellow industry professionals, for a dessert tasting that even the most die-hard dessert-aholic would have found overwhelming. Having tasted my way around the Institute of Culinary Education, where the event was held, I was incredibly impressed by all the pastry chefs' offerings. But still, I had my three personal favorites: Angela Pinkerton of 11 Madison Park, Nathaniel Reid of Norman Love Confections, and Damien Herrgott of Bosie Tea Parlor.
Nathaniel Reid not only wowed with his selection of desserts, he also went all out on his display, creating a beautiful sugar showpiece. Reid explained his over-the-top approach, "For me, coming from a smaller town in Florida, I really wanted to show all these people I look up to and respect just what I can do. So I took the opportunity and ran with it. It's the Top Ten of Pastry, you've got to make something that's equal to that title!"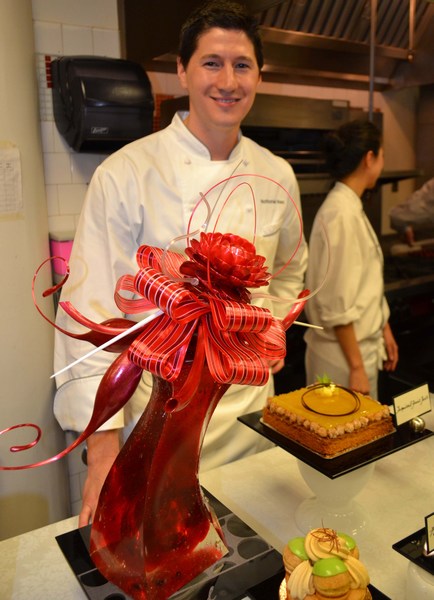 Nathaniel Reid posing with his sugar showpiece (Regina Varolli)
Reid came to pasty in college, quite unexpectedly as he was a biology major and had always wanted to be a biologist. After a disappointing internship, he changed his mind and didn't know what to do. It was actually his mom who suggested he be a chef, telling him that he had always loved to cook and that he was really good at it. So he switched his major to Hospitality & Restaurant Management, and after graduation headed off to Paris to study at Le Cordon Bleu.
"Going to Paris was an amazing experience. I had maybe $1,000 to live for a year and a half, but I wanted to do it so badly. I didn't know how I'd make it work, but I just put myself in the situation and hoped it worked out!"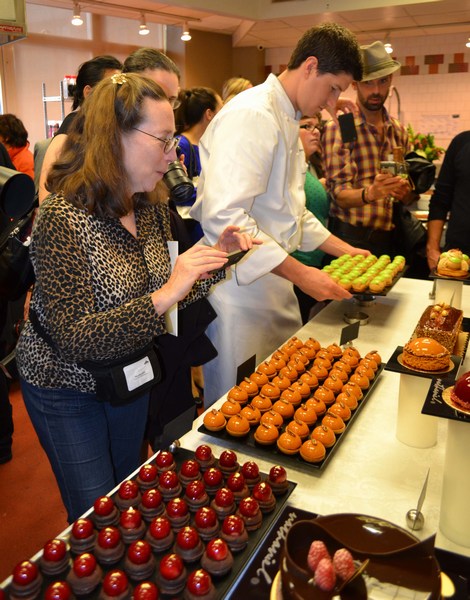 Famed cookbook author Rose Levy-Beranbaum photographs Nathaniel Reid's display as Reid sets out his petit pastries (Regina Varolli)
Well, it did work out. Reid spent a couple of months on a friend's couch, taking food home from school to eat (even the food of his fellow students who were happy to share). Then he landed a private chef position (quite a statement of his talent, a Parisian family hiring an American cook), which came with room and board. "But," said Reid, "I had applied for so many scholarships before I left, and every time I was down to my last dollar, a check would arrive in the mail!"
Reid's pastry career really took off when he joined the opening team at Joël Robuchon in Las Vegas, from there, his talent and experience only grew. Matthew Stevens, Editor of Dessert Professional who, along with co-editor Tish Boyle decides who makes the list, said of Reid, "Nathaniel had always been on our radar because he's a highly accomplished pastry chef. But any pastry chef that Norman Love would trust to basically run his day-to-day operations is about as great of a seal of approval as you're going to get in this business."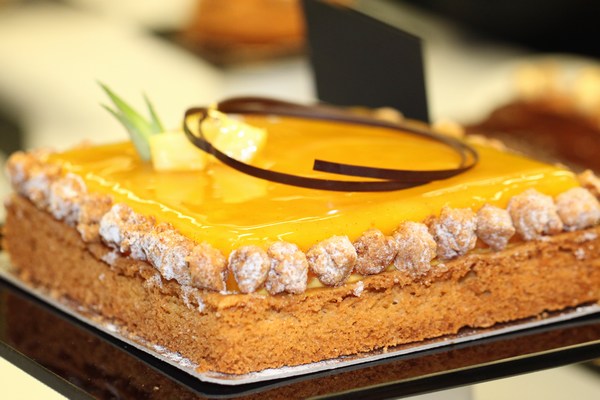 Nathaniel Reid's Passion Fruit Tarte (Paparaji for Dessert Professional, Photo courtesy Dessert Professional Magazine)
Another favorite that blew me away was the unassuming and uber-talented Damien Herrgott of Bosie Tea Parlor in NYC. When I asked Matthew Stevens why Herrgott made the list, he explained, "The first time I went to Bosie I saw they had these amazing teas. So I made a comment to Damien that it would be great to see more of his desserts incorporating the teas. Then, six weeks later, he had reworked his desserts and in such a little time he came up with the best tea desserts I've ever tried! Damien married his pastries to what Bosie Tea Parlor is, and he did is as well as you could possibly imagine."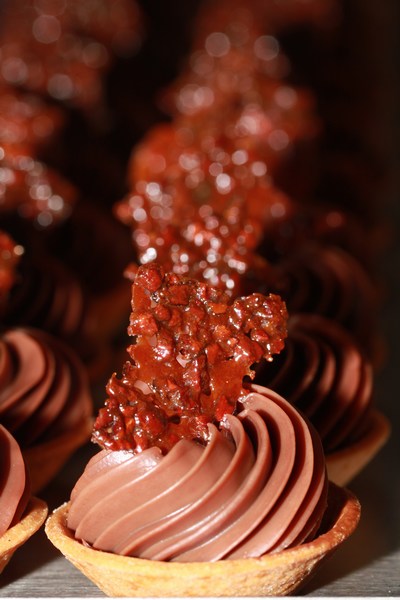 Damien Herrgott's Chocolate-Chai Tea Tarte (Paparaji for Dessert Professional, Photo courtesy Dessert Professional Magazine)
Stevens continued, "But Herrgott has all the pedigree of a top pastry chef. He was hired at just 23 to open Pierre Hermé's first shop in Paris, and he worked with PH for four years."
When I asked Herrgott how it felt to receive the Top Ten distinction, he replied, "It's such a huge honor to be recognized by Dessert Professional, it's the best magazine in America for the pastry industry. But I think the greatest reward came at the awards, seeing the faces of the people enjoying my desserts. Because at the end of the day, that's what we pastry chefs live for... We make sweet things so people can enjoy them!"
Damien Herrgott putting the finishing touches on his Chocotale-Chai Tarte (Regina Varolli)
I asked Herrgott if his mentor Pierre Hermé still influenced his work today and got a resounding yes. "PH definitely still has an influence on me. He has such an amazing way of working -- the flavor combinations, the creativity, recipe development, technique, even the way you physically work in a kitchen. I couldn't have asked for a better mentor!"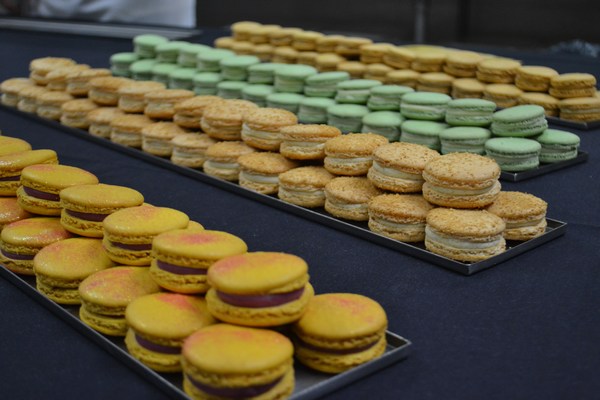 Damien Herrgott's picture-perfect Parisian macarons -- Foreground to background flavors: raspberry-yuzu, vanilla cheesecake, verbena, and salted caramel (Regina Varolli)
Happy to see three women on this year's Top Ten list, I was most impressed by the dessert of Angela Pinkerton of 11 Madison Park in NYC. Of Angela, Matthew Stevens said, "She is one of the most precise pastry chefs in terms of work. She's just outstanding. Angela has an amazing sense of flavor and texture. And it's also noteworthy when a woman rises to that level in our industry. As the pastry chef at a Michelin three-star restaurant, she's undeniably among the best in the world."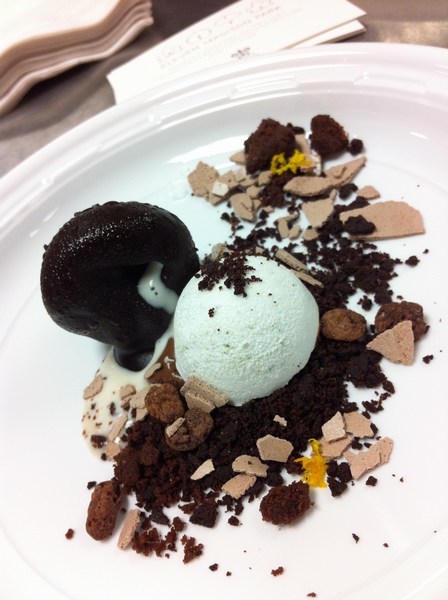 Angela Pinkerton's complex concoction of white chocolate cream, lavender-cocoa sorbet, milk chocolate crispies, lavender meringue, cocoa meringue, chocolate cookie crumble, chocolate liquid cookie, and chocolate-lavender "rocks." (Paparaji for Dessert Professional, Photo courtesy Dessert Professional Magazine)
When I asked Angela how it felt to get the award, she also said what a great honor it was. But, like Herrgott and even Reid, what she appreciated most came at the event. "You give a lot of yourself and your life to your work, and it's really nice to stop and share your accomplishments with people who appreciate that. Seeing people enjoy my desserts is what's most important."
Pinkerton continued, "It was pretty surreal though. I mean, you don't stand around all day patting yourself on the back... or at least you shouldn't! I don't think you'll get to the level of Dessert Professional's Top Ten if you do that!"
You can read more about all Top Ten honorees in the August issue of Dessert Professional, but for instant gratification, check out this slideshow of all the honorees' desserts. But be warned, you may need to suck on a sugar cube to save yourself from the shakes!
PHOTO GALLERY
Dessert Professional Magazine's Top Ten Pastry Chefs in America
Calling all HuffPost superfans!
Sign up for membership to become a founding member and help shape HuffPost's next chapter