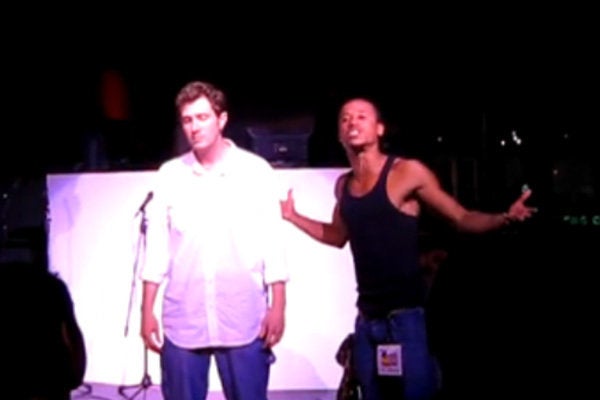 Sixty-eight slam poetry teams from as far away as Fort Worth and Vancouver descended on West Palm Beach, Florida last week to compete in the 2009 National Poetry Slam. Over a five day period, the teams were culled down to four finalists hailing from New York and San Francisco--cities that traditionally produce strong teams--as well as St. Paul, Minnesota, and Albuquerque, New Mexico. The team from St. Paul, called "Soap Boxing" took home the prize with Albuquerque coming in second.
Saturday's finals were held at the Palm Beach Convention Center before a crowd of almost a thousand people, evidence of just how much the competition has grown since the first two-team slam in San Francisco in 1990. Despite that growth, the competition has retained much of its underground feel. The crowd is alternatively rapt and raucous, and judges--often selected at random from the audience-- are roundly booed if their score is anything lower than 9 out of 10.
Slam poetry inspires that sort of energetic behavior (and I mean that as a compliment) with its strong ties to rap and theater as well as to traditional poetry. Henry Sampson, President of the organizing body behind the event, described slam poetry's connections to other genres to the Palm Beach Post: "Hip-hop, spoken word and slam poetry all evolved separately. But they do enhance one other, and page poetry benefits, too. It's all a great breeding ground of words and rhythm." Sampson also touched on how slam poetry is developing closer ties to traditional poetry: "In the next two years you'll see a great crossover. We have slam poets who are getting their MFAs" (by that he means a Masters of Fine Arts degree--a graduate degree in creative writing).
A good example of this crossover is Soap Boxing's Sierra DeMulder, who received the highest individual score on Saturday night, and who considers herself to be "a page poet first." "Slam involves the audience, and forces you to be more accessible, to write in clearer language," she told the Post. "People love the show, and it brings out the competitiveness in all of us." Here, she performs an intensely personal poem called "Werewolf":
Whereas traditional poetry usually relies on imagery, metaphor and subtle music for effect, slam poetry leans heavily on rhythm. This clip of Blair, a performer at the 2009 slam, reading a poem about his days working at Chrysler is a good example. He uses the rhythms of the factory to create the powerful rhythms of his poem.
But while a slam poem's poetic components are highly valued, performance--normally an afterthought for poets-- is the key to scoring highly. Here, Khary Jackson of Soap Boxing (otherwise known as "6 is 9") performs "Her Name." The piece works like a highly-energized dramatic monologue.
and this performance of "Our Fathers" by the Denver Mercury Poetry Slam Team at the 2009 Slam feels like a scene from a play.
Popular in the Community