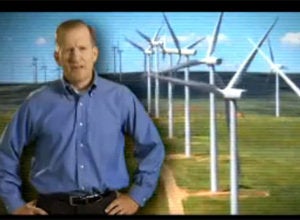 For the second time this year, a progressive veterans group is making a push for comprehensive energy legislation by tying oil consumption to the Ahmadinejad regime in Iran and insurgent attacks against American troops. This time, however, it has a top-ranked military official endorsing the message: Brigadier General Steven Anderson (Ret.), Chief of Logistics in Iraq under General David Petraeus.
In a spot set to air in four states -- North Dakota, Arkansas, Virginia, and West Virginia. -- VoteVets.org plays off a recent Pentagon Quadrennial Defense Review that cited global climate change as a security threat. The ad features Anderson, reflecting on his time in Iraq and the logistical difficulties posed by the country's oil dependency.
"Our troops are getting killed moving fuel we wouldn't need if our military was more efficient -- and our enemies know we're hooked on their oil," he says. "That's why breaking our addiction must not only be a military priority, but America's mission, and why the Senate needs to pass a clean energy climate plan."
"It's time for our senators to choose: Pass a clean energy climate plan that makes us more secure... or let America keep paying the price," he concludes.
The spot is -- surprisingly -- a bit more upbeat than the previous VoteVets ad, though it underscores its arguments with footage of American convoys being attacked with improvised explosive devices. And, as with the earlier version, it's designed to pitch energy legislation not as some sort of utopian progressive worldview, but (with more machismo) as a military necessity.
Which explains why VoteVets is airing it in states housing some of the moderate Senate Democrats who are already skeptical of energy/climate change legislation, including: Virginia's Jim Webb and Mark Warner, North Dakota's Kent Conrad, Arkansas' Blanche Lincoln and the soon to be seated Carte Goodwin in West Virginia.
REAL LIFE. REAL NEWS. REAL VOICES.
Help us tell more of the stories that matter from voices that too often remain unheard.