The top reason why investors would switch online stock brokers? Lower trade commissions, according to a recent NerdWallet/eTrade survey.
That is, except for millennials, who say that fees are their top reason why they would change to a different online brokerage.
NerdWallet teamed with eTrade as part of the online brokerage's quarterly Streetwise survey to ask investors what factors are most likely to make them switch online stock brokers, including lower commissions for each trade, lower fees to maintain the brokerage account, more investment offerings, better customer service and better site usability and tools.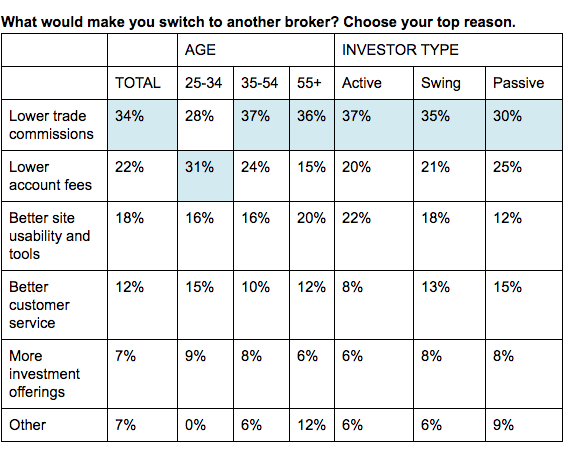 Key findings
The reason most commonly cited by investors to switch brokers: lower trade commissions (34%), followed by lower account fees (22%) and better website usability (18%). Better customer service (12%) and investment offerings (7%) were the least likely reasons overall.
The picture changes by age and type of investors. Unlike other age groups, millennials were more likely to switch for lower account fees (31%) than lower trade commissions (28%).
Active investors, those who trade more than once a week, are more likely to leave for lower trade commissions (37%) than lower account fees (20%). Investors 55 or older had the largest split on the commission-versus-fees question: 36% would leave for lower trade commissions, while 15% would leave for lower fees.
Investors 55 or older also are more likely to leave for better site usability (20%) than other age groups. Active investors also rate usability higher (22%) than other investor types.
The fact that millennial investors favor lower fees more than other age groups do holds some logic. A May study by J.D. Power and Associates found that millennials were much more interested in fee-based robo-advisors -- 72%, compared with the 47% average for all age groups. Also, as a recent NerdWallet study shows, millennials have the most to gain or lose over time by shaving fees from their retirement savings.
Active investors are wise to examine the commissions for each of their trades. But they are the exception: A 2012 NerdWallet analysis found that the average online stock brokerage customer executes fewer than two trades a month.
To know which is best for you -- lower commissions versus lower fees -- requires an analysis of your investing habits. As my colleague Arielle O'Shea writes: Start by understanding what features you want in an online brokerage, then compare the costs of fees and trade commissions. For example, if exchange traded funds are a priority, look for an online stock broker that allows commission-free trades on ETFs.
Shop around and select the broker that delivers the features you want with the lowest commission on the securities you trade frequently.
Survey methodology
This online survey was conducted from April 1 to April 8, 2016, among a U.S. sample of 907 self-directed active investors who manage at least $10,000 in an online brokerage account. The survey has a margin of error of plus or minus 3.25 percent at the 95 percent confidence level. It was fielded and administered by ResearchNow. The panel is broken into thirds of active (trade more than once a week), swing (trade less than once a week but more than once a month) and passive (trade less than once a month). The panel was 65 percent male and 35 percent female with an even distribution across online brokerages, geographic regions and age bands.
Kevin Voigt is a staff writer at NerdWallet, a personal finance website. Email: kevin@nerdwallet.com. Twitter: @kevinvoigt.
REAL LIFE. REAL NEWS. REAL VOICES.
Help us tell more of the stories that matter from voices that too often remain unheard.