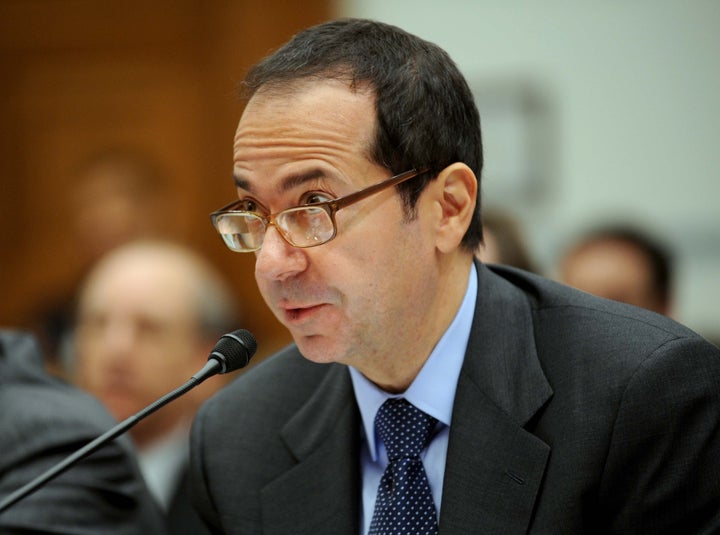 Corrects paragraph to say $4.9 billion, instead of million
NEW YORK (By Matthew Goldstein) - The richest 25 hedge fund managers made a bit less money last year.
But don't cry too hard. Collectively, this privileged class of traders did quite well for itself -- raking in some $22 billion in compensation, according to AR Magazine.
Topping the charts in hedge fund pay was John Paulson, who reportedly earned $4.9 billion. Paulson's name at the top of the "rich list" isn't too surprising, given that his $36 billion Paulson & Co has emerged as one of the industry's top performing funds.
AR reports that Paulson's 2010 earnings even bested the $3.7 billion he made in 2007, when he rocketed to hedge fund fame with his enormously successful wager on the housing market's collapse.
Other top earning managers were: Bridgewater Associates' Ray Dalio with $3.1 billion, Renaissance Technologies' Jim Simons with $2.5 billion, Appaloosa Management's David Tepper with $2.2 billion and SAC Capital Advisors' Steve Cohen with $1.3 billion.
Overall, the hedge fund trade publication reports that compensation for the top 25 managers declined by 13 percent from 2009. But 2010 still came in as the third best year for hedge fund pay since AR began estimating industry compensation in 2001.
AR notes that many of the managers on its rich list are "serial earners." It found that 11 managers, including Simons,
Tepper, Cohen and Citadel's Ken Griffin, have made the rich list at least seven times.
Other rich managers include ESL Investments' Eddie Lampert, Pershing Square's William Ackman, Moore Capital Management's Louis Bacon and Third Point Advisors' Dan Loeb.
Hedge fund managers typically charge investors 2 percent for managing their money, meaning that a $10 billion hedge fund takes in $200 million in fees. In good years, managers also can skim off 20 percent or more of the profits from their trades.
Last year hedge funds, on average, returned about 7 percent after managers collected their fees.
Many of the managers on the rich list scored big by keeping a good chunk of their personal wealth invested in their funds. In other words, the managers benefited directly from the rising value of their funds.
David Shaw, founder of D.E. Shaw Group, earned $275 million, even though the firm that bears his name had a difficult year. The firm's assets shrank by 40 percent to $14 billion over the past year, as investors pulled money from the fund. Many Shaw investors redeemed their money after being barred from doing so during the height of the financial crisis.
Calculating the earnings of top hedge fund managers involves a degree of guesswork and alchemy, since funds don't publicly disclose compensation. AR bases its estimates on the fees charged by funds and the percentage of capital a manager is believed to have in his fund.
Over the years, getting on AR's rich list has become a point of pride and vanity for top managers -- as the list is a proxy for measuring a managers success.
Conversely, falling off the rich list is something of a sore point for managers as well. This year, six managers who made the rich list in 2009 dropped off the chart, including Harbinger Capital Partners Phil Falcone and Viking Capital's Andreas Halvorsen.
(Editing by Steve Orlofsky)
Related
Popular in the Community