By Gregory Dal Piaz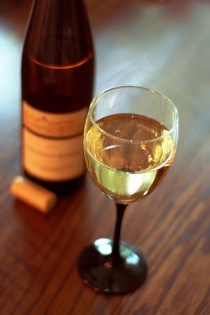 It's not easy to find great Riesling under $12. It is a very particular challenge since producers can always rely on their favorite crutch -- sugar -- when producing Rieslings. After working through over a case of value priced Rieslings, I was becoming a bit discouraged. Then, I hit on a series of wines from Washington State that made me take notice.
Washington is often overlooked when it comes to fine wines, though I don't know where that leaves Michigan and the New York Finger Lakes, who also produced solid entries for this list. It's undeniable that Washington seems to be emerging as a great source for Riesling, though the marketplace has yet to take proper notice. This means that it remains a land of great values. Dive in and take a look at the complete notes from our value tasting in July 2012.
Photo courtesy of J.Star via Flickr/cc
1. 2011 Washington Hills Riesling, $10
Fairly sweet smelling on the nose with apple fruit accented by hints of jelly candy that recall blackberries and lime. This is noticeably sweet though there is plenty of acidity to help keep it balanced, if not bright. This trades some brightness for richness of fruit and depth of flavor. It's a bit of a fruit bomb, but I like the combination of orchard fruit with citrus and berry accents. Super fun to drink with a finish that is moderately long and continues the fruit flavor interplay, while layering on a nice hint of minerality. Bing Bing Bing, we have a winner.
2. 2010 Murphy's Law Riesling Columbia Valley, Wash., $12
This smells of mineral and lime. A touch muted perhaps but distinctly Riesling with a lovely base note of sweet/sour apple fruit. Bright and fresh in the mouth, this has a gentle sweetness that is well balanced by firm acidity, all wrapped in a rather lightweight, fresh package. The palate delivers light apple fruit with a mineral edge that rolls over the moderately long finish. This is a find at this price.
3. 2010 14 Hands Riesling, Wash., $12
Pretty on the nose with light notes of iris, lime pith and some heather, honey tones. Medium-bodied and while lightly sweet, also light and elegant. I would like to see a little more acidity here but this does have a nice texture as it is. Delivers some gentle jasmine, apricot and crab apple flavors. The finish is nicely clean and fresh with a hint of balancing bitterness and surprising length.
4. 2011 Standing Stone Vineyards Riesling Finger Lakes, N.Y., $11
A lot of dried fruit on the nose here lends this a toffee note with dusty, dried floral tones and a hint of quince paste. This is very bright with huge acids throwing down on the modest sweetness. Raw and a bit untamed, there's plenty of pithy fruit here along with under-ripe apricot and some fine suggestions of river stones on the back end. The body slams your tongue on the finish with the acidity. The finish is long and shows some sweet tea character. A lot going on, possibly too much for some folks, but I give this an A for effort.
5. 2011 Ch Grand Traverse Semi-Dry Riesling Old Mission Peninsula, Mich., $11
Honeyed lime and spicy herbal notes show up on the somewhat simple nose, along with hints of apple butter and toffee. This is fairly sweet in the mouth with good acidity keeping it lively, but the texture is a touch viscous and the flavors lean towards the treacly, dried fruit end of the spectrum. Hints of dried figs, mango and a little strawberry note that pops on the back end and drives through the modest finish. It's good in its style, just be prepared for sweetness.
6. NV Ch Grand Traverse Select Semi-Dry Riesling, Mich., $8
Sulfur on the nose with late arriving herbal and lightly vegetal notes that hint at lime leaf. Weighty on the palate but well balanced and fairly fresh. This has a nice balance of sugar and acid supporting relatively simple apple and peach flavors, with a twist of bitter lime pith on the back end. The finish is a bit short with a nice pithy edge that lingers on the palate. A bit simple but well done.
7. 2011 Chateau Ste Michelle Riesling Columbia Valley, Wash., $10
Sweet, candied lime peel, apricot and apple aromas are layered on the nose. Noticeably sweet on entry, this has fine acid balance lending a transparent feel in the mouth and taking the edge right off the sweetness. The result is a medium-bodied, lime-based mid-palate with a touch of herb and apple peel complexity that extends over the moderately long finish. Nicely balanced and fresh if a touch simple, this checks all the boxes.
8. 2010 BEX Riesling Nahe, Germany, $10
Quite soft on the nose. There are nice floral notes here along with a touch of spearmint and some earthy fruit undertones. This nails the sweet/sour interplay that makes Riesling so attractive. There's almost a roller coaster in your mouth of sweet citrus flavors cut by the acidity, which pops through the fruit every so often. Flavor wise, this is fairly simple, hitting the citrus buttons every so often but not delivering much more than that. I doubt people will mind much since this is like drinking adult lemonade. Really love the sugar/acid interplay here and I imagine many others will too.
9. 2011 Targovishte Riesling, Bulgaria, $8
A little green on the nose and spicy with shades of pear peel, green tea and lightly dried grass. This is pretty dry with just the faintest suggestion of sweetness balancing the acidity here. There are nice, fresh flavors of earthy apricot and apple peels on the palate along with a spritz of steely minerality that pretty much dominates the moderately long and almost salty finish. A rather interesting example with a lot going for it, but you have to love salty wines.
10. 2010 J. Lohr Bay Mist Riesling Monterey Co., Calif., $10
Pretty floral and dried herb stem notes on the nose float over a base of green apple and melon aromas. This is soft and creamy in the mouth with plenty of sweetness. The acidity helps to add a bit of tension in the mouth, adding a nice candied citrus peel flavor that also shows a hint of underlying marshmallow. The finish is a bit short but does have a nice, bright finale that leaves the mouth fresh. A touch dull but should be very popular at this price point.
11. 2011 Yalumba Christobel's Riesling Eden Valley, Australia, $12
Lightly aromatic with hints of lime, dusty tree bark and something a bit funky that recalls aged apples. Interesting in the mouth with decisive sweetness yet this manages to remain fairly transparent. There's a little heaviness on the palate. The acidity is there just below the surface, but it too is hard to detect. A super quaffable wine with flavors of melon, apple and a hint of strawberry, all in a style that is very easy to drink. A safe bet.
12. 2011 Cono Sur Riesling Valle Central, Chile, $10
The nose starts out tight with hints of lime and white floral notes, but a little air reveals light peach and bright apple aromas. Light and almost elegant in the mouth, this is really a featherweight wine, almost fully dry with apple fruit flavors topped with a light, glossy hint of lime glaze. The finish is quite modest if fresh. Ultimately there is not that much to this wine, but what is here is fresh and delightfully easy to drink.
13. 2011 SeaGlass Riesling Monterey Co., Calif. $11
Pretty perfumed on the nose with hints of jasmine and honeycomb over talc-dusted Asian pear. Soft in the mouth with a nice wash of lemon early on, followed by noticeably sweet flavors of apple and pear. Nicely balanced and easy to like, this lacks a touch of brightness on the palate and finishes with a bit too much sweetness and a touch of alcoholic heat as well.
14. 2011 St. Christopher Piesporter Goldtropfchen Riesling Spatlese, Germany, $12
This smells beefy, like boiled beef with boiled vegetable top notes. Sweet and yet bright in the mouth this is simple with a lightly silky texture that highlights the light peach flavors supported by fresh lemony notes. Uncomplicated and a bit funky on the nose, this is easy drinking, well-balanced Riesling that leaves your palate refreshed on the finish.
15. 2009 Shannon Ridge Falconer Ranch Riesling Lake Co., Calif., $10
Minty, earthy and herbal on the nose with suggestions of waxy fruit and an unusual bourbon/banana base note. This is rich and soft in the mouth with a little alcohol showing through the gentle dried fruit flavors. There is an honest feel to this wine with its dried pear and bitter melon flavors, which are very gently accented by a dollop of residual sugar. Savory and a bit short, this is unusual. Shows a touch of heat on the finish.
16. 2010 Flying Fish Riesling Columbia Valley, Wash., $12
Stemmy and fresh on the nose with incipient diesel aromas and layers of slightly funky, spicy dried lime and passionfruit shells. Light and freshly textured. Candied on the palate with an almost butterscotch note to the overripe peach fruit. This turns a bit cloying on the back end and finishes on the sweet side. Easy to drink for a wine this sweet.
17. 2011 Schlink Haus Riesling Nahe, Germany, $12
Not much going on here on the nose, just a touch of herb and citrus pith. In the mouth, this is very simple with a nice balance between sugar and acid that supports easy citrus fruit flavors. The acidity pops nicely on the back end and drives the brief finish.
18. 2010 Kendall-Jackson Vintner's Reserve Riesling, Calif., $12
A lot of grapefruit, grapefruit pith, lime and slightly caramel notes great the nose. This has bags of acid on the palate, aggressively so, and while they balance the sugar well, they are raw and uncovered at the same time. There's not much flavor here, just the sensation of acid and sweetness on the palate with a weird finish that combines bitter grapefruit oil with a light dried fruit sweetness and a long, harsh acidic finale. A tough wine to like.

You may also like:
- Top 9 Chardonnays Under $15
- Women Winemakers Lead Men in Quality of Wine
- OMG Wines: Wines That Will Wow You
Calling all HuffPost superfans!
Sign up for membership to become a founding member and help shape HuffPost's next chapter