Two top Environmental Protection Agency aides resigned this week as a fresh round of controversies stretches the scandals surrounding Scott Pruitt into a third consecutive month.
Millan Hupp, the EPA's director of scheduling and advance, resigned after becoming the subject of a second major controversy, this time involving a used Trump hotel mattress, according to The Atlantic. Her last day is Friday.
Minutes after The Atlantic's report went live, New York Times reporter Eric Lipton tweeted that Sarah Greenwalt, a senior EPA adviser, also stepped down.
Both women worked for Pruitt when he served as Oklahoma's attorney general and were part of a close-knit group of appointees known among EPA staffers as the "Oklahoma posse." They were also the two aides awarded five-figure raises through a legal loophole after the White House rejected a request to bump their salaries. Pruitt first denied knowledge of the raises after they became public in April but later reversed course, admitting during a congressional hearing that he authorized them.
On Monday, Hupp again found herself at the center of Pruitt's swirling series of ethics scandals after two Democrats released a letter to Rep. Trey Gowdy (R-S.C.), the chairman of the House committee on oversight and government reform, containing her testimony as part of a congressional investigation. In the testimony, she said Pruitt instructed her to try to buy "an old mattress" from the Trump International Hotel in Washington. She said that she wasn't sure why Pruitt wanted the mattress and that, to her knowledge, it wasn't for EPA business.
A top EPA official told The Atlantic that Hupp was "tired of being thrown under the bus by Pruitt."
The EPA did not respond to HuffPost's requests for comment. But EPA spokesman Jahan Wilcox told an Atlantic reporter by phone, "You have a great day, you're a piece of trash," according to the magazine.
The departures continue an exodus of high-profile political appointees from the EPA. Last month Liz Bowman, the EPA's top spokeswoman, stepped down days after the resignations of Albert "Kell" Kelly, who was in charge of overhauling the agency's cleanup of America's most contaminated sites, and Pasquale "Nino" Perrotta, the head of Pruitt's controversial round-the-clock security detail. Perrotta stepped down before planned testimony before the House oversight committee.
Support HuffPost
The Stakes Have Never Been Higher
Before You Go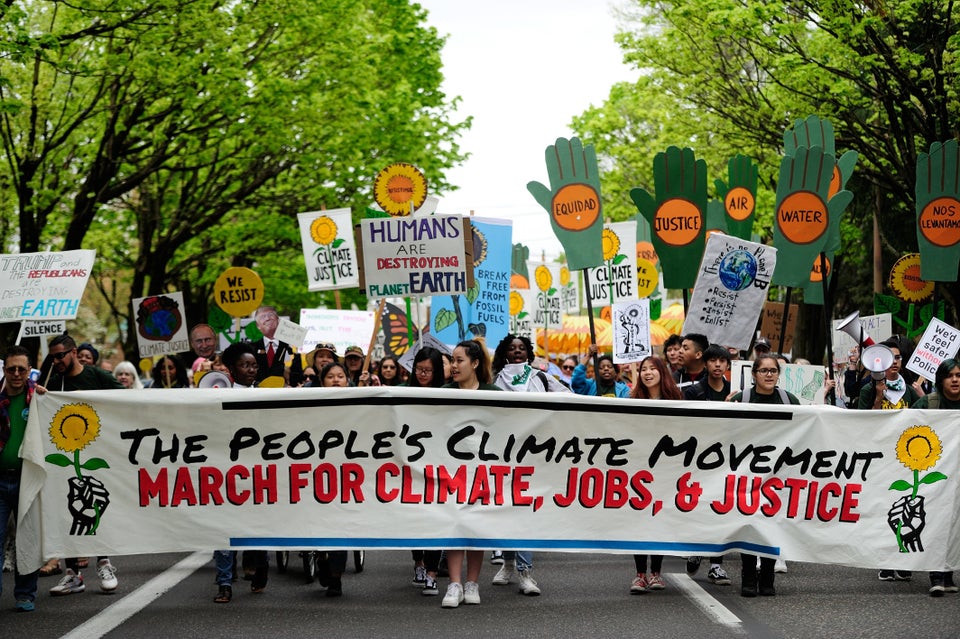 Climate Marches Across The U.S.
Popular in the Community