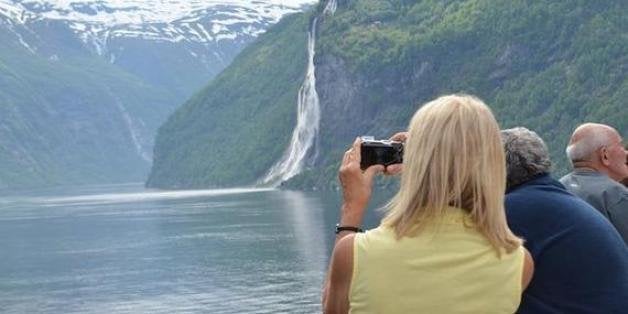 Traveling for a living is an elusive dream for many, but for travel writers and bloggers, regularly visiting the world's best destinations is just part of the job. Thanks to their occupations, these jetsetters know when and where to book flights, what to pack and how to get the ultimate local experience. Rookie travel mistakes were made in years past and now serve as a source of abundant knowledge. U.S. News tapped into this wealth by chatting with prominent figures in the blogosphere and travel industry. Their top secrets make the ultimate travel guide for aspiring globetrotters.
Fly during off-peak times
While many travel experts are firm in their belief that there is no perfect day to book a flight, they have found that flying on certain days of the week yields lower fares. Shannon O'Donnell, founder of the travel blog A Little Adrift, calls them the "magic days." In her seven years of travel, about 90 percent of her trips have been from Tuesday to Tuesday. She noted that Wednesdays, due to the lack of business travelers, and Saturday nights are also cheap days to fly.
As for what time of year yields the best travel deals, Arabella Bowen, the editor-in-chief of Fodor's Travel, highly recommended traveling abroad or to a tourist hot spot like Las Vegas over Thanksgiving. While domestic fares skyrocket thanks to the uptick in demand, international fares can be found for incredible values (Bowen has found round-trip tickets to Chile for under $1,000). In fact, according to Airlines for America, the trade organization representing leading U.S. airlines, only 10 percent of the expected 24.6 million Thanksgiving travelers in 2014 were predicted to fly internationally.
To search for international and domestic flights, travel writers often turn to Kayak first. Many raved about the search engine's easy-to-use features like its price alerts and flexible date search options. "What I really like is that Kayak has a feature that tells you whether to book now or to wait, which is based on historical data," Bowen said. This data is calculated into a percentage of confidence, which travelers can use to determine the accuracy of the given advice. Kayak also provides information on when prices may change.
Don't book all of your lodging in advance
Unlike flights, wallet-friendly accommodations are readily available last minute. Smartphone apps like Hotel Tonight (one of Bowen's personal favorites), offer deals at top-rated hotels the day of or up to seven days out. Resist the urge, however, to book your lodging for the entirety of your trip. Dave Bouskill and Debra Corbeil, the couple behind the travel blog The Planet D, recommended reserving a hotel room only for the first couple nights of the trip and arranging the rest of your accommodations after you've arrived. Once you get the lay of the land, see what other options are available.
Bowen also recommended looking into local accommodations offered on home-sharing sites like Airbnb and HomeAway. Along with the unique digs and the opportunity to experience the city like a local, you may score a bargain: According to Airdna, a data provider to vacation rental entrepreneurs and investors, the median nightly rate for an entire home on Airbnb is only $65 in South Korea and $74 in Berlin, Germany.
Make use of packing cubes
Noise-cancelling headphones or earplugs and packing cubes (small fabric containers used to compartmentalize items) are some of the most popular travel essentials among the writers we polled. Packing cubes sold by Eagle Creek, in particular, received high praise -- many felt they made packing and unpacking easier and kept smells from intermingling in a jam-packed suitcase.
As for what not to pack, "if you're going to a country where you can buy very cheap disposable clothing, why bring it?" said Paula Froelich, the editor-in-chief of Yahoo Travel. She offered Thailand as an example of a country where you could easily purchase inexpensive dresses after you arrive.
Travel writers make time for more than just packing before a trip overseas. Bouskill and Corbeil strongly recommended investing in travel insurance. "Even if you don't ever have to use it, it's a great peace of mind and you just never know," they said. For example, Bouskill recently broke his back in the Amazon and had to be airlifted home. Thanks to insurance, they didn't have to pay the exorbitant $100,000 bill. And even though they've visited hospitals on four different continents, they've never had to worry with insurance to fall back on.
Preparations must also be made to use your phone abroad. O'Donnell recommended buying a pre-paid SIM card, available in most countries with talk time and data. Your phone must be unlocked to use the card, so call your carrier to check before you leave. Another, often more expensive, option is to take advantage of the international calling and data plans offered by your carrier.
Once the necessary arrangements have been made, pre-travel jitters are bound to settle in. Carolyn McCarthy, a guidebook writer for Lonely Planet, works through trip anxieties by learning as much as she can about the destination. "Reading about the history of the area and about people who've traveled in the area is priceless," she said. "It gives you a new appreciation for these places."
Hunt down local experiences
Once you arrive, your options feel endless. How do you narrow down what to do? With more than 50,000 followers on Twitter, Keith Jenkins, the founder of the travel blog Velvet Escape, utilizes social media to plan his travel itinerary. "Sometimes, it's as easy as putting a tweet or a Facebook post out there with the right hashtags," Jenkins said. He's not the only one relying on his followers for guidance -- social media has a huge influence on today's travelers. According to Sprout Social, a social media management and engagement platform for businesses, 52 percent of travelers changed their original travel plans after referring to social media.
Less tech-savvy travelers can also rely on an old-school, but nonetheless effective, method to hunt down local experiences: visiting local cafes. "Coffee shops all over the world have bulletin boards with local salsa dance classes, yoga in the park and more," O'Donnell said. "Bulletin boards are a smorgasbord of really cool things to do in the city," she added. For McCarthy, yoga classes offer the perfect opportunity to meet locals naturally. Even if she doesn't understand the language, she can still follow along visually and immerse herself in the local community.
Melissa Shin is an intern for the Travel section at U.S. News. You can email her at mshin@usnews.com.
Related