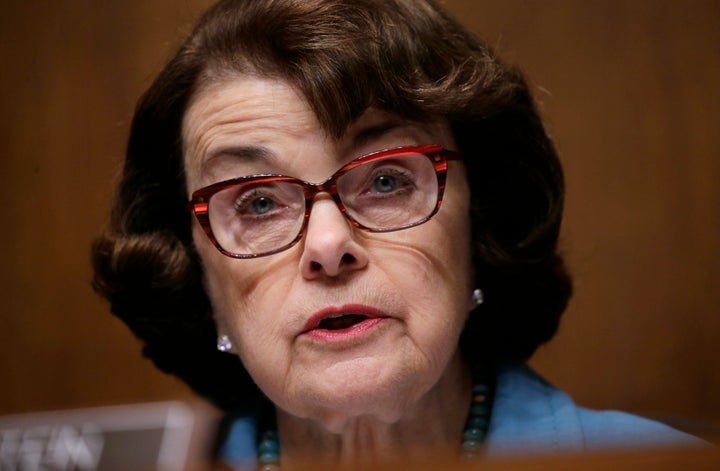 WASHINGTON ― The top Democrat on the Senate Judiciary Committee said on Sunday she wants Attorney General Jeff Sessions to testify again before the panel to clarify past claims that he was unaware of any communication between members of Donald Trump's presidential campaign and Russian officials.  
Sessions has already testified before the committee twice under oath ― during his confirmation hearing in January and during a routine oversight hearing last month ― that he was unaware of communications between the Trump team and Russia. But according to recently unsealed court documents, former Trump campaign foreign policy adviser George Papadopoulos spoke multiple times with Russians about setting up a meeting between then-presidential candidate Trump and Russian President Vladimir Putin. And Papadopoulos, according to the documents. described his efforts during a meeting on March 31, 2016, that included Trump and Sessions.
Sen. Dianne Feinstein (D-Calif.) said on CNN she plans to discuss summoning Sessions back before the Judiciary Committee with the panel's chairman, Sen. Chuck Grassley (R-Iowa). She declined to say whether she believed Sessions intentionally misled the committee in the past ― but said the attorney general should focus on getting his facts straight.
"Maybe he has a faulty memory. So, there are a lot of excuses one can make." Feinstein said. "But at this stage, he's got to narrow his recollections. When he comes before the committee again, he has to be precise, and it has to be accurate," she said.
Since the unsealing on Monday of the court documents concerning Papadopoulos ― who has pleaded guilty to lying to the FBI about his contacts with Russian officials during the campaign ― Democrats on the Judiciary Committee have been pushing for Sessions to explain the discrepancy between the information in them and his testimony.
The attorney general has been given the chance to clarify past testimony, "yet he only continued to mislead," Sen. Patrick Leahy (D-Vt.) said in a statement. "He now needs to come back before the committee, in person, under oath, to explain why he cannot seem to provide truthful, complete answers to these important and relevant questions."
"I don't think he told me the truth," Sen. Al Franken (D-Minn.) told ABC late last week. "I think that on different occasions he either has a terrible memory or he is deliberately not telling me the truth."
Lawmakers' frustration with Sessions may be gaining bipartisan traction.
"This is getting a bit old with Jeff Sessions," Sen. Lindsey Graham (R-S.C.) told Fox News' Chris Wallace on Sunday. "He probably should come back and answer the question, yet again, 'Did you know anything about an effort by the Trump campaign to meet with Russia?'"
This article has been updated with Graham's comment.
Calling all HuffPost superfans!
Sign up for membership to become a founding member and help shape HuffPost's next chapter