The week following Labor Day is the traditional launch of the exhibition season throughout the U.S., with the second Saturday of the month probably featuring more exhibition openings than any other day of the year. That this year's date happened to be 9/11 was widely noted, by did nothing to dampen the festivities. Our editors and writers offer their picks for some of the top exhibitions now open throughout the Western United States.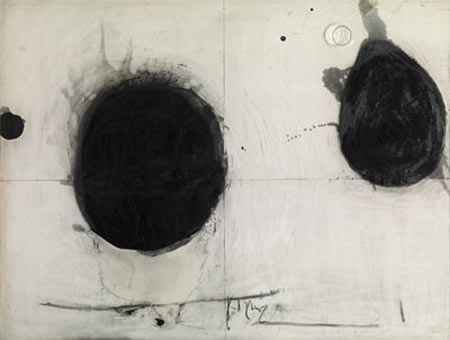 Jordi Alcaraz, "Exercicis de Desaparicio II (Exercises of Disappearance II)," 2010, painting on cardboard, plexiglass, wood, 67 3/8 x 87", at Jack Rutberg Fine Arts.
In his first American showing, Catalonian artist Jordi Alcaraz introduces a sensibility well calibrated between the playful and the profound in a series of large and small scale works that reveal themselves in layers. Books appear literally and metaphorically to make you think as much about what you don't see as what is visible. Frames are routinely made integral to the physical presence of this work. Plexiglas is selectively melted to drill holes onto the surface or into the very heart of some pieces. One mirrored surface draws your eye to the single scarification, which sucks your reflected image down its drain hole as you move towards it. Just as frequently the glass nearly invisibly casts shadows that are clearly intended as a drawn element, often echoing forms painted, drawn, or appearing in relief.
The blacks and grays of the cast shadows reflect Alcaraz' dominant color palette. The effect is to keep you focused on the interwoven layering of the formal elements, which might otherwise be drowned out in a cacophony. Surfaces are active, compositions are lyrical, but a good deal of more or less open space lends permission to linger on the details and marks. Cardboard segments stapled together convey rapidly worked urgency and a desire to know what might otherwise be revealed beneath the paint and its support. The interaction gives you plenty to work with, but the holes in this work are not only of a sort to pull you into the depths but to generously release you into your own imaginative pursuits.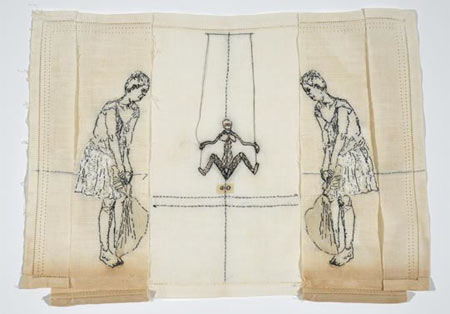 Hadar Sobol, "Goddesses are Never Pregnant," 2006, thread on vintage linen, 19 5/8 x 29 7/8", at Valley House Gallery.
Continuing through October 2, 2010
Valley House Gallery, Dallas, Texas

The weariness of woman and fine intricacies of "woman's work" - needlepoint, embroidery, and serge stitching - are the primary forces in the work of Hadar Sobol. In fact, the senescent woman is a leitmotif in this body of work. An artwork of thread and ink on vintage linen, "The Procession III" is a small figure-text triptych. Two skin-sagging women wearing droopy sackcloth dresses are stitched in black thread. They flank a Hebrew text written in ink at the center. Trudging along as though bearing someone else's heaviness, one woman carries a wrapped bundle while the bundle-less other is in mid-step. The text at the center comes from "Weeping Susannah," a book about a young woman who, though socially challenged and immature, blossoms into her full self by reaching out to a visitor. Inspired by this book, Sobol has made a body of work which is not so much about midlife crisis as midlife sadness.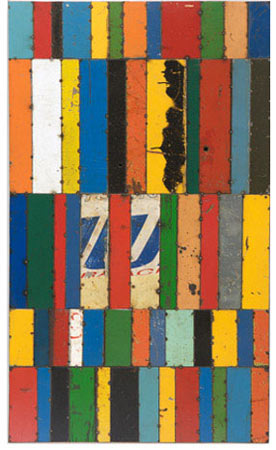 David Buckingham, "Case Study #53," 2010, cut and welded found metal, 45 x 7 x 3", at Cain Schulte Gallery.
Continuing through October 20, 2010
Cain Schulte Gallery, San Francisco, California

David Buckingham continues his playful assault on and homage to American mass culture with a dozen new wall pieces. The Los Angeles sculptor immortalizes the mediasphere's incessant din of ecstatic, insinuating and exhorting voices -- ad catchphrases, movie quotations, and song lyrics and titles -- in assemblages of scavenged metal that retain a hint of the gaudy colors of their commercial lives. They are now somewhat sun-bleached, and sport the rusty discolorations of their desert-junkyard retirements. Buckingham's cut and welded word assemblages thus juxtapose our brash capitalist self-image with the sober realities of dilapidation and obsolescence. It's wryly humorous art from a recessionary time -- and exciting abstract painting, too.

While several pieces take the cutout shapes of icons and letters ("The Carnation Dollar Sign," "Color Study (Star)," "Chevelle," "Dan White"), most of the works are rectangular word arrays. Pieces that quote rock music titles ("God Save the Queen," from the Sex Pistols, "Psycho Killer," from The Talking Heads, and "Ziggy Played Guitar," from David Bowie) alternate with lengthier word salads, like "Adult Books" ("Tailpipe, Daddy's Boy, Big Truckin' Stud"), "Come On Baby" ("Come on baby, light my fire," from The Doors). Pedal to the metal, America!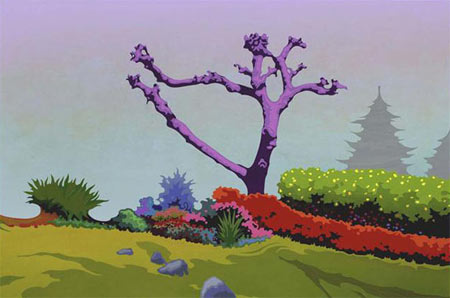 Greg Rose, "Arcadia," 2006, oil and alkyd on canvas, 48 x 72", at Pedersen Projects.
Contemporary American landscape painting has dislodged itself from the theories, goals and practices of esteemed nineteenth century Hudson River school artists like Thomas Cole and Asher Durand, who proclaimed that their attentive nature studies brought them closer to enlightenment and into alliance with God's divine harmony. Majestic panoramas celebrating this country's vast unspoiled wilderness, in the style of Albert Bierstadt or Thomas Moran, are more commonly seen now on calendars or travel ads than in art galleries or museums. Twentieth century regionalist landscapes that glorified the "uniquely American," hardworking, prosperous lifestyle that once defined our mostly rural communities have gone the way of Life magazine. Instead, we turn to Newsweek's recent list of "What to read now: the best books on greed, adultery, the food wars, the Pope, disasters, and the Taliban."

Recognizing that there is currently little evidence of trust in earlier promises of divine harmony, unspoiled land or nationalized prosperity, Lisa Adams, Amir H. Fallah, Wendell Gladstone and Greg Rose conscientiously contribute work that reveals their hopes, dreams, fears and priorities to "Prelude to an Apocalypse: Landscape in an Era of Diminished Expectations."

See the complete article. . . .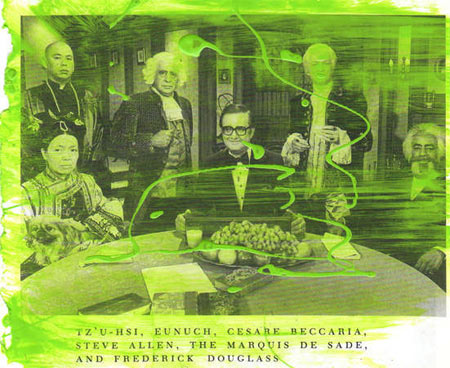 Stephen G. Rhodes, "Receding Mind: Circle of Shit," production still, 2010, at the Hammer Museum.
Continuing through September 26, 2010
The Hammer Museum, West Los Angeles, California
Like a three dimensional, media enhanced take-off of the game of "Telephone," Stephen G. Rhodes' untitled installation overfills its host gallery, leaving barely enough room for visitors peering into his dramatically lit, cluttered construction to walk around and contemplate the chaotic set from a variety of vantage points. Rhodes suggests that history is bound to be re-written, looking and sounding like a re-invention every time it is told. This presentation is inspired by Steve Allen's award winning television show, "Meeting of the Minds," a late 70's PBS production in which actors, appropriately made up and costumed, played roles of various famed figures from history, sitting down to exchange points of view.
Rhodes' installation suggests the disheveled remains of the set where Allen might have invited his wife Jayne Meadows to act the part of Catherine the Great or Florence Nightingale in conversation with someone like Attila the Hun. Rhodes' film plays into the space, which resembles the remains of an abandoned movie set, trashed after a wild party. It is impossible to construct any one "true' interpretation of what happened here. We are left on our own to piece together a narrative, based on the clues Rhodes has artfully strewn about.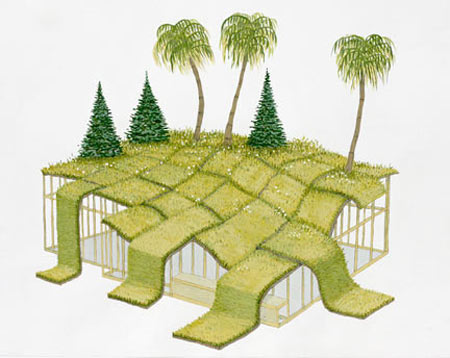 Joseph Phillips, "Elevated VIP Lawn," 2010, gouache, ink and pencil on paper, 13 x 17", at D Berman Gallery.
Continuing through October 9, 2010
D Berman Gallery, Austin, Texas

This two person exhibit of work by Joseph Phillips and Shawn Smith use traditional drafting and sculpting methods to cast a sharp, expert light on the increasing commodification and digitizing of the natural world. Phillips, a master of gouache painting, offers full-color schema depicting combinations of geology and architecture as they might appear in some divine IKEA catalog of utopian real estate: cottages swaddled in vertically arranged beachfront property, subterranean reservoirs of energy topped by tidy storage buildings, discrete units of improbable curbside appeal enhanced by non-indigenous foliage and packaged for some fantasy marketplace. Would you care for a side of julienned tectonic plates with your order, sir?

On the other side of the gallery, Shawn Smith eschews the merely two-dimensional and provides sculptures of wildlife: various birds, the heads of antelopes, a fox. All of these creatures are built from hundreds of hand-cut lengths of wood and rendered as collections of solid pixels, as if the inhabitants of some 8-bit computer game called "Woodland Creatures" had manifested themselves beyond the screen. The effect is consistently gorgeous and jarring and, especially in the case of one piece depicting a vulture perched triumphantly upon the shattered remains of an antique typewriter, more than a little unsettling.

- Annabelle Sanders
ArtScene and Visual Art Source are the in print and online resources to fine art galleries and museums in Southern California and the Western United States. Visit us online or pick up a copy for complete listings of art venues and editorial Reviews, Recommendations and Previews of the best current exhibitions. Be sure to visit our Openings Calendar page so you can plan visits to the latest exhibitions--of wherever you may be in the Western States.
Want to opt-in for a free subscription to stay current every day on our Weekly Newsletter, as well as new shows, events and (if you are an artist) artists' calls? It's easy.
Popular in the Community