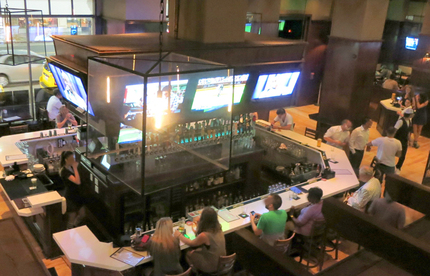 March Madness has started, but it won't end until April. That gives you plenty of time to visit one of America's Top 10 Sports Bars as selected by GAYOT.com. They offer quality food, beer and spirits as well as a top sports-watching environment. You know you are in one of the best sports bars in the country when you spot television screens in the bathroom so you won't have to miss a minute of rim-rattling action! Enjoy GAYOT.com's Top 10 Sports Bars in the U.S.
MICHIGAN
Detroit
Nemo's Bar & Grill
Nemo's Bar & Grill, a true Detroit classic, arranges buses to Tigers games, Lions football, Red Wings hockey games and other major concert and entertainment events as well.
CALIFORNIA
San Leandro
Ricky's Sports Theatre & Grill
Ricky's Sports Theatre & Grill near San Francisco wants to make sure fans don't miss a minute of the action, so they've even placed a few of their 100-plus television screens in the bathroom.
ILLINOIS
Chicago
Sluggers World Class Sports Bar & Grill
Located on Chicago's North Side, adjacent to Wrigley Field, this hang is a favorite with locals thanks to indoor batting cages, an extensive game room and many pool tables.
TENNESSEE
Nashville
THE Sportsgrille
THE Sportsgrille in Nashville offers creative takes on traditional game-day fare, and each starter and main dish on the menu even comes with a wine or beer suggestion.
Atlanta's sports radio station 680 The Fan occasionally broadcasts live from a glass-enclosed booth at STATS. As the booth is visible from the street, passersby snag a sneak peek at the pros as they broadcast.