This week we jump from the north to the south in the western states outside of California to pinpoint the top shows that will carry over from the summer season. With Labor Day past, this coming weekend opens the new season with a plethora of new shows. Starting next week we will all take the plunge together; we'll return with our editors' and writers' picks of which shows best set the tone for 2010/11 and why.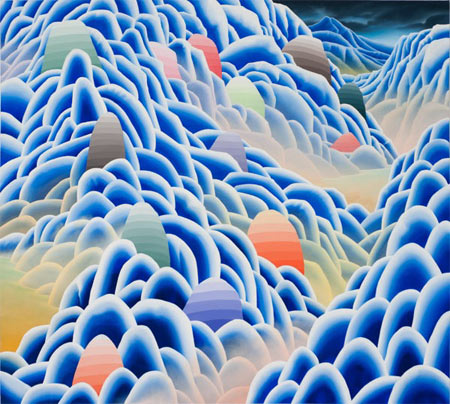 Adam Sorensen, "Dragon's Mouth," 2010, oil on linen, 40 x 44", at PDX Contemporary Art.
Adam Sorenson's "New Westerns" exhibition takes the viewer into exotic terrain that seems more the province of dreamscape than landscape. The dramatically composed mountains and hills evoke the fjords of Scandinavia and New Zealand, nowhere more potently than in "Flusskeller," a fantastical vista worthy of J.R.R. Tolkein. The piece, at 78"x67", is the largest in the show, and its scale heightens the otherworldliness of its imagery: waterfalls cascading down black and gray mountains, water atomizing into mist, brightly colored geodes and boulders dotting the valley below.
In "Dragon's Mouth," these boulders take on the appearance of oversized Easter eggs, while in other works, the artist renders strata of rock as stripes of color in subtle gradations stacked one atop another, so that the creaminess of the paint mimicks scenes' rugged topography. The wildly colored rocks and geodes seem to exist in a different space than the sylvan expanses behind and above them, as if inhabiting a more magical dimension seemingly exempt from the laws of perspective and physics. While the landscapes are unapologetically extravagant, their semi-abstracted forms and playful color palette keep the work on the ironic side of the romanticism/kitsch divide.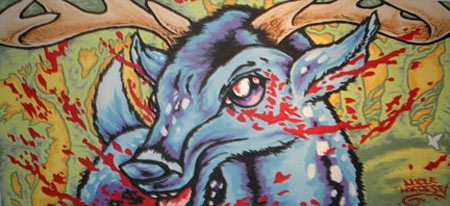 Noble Hardesty, "Uzala", 2010, oil on hollow door, 80" x 36", at Visual Arts Collective.
Continuing through September 30, 2010
Visual Artists Collective, Boise, Idaho

VAC presents its first artist-curated exhibition with four local artists who are kindred spirits of sorts. Curated by painter Noble Hardesty, its "High All Day" title is a pun on Jaialdai, the Basque festival that recently stormed through town.
Hardesty's five pieces dominate the event. An aggressive, one might say flamboyant painter, Hardesty weds a clamorously bright palette with neo-Pop/graffiti imagery and a Juxtapoz-inspired style. Known for his unconventional supports, here he opts for hollow doors as his canvas, covered with manic action that evokes contemporary cinema, as in his bloodthirsty "Uzala" or the crazed "Halo of Flies." Neon artist Wil Kirkman occasionally likes to combine the ethereal qualities of his medium with salvaged materials, nicely done here in "Sign Post to the Future." Jason Lee's wall of work ranging from found erotic imagery to earthy assemblages addresses the hedonistic rewards and pitfalls of musical celebrity. Jeff Baker's hallucinogenic figurative work suggests Pokemon influences. Although the younger Lee and Baker contribute the bulk of the show, their secondary presence underscores an undeniable hierarchy of local talent.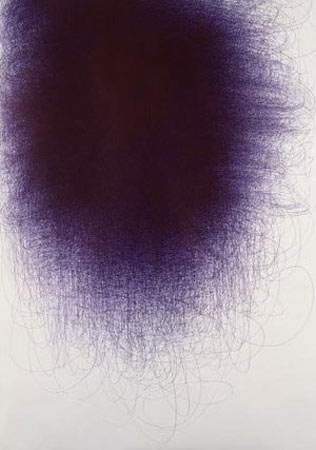 Il Lee, "BL-091," 2007, ballpoint pen on paper, 84 x 60 1/2", at the Crow Collection of Asian Art.
The juxtaposition of ballpoint-pen-on-paper drawings of Il Lee and an exhibit exploring "The Thousand Faces of Vishnu: is highly evocative of how art -- and the universe -- work. One is a form of religious wisdom that forces us to contemplate the manner in which the Divine can never be contained. The other shows us the myriad ways in which a universal "energy" is captured and delivered to us over and over again in shifting panoramas. It, too, will resist solidity and will constantly spill into new shapes. Vishnu is ancient; Il Lee, is contemporary. But the underpinnings of both remind us that the world is, indeed, elegant and it continually morphs for our delectation.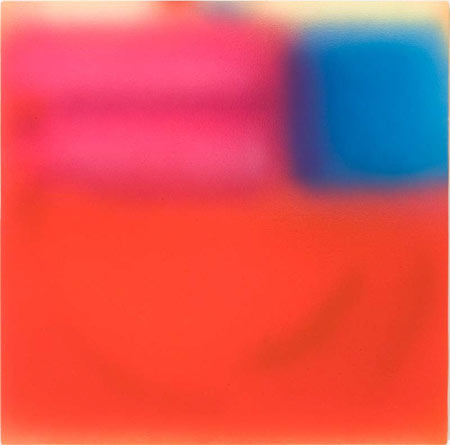 Tim Bavington, "Thick Blocks of Vanilla Fudge," 2010, synthetic polymer on canvas, 30 x 30", at Greg Kucera Gallery.
When the sort of meticulous effort of conception enters a body of work as intricately as it has Tim Bavington's current exhibit, it is clear that each work in the oeuvre is representative of something in and of itself. Bavington's Technicolor striped paintings, beyond seeming synthetic polymer versions of Ribbon Candy, act as a bridge over the visual/aural divide -- a bridge variously slatted, but sturdy.
Each stripe, of certain width and color, represents a matched note on the musical scale that Bavington uses to paint "covers" of hit songs of the past half-century. "Sweet Child of Mine" by Guns N' Roses is re-recorded in a bright neon plane of blues and pinks and oranges, resembling a digitally disrupted sunset over water. In "Have You Been (Experienced)," Jimi Hendrix's refrain falls like vertically dripped kool-aid across the canvas. Bavington's lines, edgeless, out-of-focus, bleeding vibration, read like reverb. Before experiencing the exhibit, compose a playlist to accompany you there and away. The notes will beat strong in your ears like the colors, your eyes.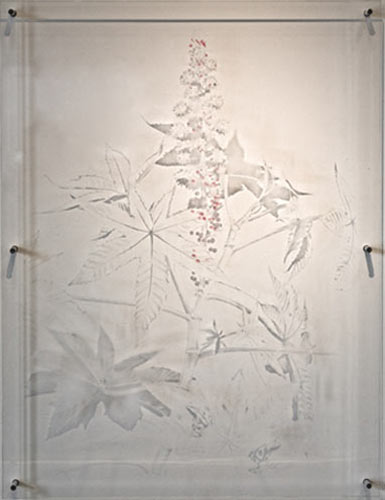 Joanne LeFrak, "Castor Bean Poison Dart," 2008, scratched Plexiglas, archival ink, 34 x 26", at Box Gallery.
Continuing through October 2, 2010
Box Gallery, Santa Fe, New Mexico
The effect of the white-box gallery with Joanne LeFrak's scratched-Plexiglas landscapes is undeniable. Lighting in the gallery becomes, unintentionally, part of the show. What you're really seeing are shadows on the wall, not the actual etching upon glassy surfaces. New for the artist in this exhibition is the inclusion of audio tracks for several pieces, layering over LeFrak's already narrative work. The foundation for her art, however, is light, and a deep connection to the physical place of New Mexico. And though the etchings are rendered like drawings, they are quite painterly because of their presence and presentation.

Cabezón Road's audio track, "UFO," serves to heighten meaning as a man speaks, with a pronounced New Mexican accent, of his father's stories about watching a UFO land and take off in the remote area in the state's northwestern wilderness. The spoken words read as poetry; they make the land numinous, an object of devotion and mystery. And here lies the secret to LeFrak's subject of the landscape as narrative: she chooses locations that are quite out of the way, not your typical tourist fare, and allows these well-worn places to tell their own stories in their own time. Perhaps my favorite, Jail, Santa Rita, depicts a crumbling adobe building with the title scratched into the lintel over the entrance. There's a whole world there, in each subtle line.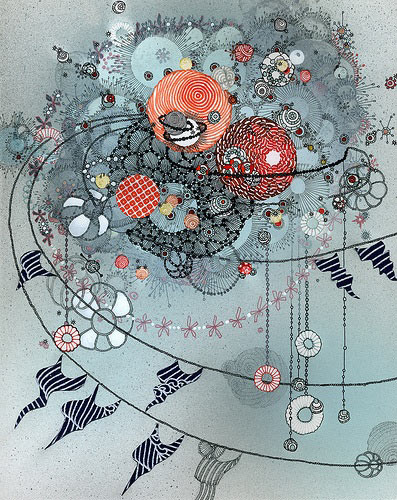 Jill Gallenstein, "A Girl Names Peaches," ink on paper, 20 x 24", at Johansson Projects.
Linear and organic structures complement each other in this two-person show of sculpture and works on paper. There is a shared lightness to the works, giving the exhibition an overall ethereal, meditative feel. The exhibition comprises two sculptures by Jana Flynn -- one wall mounted and the other a site-specific, floor-to-ceiling work that spans the back of the gallery -- and several ink-on-paper works of various sizes by Jill Gallenstein.
Flynn's creations come out of the craft of string art (think geometry class projects, gone huge, complex, and elaborate). She arranges arrays of strings, each their own color: Each same-length piece of string is fixed at either end; termination points are at equal intervals. Each array of strings, then, effectively creates a plane. Flynn interweaves these planes, shaping and bending space. The works are at once delicate in their transparency while also being formidable -- the taut lines make firm boundaries. (Of note is that these very precise, measured works are created improvisationally; they are not preplanned.)
Juxtaposed next to these are highly detailed and gorgeously colored works by Gallenstein. Rounded objects, starbursts, and other creations from the artist's imagination group together, string out, and sometimes regroup across or down the paper; the backgrounds often feature subtle washes of color which enhance the atmosphere. The intricacy of these works cannot be overemphasized; they are stunningly rendered, each shape decorated with dots and lines to the tiniest degree. Up close, they are a wonder of obsessive attention; far away, they present beautiful, fluid compositions in bright, dramatic palettes.
Considering these two artists together, Flynn's sculptures bring out the taut structure in Gallenstein's work; Gallenstein's seemingly amorphous works highlight the lyric aspects of the three-dimensional pieces. If these works hold their own individually, seeing them side-by-side mutually enhances their impact -- a reminder of how the experience of an artwork is profoundly affected by its surroundings.
ArtScene and Visual Art Source are the in print and online resources to fine art galleries and museums in Southern California and the Western United States. Visit us online or pick up a copy for complete listings of art venues and editorial Reviews, Recommendations and Previews of the best current exhibitions. Be sure to visit our Openings Calendar page so you can plan visits to the latest exhibitions--of wherever you may be in the Western States.
Want to opt-in for a free subscription to stay current every day on our Weekly Newsletter, as well as new shows, events and (if you are an artist) artists' calls? It's easy.

Popular in the Community