 WASHINGTON -- Super PAC mega-donors continued to dominate the independent spending playing field in May as their percentage of total giving to super PACs increased.
There are now ninety-five donors or collections of related donors that have given more than $500,000 to super PACs, according to a review of reports filed on June 20 with the Federal Election Commission (FEC). Those donors had given $153.6 million through the end of May.
This surge in mega-donors -- nearly twice as many contributors became $500,000-plus donors in May as did in April -- comes after the Supreme Court's decision on Tuesday to reverse a Montana court ruling challenging the Supreme Court's own two-year-old Citizens United ruling. Citizens United paved the way for unlimited corporate and unions election spending, and a subsequent lower court decision that created super PACs.
"The Supreme Court has basically said that the government is handcuffed from putting any restrictions on wealthy interests spending on our elections," says Adam Skaggs, of the Brennan Center for Justice.
Wealthy donors giving $500,000-plus provide the vast majority of contributions to super PACs. Through May, their contributions accounted for 71 percent of all super PAC contributions. That's up from 61 percent through the end of January.
The 11 donors, or collections of related donors, newly-identified in May hail from a number of industries, the most common being the investment industry. They also showcase the semi-successful efforts of Democratic Party super PACs to catch up to their Republican rivals.
New Democratic super PAC donors included three $1 million donors to Priorities USA Action, the super PAC backing President Barack Obama's reelection campaign. These included Texas trial lawyer Steve Mostyn, real estate magnate Franklin Haney and Coral Gables philanthropist Barbara Stiefel. All three are well-known donors to Democratic and liberal causes.
Mostyn, the head of the Texas Trial Lawyers Association, is especially recognized for financing Democratic Party efforts in his state. In 2010, Mostyn and his wife Amber Anderson pledged to spend at least $3 million to help Democratic gubernatorial candidate Bill White's campaign against incumbent Republican Gov. Rick Perry. Amber Anderson Mostyn added to the couple's super PAC total in May with a $500,000 contribution to Majority PAC, a group working to protect the Democrats' Senate majority.
The other new Democratic donors in the $500,000-plus level include investor Donald Sussman, the husband of Rep. Chellie Pingree (D-Maine) and a frequent donor to Democratic outside-group efforts, and the consulting and lobbying firm Perennial Strategy Group, which is headed by Lamell McMorris.
Sussman added to the previous $450,000 he had given to super PACs with a $300,000 contribution to House Majority PAC, a group working to elect Democrats to the House of Representatives, in May.
These contributions brought the total number of $500,000-plus donors to Democratic-leaning super PACs up to 24. That still pales in comparison to the 71 $500,000-plus donors giving to Republican Party-supporting super PACs, which includes six new donors added in May.
Leading that list of new super PAC donors are four companies linked to Reynolds and Reynolds Company head Bob Brockman. Those companies -- CRC Information Systems, Dealer Computer Services, Fairbanks Properties and Waterbury Properties -- have combined to give $1.25 million to super PACs, with $1.2 of that million coming in May.
Other new GOP mega-donors include Pennsylvania health care executive Rocco Ortenzio, Arkansas investor Warren Stephens, coal company CEO Richard Gilliam, and Alabama real estate tycoon Ed Bosarge. Also newly aggregated are the contributions of the Fox family -- Sam, Jeffrey, Greg and Marilyn Fox -- of the Missouri-based investment firm The Harbour Group.
This high percentage of contributions coming from six- and seven-figure donations has led to concerns about the profound effects this new normal of campaign fundraising could have on who the government listens to in the future.
"Candidates in the future are going to know what actions and which votes are going to bring out these tens of millions of supportive spending and which votes are going to trigger millions of dollars of opposition spending," says the Brennan Center's Skaggs. "It's the effect on governance that should give us real cause for concern."
In the past, big money bundlers for both President Obama and his predecessor George W. Bush received appointments to ambassadorships and advisory boards, along with access to the White House and meetings with policy makers. Already, the presidential campaigns are providing access to super PAC donors.
A prime example of that access is this past weekend's lavish donor retreat, hosted by the Romney campaign in Park City, Utah. One of those attendees, Alliance Management Resources head Joesph Craft, also happened to be the biggest super PAC donor in the month of May.
Craft and his company contributed $1.675 million to the Karl Rove-linked super PAC, American Crossroads, in May. This comes on top of the previous $425,000 that Craft and his company had given to American Crossroads, and the $500,000 given to Restore Our Future, which supports Mitt Romney, the presumptive GOP presidential nominee.
Mega-donors like Craft spent their time mingling with Republican Party luminaries, attending policy briefings and talking to the presidential candidate and his aides.
"When control of elections, and thereby control of government, is in the hands of a tiny slice of the electorate, in this case the Forbes 400," Skaggs warns, "we cease to have a real democracy; we have an oligarchy."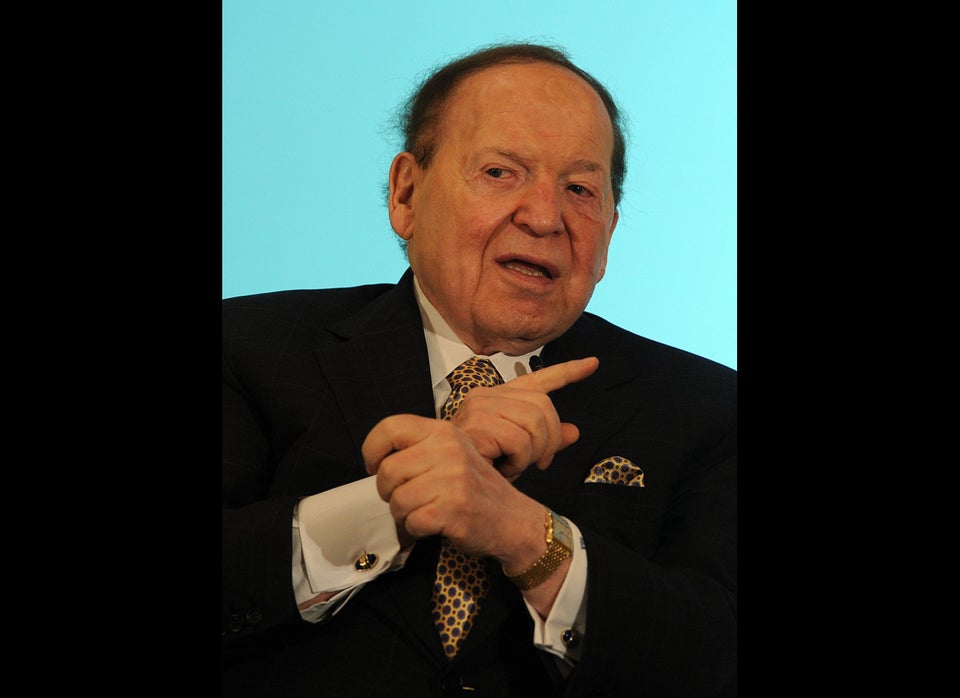 Donors Giving $500,000-Plus To Super PACs