The IFA Tech Show in Berlin has grown over the years into a must-attend event for tech companies around the world to show off everything from the latest smartphones and tablets to smartwatches and home appliances. In fact, roaming the home appliance halls of this huge conference is one of my favorite things to do there. Well, aside from eating currywurst and drinking beer. In all, there are 25 halls packed with the very latest in HDTV's, robotic vacuums and smart home appliances. The show ran from Sept. 4-9 and if you weren't able to get there in person, here are the top five trends coming out of IFA 2015.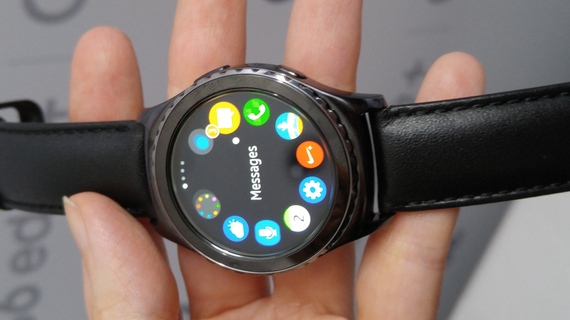 SMARTWATCHES
No fewer than five big-name companies showed off their latest iteration of smartwatch and indeed, each and every one of them is an improvement over the last. While many will judge each of these against the Apple Watch, I was on the lookout for ease of use, which I'm still not sold on, and an attractive design I would actually like to wear on my wrist every day.
Motorola's 2nd generation Moto 360 is slimmer and much more attractive than the previous version and now also comes in a woman's size; slightly smaller and with more fashion-friendly accessories. The Asus ZenWatch 2 gets points for customization and price point. It will come in two sizes, three body color options and 18 wristbands. With a starting price of about $170, it's the most affordable smartwatch yet.
Though these Android Wear watches will now run on the latest iOS devices, my eye is on the now-circular Samsung Gear S2, which runs on Samsung's Tizen OS. Samsung did a great job redesigning this flagship watch into an attractive-looking device that's also easy to use. It also promises two days of battery life.
There are two versions, the S2 and the S2 classic, which will be priced slightly higher. Both have a round bezel you use to navigate through the menu and apps. Two buttons; back and home, make it a simple tap to find what you're looking for. Samsung says there are partnerships with various companies to provide interchangeable bands in a variety of colors and materials. The S2 isn't just limited to the flagship Samsung devices either; it will work with any Android phone running KitKat 4.4 and higher.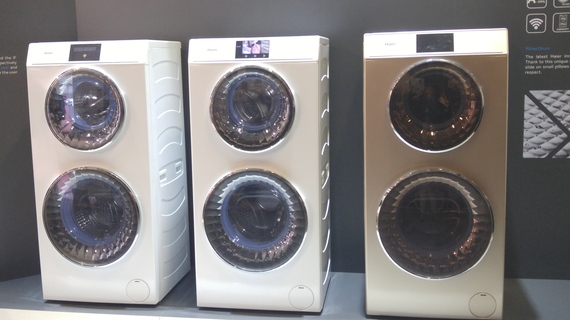 EVEN SMARTER HOME APPLIANCES
IFA is the place to be if you're looking for innovation in home appliances. They're smart and solve simple problems in addition to saving you time. The Haier Duo washing machine is a dual-drum front-loading washing machine that lets you wash two separate loads at the same time. Now you don't have to choose between lights and darks. Since the drums are stacked one on top of the other, it won't even take up extra space in the laundry room. For those tight on space Haier debuted a washer/dryer all-in-one with smart notifications. When the wash cycle is done, the outer ring on the front door turns blue. Once the dryer cycle is underway, it turns a glowing orange. Now you'll know just at a glance whether it's time to grab the next load. The Haier Intelius line detects how hard your water is and automatically adjusts how much detergent is added for each load. Haier also has a unit with a built-in shelf for washing sneakers and shoes. That way you won't hear the thunka-thunka sound of the sneakers hitting the inside of the drum as they go round and round.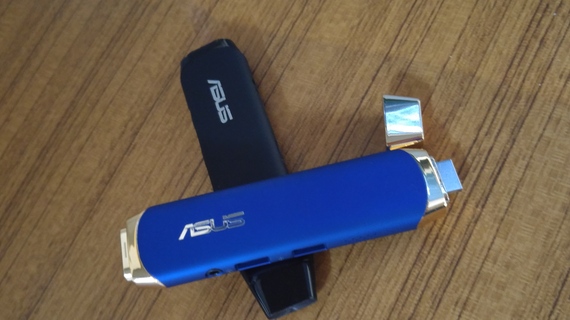 PORTABLE PC'S
Asus introduced the VivoStick PC TS10, a fully-functioning PC on an attractive, portable stick, not much taller than a smartphone. It has two USB ports and an HDMI out so it transforms any HDMI-enabled TV or monitor into a Windows 10 PC. Of course you need to add a keyboard and mouse but those can easily be connected via Bluetooth or Wi-Fi. That means rather than lugging a heavy laptop between work and home, you can simply drop this hand-sized device into your bag and have all your files and data, as it ships with 2GB of RAM and 32GB of storage. My shoulders thank you, Asus.
Acer's Revo Build is a little less portable when put together but that's the whole idea. It's a modular mini PC that you put together by adding components, kind of like building your own Lego PC. Start with a motherboard and graphics board and then add a hard drive block, power or charging block and a speaker block. They're held together by magnets in one corner that also serve to transmit current and data. When you want to take your hard drive to work or class, simply slip it out of the stack. Of course this makes upgrading components super easy too. Swap out one block without having to buy a whole new computer.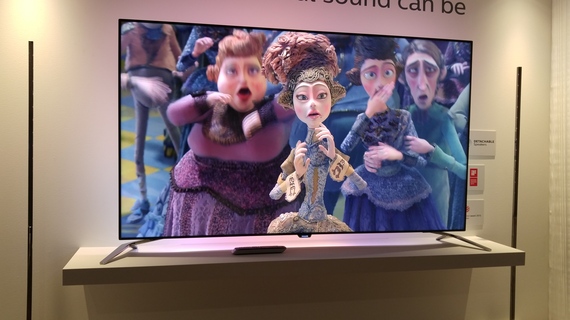 UHD TV
Panasonic showed off the flagship CZ950, the company's first OLED 4K TV and it was beautiful. 4K offers four times the resolution of high-def TV and though there's not a lot of content yet available for 4K displays, I sure hope this is the future of TV. The blacks are deep and rich, the colors pop, and though not everyone likes a curved screen, I found watching the demo video to be a truly immersive experience.

Philips showed off a TV with a unique sound system; the Philips 8601 razor slim UHD TV. Rather than have the sound bar at the bottom of the screen, Philips brings the ultra-slim speakers to the sides. You can leave them there, or they can be detached and set onto an optional mounting stand anywhere in your room, creating a wireless sound system. You can see the slim speakers on the stands beside the TV in the photo above.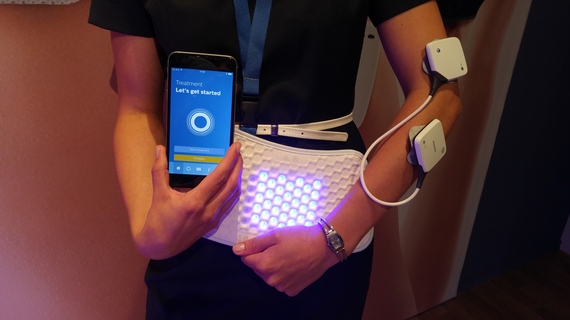 With rising health care costs, Philips is looking to technology and data to help prevent health issues. Pieter Nota, Executive Vice President and CEO of Personal Health for Philips, told me their focus is on innovation in health tech, which is why they announced the personal health program; a range of connected devices that provide data about vital signs. The data will go to the Philips HealthSuite, a cloud-based digital health platform which analyzes it and provides coaching and lifestyle tips to the user. The first device is a health watch focused on tracking heart rate, activity and sleep. Other products being launched; a blood pressure monitor, thermometer and smart scale. Of all the connected health devices on display, I was most intrigued by the Philips BlueTouch, a drug-free device comprised of tiny LED lights designed to relieve back pain, powered by a smartphone.
Calling all HuffPost superfans!
Sign up for membership to become a founding member and help shape HuffPost's next chapter