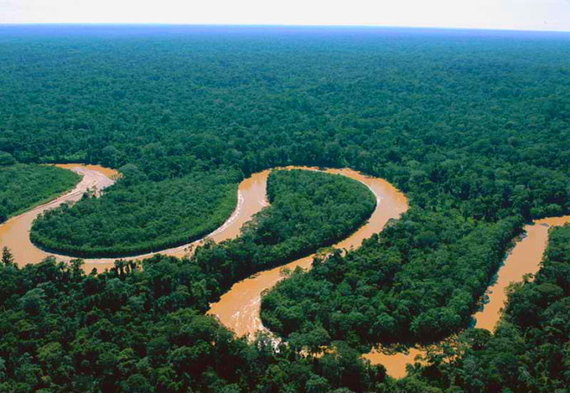 The Amazon River, the largest river system in the world, spans over 4,000 miles and crosses the entire continent of South America. It's source starts high up in the Andes Mountains of Peru, passing by the lost Incan City of Machu Picchu and continuing to flow across the Peruvian rainforest, crossing through Columbia and Brazil until it finally reaches the Atlantic Ocean. Much of the rainforest is inaccessible and hard to get to, but the easiest and most fun way to experience life on the Amazon River is by visiting it's source and flying into Iquitos, Peru. Being the adventurer that I am, I knew I had to fly there to uncover the truth about our world's largest rainforest, conquer my fears of the unknown there, and witness for myself what all this land has to offer. Here are my top 10 adventures that everyone must do while visiting the Amazon River. In just one week, I was able to check all ten of these off my bucket list!
Al Frio y al Fuego is one of the most unique restaurants I have ever been to. You have to take a small boat to get there and it is like a mini party oasis floating in the middle of the Amazon River. Once there, you can sip cocktails, eat amazing, fresh, locally sourced cuisine, relax and sunbathe in their poolside cabanas, swim, or dance to the tunes the DJ is spinning. It was fun just eating lunch and watching all of the activity of the boats and the way locals live passing you by on the river.
These notorious little guys have a mean bite, but if you are fast enough to catch on make a super tasty meal. I had heard about Piranhas my whole life, and contrary to legends I had heard as a kid, if you dip your hand in the water of the Amazon River it won't come back out as a skeleton. I will say though, that we used very rudimentary tools to go fishing for them. All you need is a stick with some line and a hook at the end of it with raw red meat. Unlike other fish, Piranhas like loud noises, vigorous splashing of water, and red meat. When you get one of these guys on your line, you KNOW it!
3.Live on a Riverboat-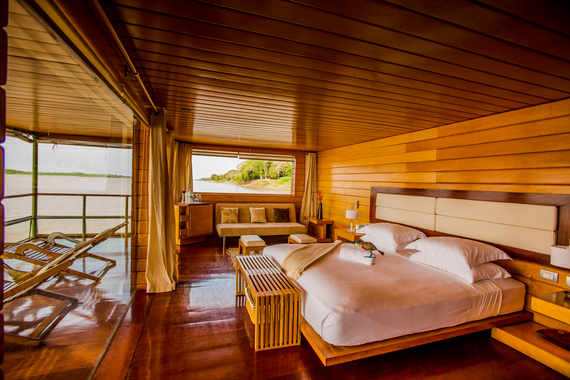 There are many different rainforest cruises to choose from when you want to experience life on the water. What is amazing about living aboard a floating luxury riverboat is that it gives you the opportunity to see the eco-systems of the rainforest up close, but also enjoy many five-star amenities such as fine dining prepared by some of the top Peruvian chefs, massages, private rooms and bathrooms, and hot showers and air conditioning (something you don't realize is a luxury until you're down there). It gives you the freedom to reach remote destinations in the Amazon that you otherwise couldn't get to and also is an escape from the mosquitos and other native animals that you would rather not share your living quarters with.
Yes, I know that means swimming in the water with many other Amazonian creatures that are not as friendly, but believe it or not, the only animals that seemed curious enough to get close to us were the elusive, yet beautiful Pink Dolphins. At first it seemed like an episode of Fear Factor to get in the murky, brown waters of the Amazon river, but once we did it was magical to see these dolphins up close that don't exist anywhere else on Earth.
Manatees are not the only animals you will see here. Monkeys, sloths, caymans, sea otters, and even some wild cats all call this place home. Preserving the eco-system of the Amazon's flora and fauna and educating our youth about recycling and protecting these animals has become a top priority to the people of the Amazon. The manatees in particular have almost become extinct due to hunting them in large numbers and also through boating and fishing accidents. Because of rescue centers like this one, manatee numbers in the wild are increasing every year and you can even have a one-on-one with a baby manatee and feed it milk from a baby bottle! It was one of the coolest animal encounters I have ever had.
This was one of the most unique hotel experiences I have ever had. 90% of all life in the rain forest is found in the treetops, so literally you are living in the richest plant and animal habitat on Earth when you stay in a private bungalow in the Tree house Lodge. Every morning you wake up to the symphony of exotic birds and monkeys while in the comfort of your canopy bed in your gravity-defying tree house home. Each of their bungalows are connected by suspension bridges sometimes as high as 70 feet up in the trees and are each equipped with bathrooms, showers, comfortable beds, and electricity. I finally got to live out my Swiss Family Robinson fantasy of living and climbing around in a tree house!
Hiking into a village and getting to experience how the locals live was such an enriching experience. Most people live their whole lives on the water and have to live in stilted villages to withstand the flooding waters of the Amazon. The people are super friendly and welcome you into their homes and love to show you what their daily life is like. In one case, I got to play with the local kids and they showed me their pet sloth Pablito whom I wished I could smuggle home in my suitcase he was so cute! While the men are out working in the jungle cutting lumber or tending to crops, the women make woven crafts to sell, raise the children and cook, and sometimes put on their husbands soccer jerseys and play a secret game while their husbands are away☺
These giant relatives of the garden lily can only be found in slow moving tributaries of the Amazon River. They can get up to 8 feet long and are so buoyant that they can balance an adult human on their surface. During the wet season these huge plants can cover a whole section of the river and at night their pure white flowers open up to release a pineapple-like fragrance.
Discover shamanism in the Peruvian Amazon. Learn about the amazing healing power of medicinal plants and be part of the magic rituals performed by the local Master Shaman. There are no doctors, hospitals, or pharmacies out the in the deep jungle forest of the Amazon, but if you find a shaman he will show you how the people have used the native insects, animals, and plants to basically cure any ailment that you can think of. Walking through the jungle and learning to spot these plants and animals is fun and fascinating in itself.
To get the most out of your rainforest experience, you have to either do a night walk, or a night boat ride with a guide and a spotlight to try to see the many nocturnal species of the Amazon. Most of the animals are active at night and the jungle comes alive after sunset. Many species of colorful tree frogs and snakes, insects, mammals, and of course the Cayman crocodiles can only be spotted at night. So keep your eyes open and make sure to bring a powerful flashlight!
Related