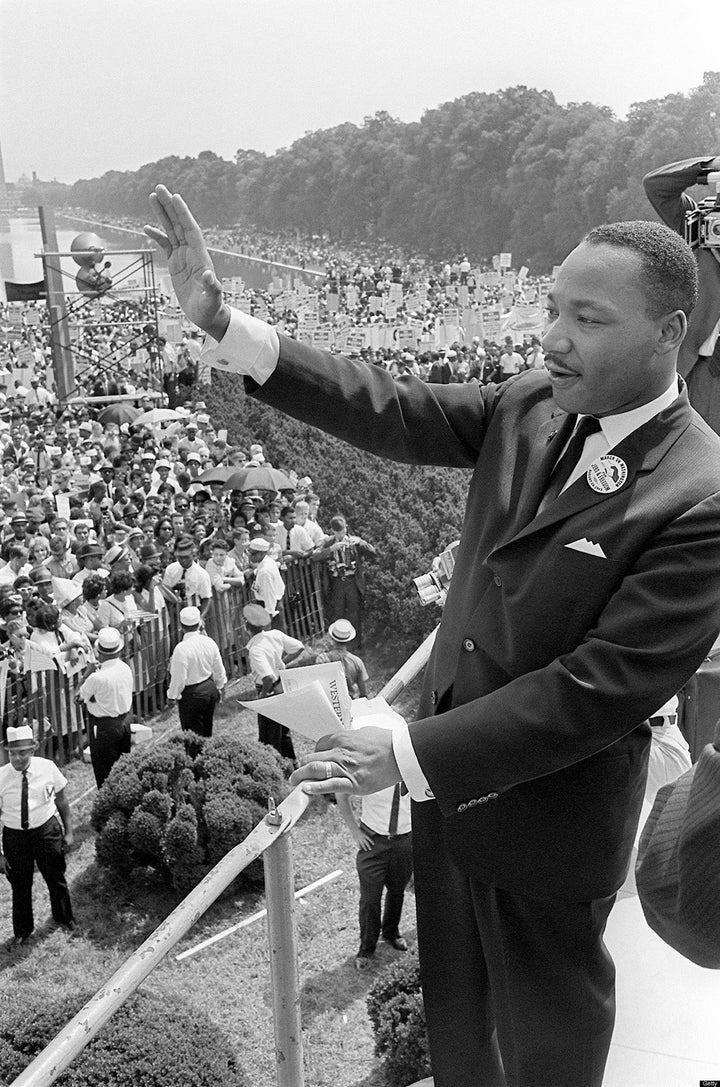 Potential shut down of the government as a result of the fight between Congress and the White House over proposed spending cuts and deficit reduction. Mexico's narco-terrorists still killing Americans with impunity. Libya in civil war; demonstrations continuing in Egypt, Yemen, Bahrain, and now, Iraq; gasoline prices rising; and, 9%+ unemployment persists.
Labor unrest in Wisconsin on a scale not seen in decades. Bush, Clinton to Chair New "National Institute for Civil Discourse" at the University of Arizona following the tragic shootings of Congresswoman Gabrielle Gifford's and others in Tucson.
And, it is still, only February, Black History Month -- the second month of the second decade of the 21st Century.
In a previous blog, "Reflections On the Revolution in Egypt", some readers were critical about my citing the legacies of Mahatma Gandhi and Dr.Martin Luther King, Jr. in connection with the successful non-violent protests and subsequent removal of Hosni Mubarak from power. These readers criticized me for associating, what they called "race", to the demonstrations in Cairo; when in their opinion, "race" was not an or the issue.
Such comments, presumably, were in response to several quotations cited by me from speeches of Dr. King, America's most prominent African-American, relevant to the success of non-violent disobedience in Tahrir Square.
I probably run the risk of provoking such criticism again. In commemoration of "Black History Month", I want to share my thoughts about the historical influence of major black religious figures on the movement for freedom and participatory democracy, without regard to race or color, in our own country.
What's the relevance or connection? The movement for transformative change of those institutions and policies in our country supporting racial segregation was fueled by young people with core values and ideals of freedom and democracy. The same core values for participatory democracy and equal access to opportunity motivating the youth in the Middle East.
Black and white young people, principally college students, in the late 50s and 1960s in our country did not have the benefit of instant communication with one another by use of the internet and companion social network technologies of Facebook, Twitter, and smart phones. The tools of communication they had were only television, radio, and next-day newspaper reports by journalists on the scene reporting their stories.
The determination and persistence of their non-violent peaceful protests opposing racial segregation or the War in Vietnam were influenced by the religious teachings of their "elders": persons who formed the basis or backbone of the protest religious theology. A theology that constituted the philosophical foundation of the non-violent Civil Rights Movement in our country.
As our nation commemorates Black History Month, it is fitting that we pay tribute to contributions of such "elders" to our own nation's struggle for participatory democracy and the influence such philosophy and political doctrines had not only on the youth in our country, but also on those university students, especially English speaking and reading young people, in the Arab world.
Widely considered to be the "Father of the Black Church", Richard Allen (1760-1831) founded the African Methodist Episcopal Church (AME).
Born into slavery in Philadelphia, Allen was allowed to buy his freedom at the age of 20. Ordained a Methodist minister in 1784, he became increasingly put off by the racist segregation of the white Methodist community. He responded by founding the AME, first as a local congregation and then uniting with a group of churches from surrounding cities to form the first black denomination in the United States. Elected as the institution's first Bishop, Allen was a major influence in the development of black cultural identity and an inspiration for future generations of leaders who would use the church as major force for organization and unification in the black community.
Bishop William J. Seymour
From 1906 to 1909, William J. Seymour preached his radical form of Christianity from a run-down building in Los Angeles. His church was the host to thousands of visiting ministers, many of whom incorporated Seymour's teachings about experiencing the Holy Spirit when they returned to their own congregations. The event became known as the Azusa Street Revival and is largely credited as the origin point for the modern Pentecostal or charismatic movement.
Called to the clergy at age 16, James Cone (born 1938) has dedicated his life to confronting racism in the United States through his experiences in ministry, education, and authorship. His work largely focused on analyzing the compatibility of Christianity with the multiple philosophies of the black civil rights movement.
"For me, the burning theological question was, how I can reconcile Christianity and Black Power, Martin Luther King, Jr.'s idea of nonviolence, and Malcolm X's 'by any means necessary' philosophy?" -- Black Theology and Black Power by James H. Cone
In 1970, Cone published his landmark work, A Black Theology of Liberation, taking a radical new look at Christianity through the pained lens of the oppressed black community in America.
The long-time Dean of Chapels and Theology at Morehouse College and Boston University, Howard Thurman (1899-1981) was a major proponent of nonviolent protest as a primary tactic in the movement for black civil rights. While leading a delegation to South Asia in 1936, Thurman spoke at length with Mahatma Gandhi about his experiences with nonviolence. This conversation would have a strong influence on Thurman's work for the entirety of his career. His seminal work, the 1949 book Jesus and the Disinherited, would be a major influence Martin Luther King, Jr. and other black religious leaders.
An ordained Baptist minister, Benjamin Elijah Mays (1894-1984) was a career educator, serving at various times as a Professor at South Carolina State College, Dean of the Howard University School of Religion, and President of Morehouse College. He also served as the first black president of the Atlanta school board.
Mays was a frequent and vocal critic of segregation and racism in America. He was an important early mentor to many of the civil rights leaders who were products of the black colleges including Martin Luther King, Jr. Additionally, his written work and widespread respect in the academic community helped to coalesce support for the civil rights movement among the nation's intellectual elite.
Thomas Dorsey (1901-1960) was an American pianist, arranger and composer who is considered to be one of the most important figures in the development and popularization of Gospel Music.
A prolific composer, Dorsey spent his early career playing and singing the blues. However, after undergoing a spiritual conversion and experiencing the tragic death of his wife and child, Dorsey forsook popular music and focused his work on religious music like the song, "Precious Lord, Take My Hand." He toured for many years with Mahalia Jackson and penned hits that would usher in the popularity of many of the era's biggest stars including Sister Rosetta Thorpe and Elvis Presley.
In Black Power Between Heaven and Hell, Tony Chapelle wrote, "Adam Clayton Powell Jr. was the equivalent of the rap group Public Enemy, the protest politician Jesse Jackson, and the Congressional Black Caucus all in one."
Powell (1908-1972) was born in New Haven, Conn. to a minister, who headed the Abyssinian Baptist Church in Harlem, N.Y., a church he would lead himself beginning in 1937.
In 1945, Powell was elected as a Democrat to the House of Representatives, representing the 22nd congressional district, which included Harlem. He was the first black Congressman from New York, and, as one of only two black Congressmen at the time, Powell challenged the informal ban on black representatives using Capitol facilities by taking black constituents to dine with him in the "whites only" House restaurant.
Mordecai Johnson (1890-1976) was the first black president of Howard University where he served for 34 years. Prior to his career in education, Johnson studied at Harvard and Rochester Theological Seminary where he was the first black graduate.
During his time at the head of Howard, Johnson was renowned for amassing an esteemed faculty of African-American scholars. The NAACP also awarded Johnson its highest honor for his ability to secure federal and private funding for the construction of new buildings and to secure the long-term financial security of the school. He also was known for frequently using his leadership position as a platform to speak out against racism, segregation and discrimination.
Alexander Crummell (1819-1898) was an American scholar, an Episcopalian minister, and founder of the American Negro Academy, the first major learned society for black Americans. He was also an early advocate of African-American self-help.
Education -- progressive education -- was an important part of Crummell's youth. Born to the son of an African prince and a free mother, he attended an interracial school, an institute run by abolitionists and had private tutors. In 1839, Crummell was denied admission to the General Theological Seminary of the Episcopal Church because of his race, so he studied theology privately and became an ordained Episcopalian minister in the Diocese of Massachusetts in 1844 at the age of 25.
In 1873, after spending some 20 years in Liberia as a missionary, Crummell came to Washington, D.C., where he was appointed "missionary at large of the colored people." Seven years later, he founded and served as the first pastor of Saint Luke's Episcopal Church. Crummell, whose vision was that the black church should be a place not only of worship but also of social service, encouraged black ministers in Washington to establish charitable institutions for their race.
Late in life, he taught at Howard University and founded the American Negro Academy, which promoted the publication of scholarly work dealing with African-American culture and history. Crummell emphasized African-American self-help and the need for practical education -- and he did this independent of Booker T. Washington.
Dr. Patrick L. Cooney and Henry W. Powell, in The Life and Times of the Prophet Vernon Johns: The Father of the Civil Rights Movement, wrote that the three greatest pushes for civil rights in the U.S. -- Adam Clayton Powell Jr.'s campaign against Jim Crow in the North, the 1954 Supreme Court decision Brown vs. Board of Education and MLK's fight against segregation in the South -- were all influenced by one person: Vernon Johns.
Johns (1892-1965) was Dr. King's predecessor as pastor at Dexter Avenue Baptist Church in Montgomery, Ala. and was a mentor of Ralph Abernathy, Wyatt Walker and others in the Southern Christian Leadership Conference. His whole demeanor reflected his fight against class inequality in both the black and white communities.
Johns thought that whoever controlled the money controlled the overall society. From this insight, based this on teachings from the bible, the pastor stressed that blacks needed to own more businesses. He's quoted as saying, "I noticed that some of you noted that I had neglected to wear shoe strings. Well, I'll start wearing them when Negroes start producing them."
What more can be said about the Rev. Dr. Martin Luther King Jr.? Person of the year in 1963, Time Magazine also included MLK (1929-1968) in the top 10 people of the century.
Ordained as a Baptist minister in 1948, King soon attended a lecture on the life of Mahatma Gandhi and was inspired to delve deeper in the Indian social philosopher's teachings. In February of 1959, Dr. King and his wife visited India, where they studied Mahatma Gandhi's methods of nonviolent protest.
Gunnar Jahn, Chairman of the Nobel Peace Prize Committee, presenting the Nobel Prize to Dr. King in 1964, said:
"[Martin Luther King] is the first person in the Western world to have shown us that a struggle can be waged without violence. He is the first to make the message of brotherly love a reality in the course of his struggle, and he has brought this message to all men, to all nations and races.

Today we pay tribute to Martin Luther King, the man who has never abandoned his faith in the unarmed struggle he is waging, who has suffered for his faith, who has been imprisoned on many occasions, whose home has been subject to bomb attacks, whose life and the lives of his family have been threatened, and who nevertheless has never faltered."
In the course of about 12 years, from 1956 to April 4, 1968, with the exception of Abraham Lincoln and the Emancipation Proclamation, MLK may have done more to achieve racial, social, political justice and equality in America, than any other event or person in American history.

Popular in the Community