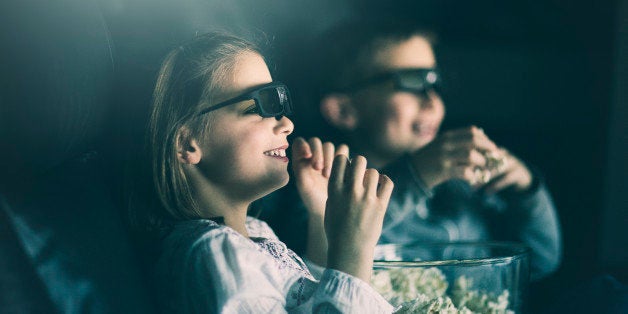 When you read other Top Ten Film lists, consider that the journalists do not give equal weight to docs, animation and dramatic features, nor foreign versus American indies and studio pictures. Perhaps, they should call their lists "Top Ten Films That We All Generally Write About."
1. Wild Tales (dir. Damian Szifron)
Argentine writer-director Damian Szifron has a darkly hilarious confection in these six wonderfully imaginative scenarios. Oscar nominated for Foreign film, Wild Tales also swept through the Argentine Academy Awards, its crazy tales of retribution due to road rage, infidelity at a wedding and the like connecting with the common man and woman.
2. Spotlight (dir. Tom McCarthy)
Can Michael Keaton pick them or what? Last year, he headlined Birdman, the best film of the year. Now, he leads a tremendous ensemble cast, including Rachel McAdams, Mark Ruffalo, Stanley Tucci and Jamey Sheridan, in the story of the Boston Globe's expose of molestation in the Catholic Church. McCarthy and co-writer Josh Singer did remarkable research and this procedural never fails to engage.
3. Steve Jobs (dir. Danny Boyle)
It is no surprise the remarkable Aaron Sorkin has turned in another astounding work, but this one reaches new depths of delineation for its titular character. Wisely, Boyle cast Michael Fassbender as the brilliant, coldly calculating corporate giant, during three product launches, battling with not only his vision of our digital future but his own riotous personal relationships.
4. The 100-Year-Old Man Who Climbed Out the Window and Disappeared (dir. Felix Herngren)
Swedish director Herngren and co-writer Hans Ingemansson took the zany, unpredictable novel of Jonas Jonasson and made a richly humorous gem of a movie that is outrageously entertaining. The titular centenarian escapes his old age home, winding up on a globe-trotting adventure, oblivious to the criminals and physical wreckage that attend him.
5. Güeros (dir. Alonso Ruizpalacios)
An unheralded masterpiece by Mexican director Ruizpalacios. This black and white picaresque depicts a rebellious young boy allowed to live with his older brother in 1999 Mexico City, during student unrest. It is filled with passion, dimensionality and heart. Its long list of awards includes the nod for its gorgeous cinematography at Tribeca, Audience and Grand Jury prizes at AFI Fest and of course, the Ariel for Best Picture and all other major categories in its home country.
6. Trumbo (dir. Jay Roach)
The biopic of blacklisted screenwriter Dalton Trumbo is a throwback to classic American films, rich in dialogue, subtle in its use of music, highly moderated in its emotionality. And it does not hurt that one of our finest and most adaptable actors, Bryan Cranston, along with the always luminous Diane Lane, topline this heartbreaking tale of political intolerance that, alas, resonates fully today.
7. Inside Out (dir. Pete Docter, Ronnie del Carmen) Pixar has topped itself with this conceptually adventurous animated feature that includes characters as emotions, led by one of the most memorable voice-over performances in film history by Amy Poehler as Joy. Docter and del Carmen also have plenty of adult jokes and a delightful section where the dimensions of characters rapidly and staggeringly changes before our thrilled eyes.
8. Cartel Land (dir. Matthew Heineman)
Rarely has a documentary created such tension, as we wonder whether a physician, Dr. Jose Mireles, who leads a citizen revolt against a drug cartel in Mexico, will be murdered before the film is complete. The shocking complicity of Mexican police in the drug dealing has a huge impact in Cartel Land, as well as an Arizona vet who fights the encroachment of drug trafficking in the US.
9. Anomalisa (dir. Charlie Kaufman, Duke Johnson)
We never expect anything normal from Kaufman and here, he again messes with our minds, in an animated film about a miserable consultant, voiced by David Thewlis, who enters into a strange affair with a mousy woman (Jennifer Jason Leigh) at a conference. There is great humanity on display, as well as the world's most uncomfortable, animated sex scene and a dream sequence that reminds us how marvelously demented Kaufman is.
10. Lambert & Stamp (dir. James D. Cooper)
Cooper captures the untold story of the ascendancy of the seminal rock group The Who, via two highly divergent personalities, producer-managers Kit Lambert and Chris Stamp. In the process, we see how things between these two and their relationship with the band tragically dissolved. Most significantly, Pete Townshend's honest self-condemnation in interviews makes this a rare and revealing music doc.
Honorable Mention: 1001 Grams, Banksy Does New York, Best of Enemies, The Big Short, Merchants of Doubt, Red Army, Salt of the Earth, Slow Learners.
Popular in the Community