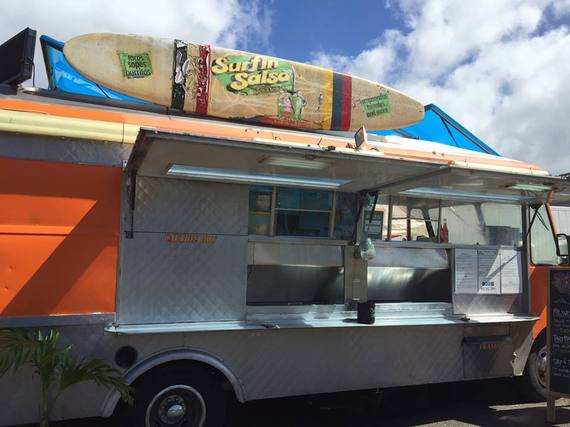 I'm a local girl who spent the past eight years landlocked in the Midwest. So when I made the move back to Oahu, I drummed up two lists: one for packing and another for food joints. I desperately missed Hawaii's low-brow local fare--spam musubi, saimin, loco moco...and I had a hankering for some of its high-brow cuisine, too, ala Alan Wong's, Nobu's and the Halekulani to name a few. But after living in a place with awesome Mexican cuisine on every corner, I thought I could kiss that carne asada goodness goodbye as I ate my way through Oahu--until I discovered the underground world of food trucks. If you know where to look, you can find just about any cuisine on wheels cooked to perfection--Mexican, Puerto Rican, fusion...you name it, Oahu's got it. I ate my way through the island's food truck fare to bring you my top ten faves that are worth the plane ticket to Hawaii alone, I promise!
1. Surf N Salsa. I may have been Latina in another life 'cause I'm picky and passionate about my Mexican with a love for molcajetes and steak en fuego. While I waited for my plate of shrimp tacos and side of refried beans and rice, a server gave me a complimentary basket of chips and the most savory, nuanced salsa I've ever had. The taco plate was killer with handmade corn tortillas, juicy shrimp, hand-smashed guacamole and smooth refried beans. I returned a second time for their carne asada fries which was equally bomb. The place gets hoppin' around noon, so here's a tip: phone your order in or your wait can be 30-40 min.
2. Dat Cajun Guy. No need to go to New Orleans for a Cajun fix. I had the BBQ Shrimp--a misleading name in my opinion 'cause there's nothing BBQ about it. The shrimp is swimming in a savory butter sauce with a subtly spicy kick and you soak it up with pieces of french bread and rice. I wanted to bathe in that sauce. It goes down great with sweet tea and here's an awesome bonus: You get free refills on sweet tea. Double goodness bomb.
3. Leonard's Bakery Malasadamobile. If you're closer to the windward side of the island and don't want to trek into Honolulu to try Leonard Bakery's famous malasadas, check out the Malasadamobile in Waikele. Nowadays you can have 'em rolled in cinnamon sugar or Lihing Mui or fill 'em with custard, haupia or dobash. But if it's your first time eating the doughy deliciousness, just stick with the original. Can't ever go wrong there!
4. Local Stop. Speaking of malasadas, you've never had one like this: Sliced in half with a burger, melted Swiss cheese, sauteed mushrooms, tomato and lettuce slammed in between. Hell-o?! Heart attack in your hand but damn good going down.
5. Hammah's Kitchen. It's like being in your Puerto Rican grandma's kitchen. Pasteles are so time-intensive to make--the masa alone can take all day. It's truly a labor of love and you can taste the love baked into the pasteles both spicy and mild served up at Hammah's Kitchen. And it's totally worth springing for the plate with the arroz con gandules.
6. Laverne's Lunch Wagon. I refer all my friends from out of town to Helena's Hawaiian food for some authentic kalua pig and haupia. But this is equally good. They've got the kalua pig, long rice and fried saimin (my mother's personal fave) but I'm still dreaming of their smoked meat and edamame. I may or may not have had two plates of it!
7. Giovanni's Shrimp Truck. I like to head out to the North Shore to watch the surf in the winter and my goal one year way to try three shrimp trucks to find the one that offers the best kahuku shrimp. I was hoping Giovanni's wouldn't be the winner because it's so cliche--everyone raves about this place. But I've got to say when it comes to taste and texture, Giovanni's Shrimp Truck is the one I'll be going back to. Romy's Kahuku Prawns is my second fave.
8. Sweet Revenge. Offering sweet and savory pies, I tried their bacon, gruyere, spinach and baby bella quiche and it was divine. The buttery crust was baked to perfection and while I'm not one for chicken pot pie, my friend inhaled it and said it was delicious. I had their chocolate haupia pie and thought it was almost on par with another favorite bakery of mine--the famous Ted's Bakery.
9. Mike's Huli Huli Chicken. Mainlanders who need to be schooled on huli-huli chicken should check out this truck. Offering a grilled chicken basted in huli-huli sauce, this is an island specialty and Mike's does it best. My husband was initially nonplussed the first time he tried a bite, thinking it would taste the same as rotisserie chicken we get from Costco. But he devoured every succulent bite and declared it truly was divine. It's just like the kind of huli-huli chicken I used to sell to fundraise for my grade schools when I was a kid.
10. Opal Thai. I thought if you had one Pad Thai dish, you've had 'em all. Boy was I wrong. This was the best thai food I've ever had...and I've eaten thai food in Boston, Chicago and San Diego. My husband moaned as he slurped up the drunken noodles and I thought the green papaya salad was refreshingly tasty. We split the crispy spring rolls whose plum sauce was divine. If you have a hankering for thai, this truck is a must.