In celebration, editor Tulsa Kinney asked her writers for a series of Ten Best lists. Would I? I could write a novel about each of these locations.
In the Conversation below, add your stories of LA Art Hot Spots. We'll make it a long list of 100!
Ten Classic Los Angeles Historic Fine Art Hot Spots
Yee Mee Loo
Chinatown
Dark, exotic and mysterious, this temple dive bar was the touchstone for all Angeleno art legends. Destroyed by an earthquake. Today, the original iconic matchbooks are a prized collector's item.
Lost to history.
Barney's Beanery
WeHo
Located conveniently up the street from the Ferus Gallery, this populist watering hole inspired sculptor Edward Kienholz to create his masterpiece The Beanery in 1965.
Open.
Cocola
Downtown
Founded by Angus Chamberlain and completed by chef Tara Thomas of TRAXX, this art bar and restaurant was the scene of many wild nights and creative hijinks for the downtown artist.
In our hearts.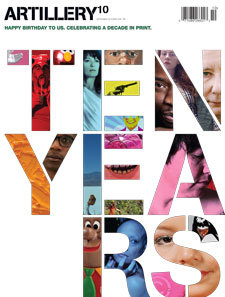 Hal's Bar and Grill
Venice
Hal's has long been a cheerleader for the LA arts. Legend has it that their now-historic art collection grew from trading food and grog for local art.
Open.
Gorky's
Downtown
Back when the sleek Traction Arts District was once an industrial wasteland, this Soviet-styled cafeteria fed local artists 24 hours a day.
Gone, a fevered and glorious nightmare.
Smog Cutter
East Hollywood
Artists with day jobs as Hollywood scenic painters and author Charles Bukowski approved of and drank in this divey dive bar.
Still Standing.
Ivy at the Shore
Santa Monica
A boiîte for the wealthy Westside collector, the Ivy at the Shore features an extremely efficient vodka gimlet and Ed Ruscha's classic painting "Brave Men Run In My Family."
Open.
Al's Bar
Downtown
On the ground floor of the American Hotel, which was famous for easy drug availability and every other bad behavior, this fine art and punk rock bar has inspired documentaries and countless art exhibits.
Forever in our hearts.
West Beach Cafe
Venice
A chic Los Angeles legend, the West Beach is where one might sidle up to the bar and chat with art world superstars like sculptor John McCracken. I know I did.
Reincarnated, open.
The Mandrake
Across from Blum and Poe
This neo-Millennial haven was established at the dawn of the Culver City arts land grab. This bar has been wholeheartedly approved by every local MFA program.
Open.

Related
Popular in the Community