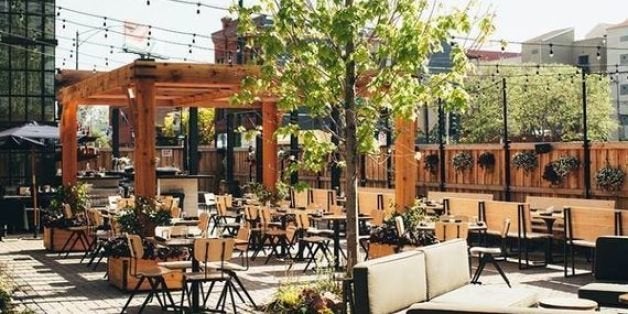 We love to soak up every bit of summer that we can, day or night. Here is our list of the best places to indulge this summer.
Austin, TX
The Butterfly Bar
Just about every restaurant and bar in Austin has an outdoor patio and of course, Austinites get to enjoy them just about all year long. While there are plenty with river or city skyline views, we like The Butterfly Bar in a secluded space on Manor. Inside is a great 100-year-old bar connected to The Vortex, a cool little theater for music and plays. Outside is a courtyard with yet another stage and Patrizi's food truck for fabulous Italian food. It's like its own little party inside the big party that is Austin.
Boston, MA
Rosso Patio Bar
South End's Cinquecento already has a great 60-seat patio in the shadow of a giant wagon wheel, but they recently opened a little outdoor bar built into a shipping container. The Rosso Patio Bar has just 12 seats but opens up to the larger patio and outdoor lounging area. Now that's upcycling.
Chicago, IL
The Dawson
EDL favorite The Dawson is great any time of year, but it really shines in the summer. Sit at the communal tables or couches on their awesome stone patio and enjoy their killer group cocktails and upscale comfort food apps like the signature chicken-fried lobster.
Denver, CO
Central Bistro and Bar
One of the most important aspects of an outdoor dining spot is the view. Central Bistro and Bar offers one of the best in Denver, with a full view of the city -- and the food gets top marks too. Charred octopus, Spanish mussels and Baja shrimp tacos are just the type of bites you want to enjoy in the sun, and the Sucker Punch is the perfect cocktail to share with friends. Closed on Mondays, but they make it up with all day Happy Hour on Tuesdays!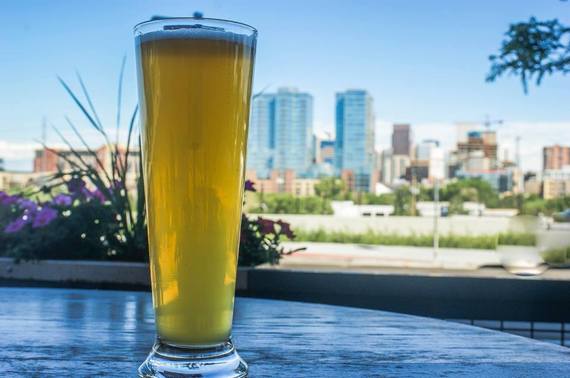 Central Bistro and Bar
Los Angeles, CA
Cliff's Edge
Once you step onto the patio of Cliff's Edge in Silver Lake, surrounded by palm trees and thick branches, you'll feel as though you're noshing in a jungle miles away from LA. Add excellent small plates and high-end cocktails at this hideaway and the hours will seriously fly by.
New York, NY
The Top of the Standard
The best views in NYC are of course from on high and The Top of the Standard is one of the swankier rooftop experiences. The 18th floor bar has 360-degree views thanks to keeping the bar sunk down low -- and there is an outdoor lounging area. There's also a terrace with a glass floor to see the street. Don't miss Le Bain bar on the roof with a "grass" floor and plunge pool.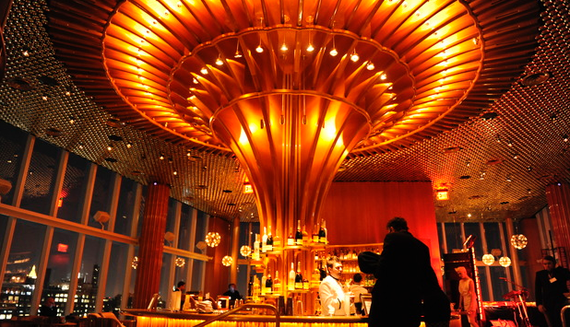 The Top of the Standard
Portland, ME
TIQA
Summer outdoor dining is at a premium in this state, where the season is short and celebrated to its fullest. Lounge on the outdoor furniture at Mediterranean restaurant TIQA on this busy corner, where you can watch the world go by with a cocktail in hand and house made pita, olives and hummus on the table next to you.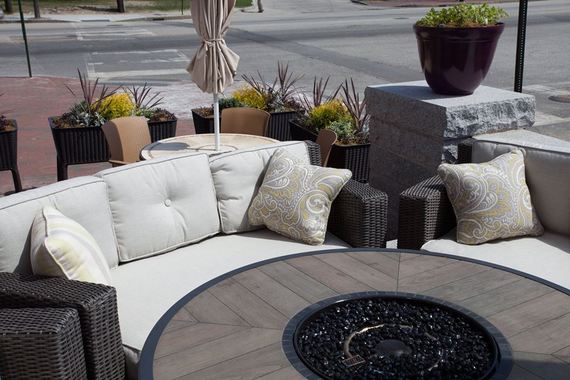 TIQA
San Francisco, CA
Off the Grid
OK, so this isn't a specific spot, but it's impossible to talk about outdoor eating and drinking in SF without mentioning Off the Grid, the daily/nightly mobile food truck party that pops up all over the city. We say party because they often have live music and cocktails, and they always attract a huge crowd. Put it at the top of your SF summer bucket list.
Seattle, WA
Marination Ma Kai
Drive or take a water taxi to Marination Ma Kai, where the 1,500 square foot patio offers some of the best views of the Seattle skyline. Here you can enjoy Korean-Hawaiian fusion fare (kimchi quesadillas, anyone?) and cool off with shave ice -- boozy or otherwise.
Washington D.C.,
Dacha Beer Garden
Your go-to spot for summer brews and snacks outdoors in DC is Dacha Beer Garden. Where else can you go on a hot day for a boot of German beer and bites like brats and pretzels with cheese? While you drink and eat, their giant mural of Elizabeth Taylor is watching over you at all times. It's Big Brother meets old Hollywood glam.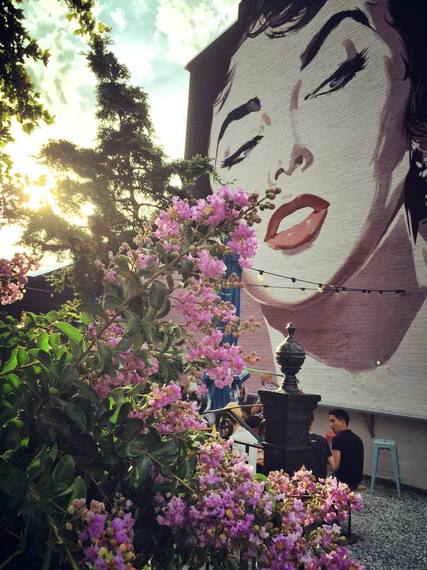 Dacha Beer Garden
For more tips on the best places to Eat, Drink and be Lucky, sign up for Eat Drink Lucky's daily foodie briefing.