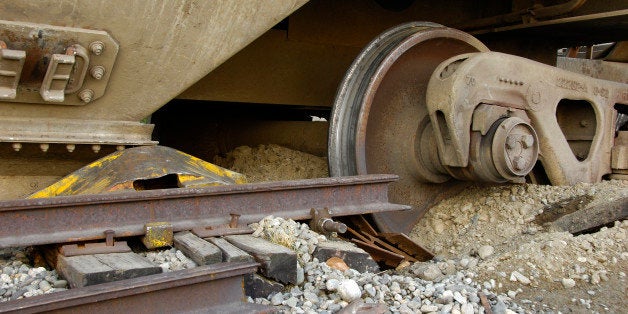 On Friday, March 6, while an oil train explosion in Illinois was still sending flames and black smoke into the air, railroad agents were in Washington, DC lobbying to weaken new train safety standards. Safer brakes are "extremely costly..." they told White House officials, and explained in great detail why speed limits are impractical. Like the auto industry resisting seatbelts, the rail industry is on the wrong track when it comes to safety.
In the last month, there have been six derailments of crude oil trains in the U.S. and Canada -- three of them ignited, sending flames and mushroom clouds hundreds of feet into the air. Luckily, these were in relatively remote locations and no one was killed.
These disasters are not an aberration -- oil train traffic is skyrocketing, which means more derailments and more explosions. The oil and rail industries hope to increase further the amount of crude oil barreling down the tracks in the coming years. Before that happens, ForestEthics has some questions we'd like to see the Obama administration ask the army of lobbyists who are trying to push the bar on safety even lower than it already is:
When did trains start exploding?
Rail transportation of crude oil is growing rapidly and dangerously -- from fewer than 10,000 carloads in 2008 to nearly half a million in 2014 -- for two reasons: Bakken oil from North Dakota and Canadian tar sands. The North American boom means oil companies are trying to frack and mine more of this extreme oil, crude that is high in carbon, difficult and expensive to produce, and dangerous to transport.
Are cities and towns with rail lines safe?
With the exception of Capitol Hill (the rail industry seems to be sparing Washington, DC) most routing is done specifically throughout cities and towns. No, the oil and rail industries are probably not purposely targeting us, it's just that the rails in populated places tend to be better maintained and rated for heavier cargoes. The sane thing to do would be to stop hauling crude oil if it can't be transported safely. A far distant next best is to make these trains as safe as possible and require rerouting around cities and water supplies.
What is the government doing?
Not nearly enough. While 100-plus car trains full of an explosive crude roll through our towns, the U.S. government is barely moving, bogged down by nearly 100 of Washington's most expensive K-Street lobbyists. In fall 2014, ForestEthics, Earthjustice, and the Sierra Club sued the Department of Transportation to speed up new safety standards on oil trains. We called the trains an imminent danger to public safety. The federal government responded by once again delaying their decision on new rules that have been in the works for years.
What is the slowest speed at which an oil explosion could happen?
An oil tank car can catch fire and explode in an accident at zero miles per hour. Assuming a slightly raised rail bed, an oil car that tips over while standing still (this can and has happened on poorly maintained rails) will strike the ground going approximately 16 miles per hour -- more than fast enough to breach the tank, spark, and ignite if it hits a rock, a curb, any hard protrusion.
Do firefighters know when and where oil trains are moving?
First responders do not know when, where, how much oil, and what kind is coming through their town. The US Department of Transportation ordered that railroads and oil companies make this information public. But only for trains carrying more than a million gallons of Bakken crude, and even this information is not being made public on a consistent basis.
How do you extinguish oil train fire?
You don't put out an oil train fire; nobody does. Oil fires require specialized foam, which fire departments do not have in nearly sufficient supply to fight the fire from even a single 30,000 gallon tank car. All firefighters can do is evacuate those in danger, move outside the one mile blast zone and let the fire burn out, which can take days. In Illinois, firefighters unloaded their equipment to fight an oil train fire, realized the danger and left behind $10,000 in equipment getting out of harm's way. You can prevent these fires by banning oil trains -- but you can't fight these fires once they happen.
The older oil cars are definitely unsafe, what about the newer ones?
The antiquated DOT-111 tank cars make up 80 percent of the fleet in the U.S. -- U.S. rail safety officials first called them "inadequate" to haul crude oil more than 20 years ago. The jury is now in on the newer CPC-1232 tank cars and they are not much safer. The derailments and explosions in West Virginia and Illinois were 1232s traveling at or below the speed limit. In fact, the former head of the federal rail safety agency said in a radio interview that the recent derailments and fires were "the last nail in the coffin" for the CPC-1232 as an alternative to DOT-111 for oil transport.
We know that Bakken crude explodes; does tar sands explode?
Ordinarily it might not, but to move tar sands by rail (or pipeline for that matter) you have to mix in highly flammable, toxic diluents (light petroleum products like propane.) So if it's on a train or in a pipeline the flashpoint for tar sands crude is lower than for Bakken oil. The oil train explosion on February 16, 2015 in Ontario, Canada occurred in -40 degrees F weather -- proving that this stuff can ignite even in arctic cold. So not only is tar sands the dirtiest oil on Earth, but also it may well be the most dangerous too.
Do I live in the Blast Zone?
ForestEthics used oil rail routes from industry, Google maps, and census data to calculate that 25 million Americans live in the oil train blast zone -- the dangerous evacuation zone in the case of an oil train derailment and fire. You can use the map to see if your home, office, school, or favorite natural area, landmark or sports stadium is in danger. Visit www.blast-zone.org.
What's the solution?
The solution is to ban oil trains. If you can't do something safely, you shouldn't do it at all. This cargo is too dangerous to our families, our cities, our drinking water, our wildlife and our climate. The extreme crude carried on trains is only a tiny fraction of the oil we use each day as a nation. So while we transition our economy to clean energy and get beyond all oil, we should leave this extreme oil from Alberta and North Dakota in the ground.
Related
Popular in the Community